Ad blocker interference detected!
Wikia is a free-to-use site that makes money from advertising. We have a modified experience for viewers using ad blockers

Wikia is not accessible if you've made further modifications. Remove the custom ad blocker rule(s) and the page will load as expected.
This song article is lacking a proper background. You can help by adding one! The relevant section in the Song Article Guideline is a good starting point, and this blog post may also be helpful. We apologize for the inconvenience this may cause in the meantime.

Song pages lacking proper backgrounds are automatically sorted into this category.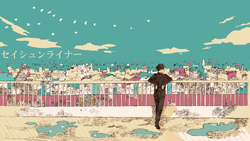 Song title
"セイシュンライナー"
Romaji: Seishuu Rainaa
English: The Youthful Liner
Uploaded June 10, 2015, with 103,900+ (NND) and 13,000+ (YT) views
Singer(s)
Hatsune Miku
Producer(s)
Chouchou-P (music, lyrics)
Kuroda Eri (illust)
Yanagita Mitsuyasu (drum edit)
Links
Niconico Broadcast • YouTube Broadcast (official)

Background
Edit
"Seishuu Liner" is an original song by Chouchou-P featuring Hatsune Miku.
This song has entered the Hall of Fame.
Japanese (日本語歌詞)
Romaji (ローマ字)
ちょっとその気になって
chotto sono ki ni natte
なんとなく浮かれちゃって
nanto naku ukarechatte
今日も僕の視線は
kyou mo boku no shisen wa
君に釘付けになった
kimi ni kugizuke ni natta


こっちを見たかもって
kocchi o mita kamotte
妙な期待をしちゃって
myou na kitai o shichatte
悟られないように
satorarenai you ni
また気持ちを飲み込んだ
mata kimochi o nomikonda


僕達の距離は相変わらずで
bokutachi no kyori wa aikawarazu de
あと少しが遠かった
ato sukoshi ga tookatta


「君が好きなんだよ」そのたった一言を
"kimi ga suki nanda yo" sono tatta hitokoto o
伝える為だけにさ、生まれたのかもねって
tsutaeru tame dake ni sa, umareta no kamo nette
思ってしまうくらい僕は単純なんで
omotte shimau kurai boku wa tanjun nande
君を諦めたままじゃいられなかった
kimi o akirameta mama ja irarenakatta


強がったフリしたって
tsuyogatta furi shitatte
周りなど見えなくって
mawari nado mienakutte
呼吸は困難で
kokyuu wa konnan de
どうにも落ち着かないな
dou ni mo ochitsukanai na


絵にでも描いた様な
e ni demo kaita you na
典型的な症状に
tenkeiteki na shoujou ni
侵されているんだ
okasarete irun da
もう一生治らないや
mou isshou naoranai ya


このままじゃダメだと解っていても
kono mama ja dame da to wakatte ite mo
傷つくのが怖かった
kizutsuku no ga kowakatta


言葉にならない募る感情が
kotoba ni naranai tsunoru kanjou ga
届かないときの事を考えてしまうんだ
todokanai toki no koto o kangaete shimaun da
もしも今君に何か伝えるとして
moshimo ima kimi ni nanika tsutaeru to shite
僕が抱く想いをなんて言おうか
boku ga daku omoi o nante iou ka


手紙を書こうかメールをしようか
tegami o kakou ka meeru o shiyou ka
何度も迷って文字は空に消えた
nando mo mayotte moji wa sora ni kieta
綺麗じゃなくても格好悪くても
kirei ja nakute mo kakkou warukute mo
背伸びをするのは終わりだ
senobi o suru no wa owari da


僕が欲しがってるそのたった一言を
boku ga hoshigatteru sono tatta hitokoto o
君から聞けたときは死んでもいいやなんて
kimi kara kiketa toki wa shinde mo ii ya nante
思ってしまうくらい胸が張り裂けそうで
omotte shimau kurai mune ga harisakesou de
もう抑え切れなくて
mou osaekire nakute


「君が好きなんだよ」そのたった一言を
"kimi ga suki nanda yo" sono tatta hitokoto o
伝える為だけにさ、生まれたのかもねって
tsutaeru tame dake ni sa, umareta no kamo nette
思ってしまうくらい僕は単純なんで
omotte shimau kurai boku wa tanjun nande
勇気を振り絞って君を呼び出して
yuuki o furishibotte kimi o yobidashite
精一杯の覚悟を決めて
seiippai no kakugo o kimete
そして叫ぶよ
soshite sakebu yo
Derivatives
Edit
Meiji's Cover

| | |
| --- | --- |
| Featuring | Gahata Meiji |
| Author(s) | Konuko (tuning, mixing, mastering, encoding), Toudou Charo (video, illust) |
| Category | UTAU cover |
External links
Edit
| | |
| --- | --- |
| | Articles |
| | |
| --- | --- |
| | Lyrics |
| | |
| --- | --- |
| | Downloads |