This song article is lacking a proper background. You can help by adding one! The relevant section in the Song Article Guideline is a good starting point, and this blog post may also be helpful. We apologize for the inconvenience this may cause in the meantime.

Song pages lacking proper backgrounds are automatically sorted into this category.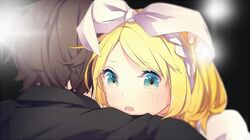 Song title
"セカイの狭間"
Romaji: Sekai no Hazama
English: Interstice of the World
Uploaded October 31, 2014, with 77,000+ views
Singer(s)
Kagamine Rin
Producer(s)
Zips (music, lyrics)
Tomodachi-Boshu-P (mix & mastering)
Bansoukou (illustration)
Links
Niconico Broadcast • YouTube Broadcast (reprint)

Background
Edit
"
That one unforgettable day.
"
 

— Author's comment
This song is Zips' 15th original VOCALOID work.
Japanese (日本語歌詞)
Romaji (ローマ字)
セカイの狭間で僕が見ていた
sekai no hazama de boku ga mite ita


狭い脳内駆け抜ける 曖昧で真っ白なキミ
semai nounai kakenukeru aimaide masshirona kimi
未完成な感覚が夜を襲う
mikanseina kankaku ga yoru o osou
わかんないこの気持ちは 未分類のまま放置して
wakannai kono kimochi wa mibunrui no mama houchi shite
目の前を歩いてる 芯の腐った 恋むさぼった
me no mae o arui teru shin no kusatta koi musabotta


セカイの狭間は僕を見ていた
sekai no hazama wa boku o mite ita
辛そうな顔で恋してるって
tsura sou na kao de koishiterutte
セカイの狭間は僕を知っていた
sekai no hazama wa boku o shitte ita
埋まらないこの心に解求む
umaranai kono kokoro ni kai motomu


向こう三年「恋」はしない 痛い目ばっかはこりごり
mukou san nen 'koi' wa shinai itai me bakka wa korigori
不透明な感覚が朝を襲う
futou mei na kankaku ga asa o osou
色んなこと薄れた頃にふとキミ誘って
iron'na koto usureta koro ni futo kimi sasotte
名前さえも聞いたこと無いカフェに入って 笑い合って
namae sae mo kiita koto nai kafe ni haitte warai atte


セカイの狭間は僕を見ていた
sekai no hazama wa boku o mite ita
何だろうこの幸せな気持ち
nanidarou kono shiawasena kimochi
セカイの狭間は僕を知っていた
sekai no hazama wa boku o shitte ita
埋まってゆく心に是非を問う
umatte yuku kokoro ni zehi o tou


…駄目だ まるで化学反応
…dameda marude kagaku hannou
お互いが距離を詰めてく
otagai ga kyori o tsumete ku


そんなつもりじゃない
sonna tsumori janai
ただ遊ぶだけのはずだったのに
tada asobu dake no hazudatta noni
この状況は何ですか?
kono joukyou wa nandesu ka?


セカイの狭間は僕を見ていた
sekai no hazama wa boku o mite ita
気づけば繋がってる手と手
kizuke ba tsunagatteru te to te
セカイの狭間は恋を知っていた
sekai no hazama wa koi o shitte ita
初めてだよ 気を抜くと涙が出そうだ
hajimete dayo ki wo nuku to namida ga desou da
あぁ 門限だね またどこかで
aa mongenda ne mata dokoka de
External links
Edit
| | |
| --- | --- |
| | Articles |