Ad blocker interference detected!
Wikia is a free-to-use site that makes money from advertising. We have a modified experience for viewers using ad blockers

Wikia is not accessible if you've made further modifications. Remove the custom ad blocker rule(s) and the page will load as expected.
The following song article is still a work in progress. For information on how to help, see the song article guideline. We apologize for the inconvenience this may cause in the meantime.

What is being worked on?

Background, derivatives.

Work-in-progress song pages are automatically sorted into this category.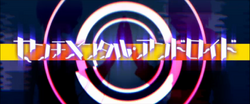 Song title
"センチメンタル・アンドロイド"
Romaji: Senchimentaru Andoroido
English: Sentimental Android
Uploaded Nov. 22, 2013, with 87,200+ views
Singer(s)
Kagamine Len
Producer(s)
MOSAIC.TUNE (music)
5 (lyrics)
Yosaku (illust)
Not-116 (video)
Links
Niconico Broadcast • YouTube Broadcast (with subtitles)

Background
Edit
| | | |
| --- | --- | --- |
| " | To a utopia where both humans and androids can coexist...! | " |
Theories of what the song represents varies from a man forced to follow orders only to realize he can become his own person, to a rebellion against humans by androids with the ability to think and feel for themselves.
The video on NicoNico Douga currently has around 85,000 views, and around 400,000 on YouTube's subbed version.
NOTE: At certain points, the lyrics on screen and the sung lyrics differ from one another. At these points, the shown lyrics are written as normal with the sung lyrics next to them in parenthesis in the Japanese lyrics. The Romaji lyrics only have the sung lyrics for clarity.
Japanese (日本語歌詞)
Romaji (ローマ字)
五月雨 錆びた声が告ぐ
samidare sabi ta koe ga tsugu
いつものように "異常ナシ" の機体(からだ)
itsumo no you ni "ijou nashi" no kara da
さかさま 囁いた誰か
sa ka sama sasayai ta dare ka
不確かな予感 気付かぬふり
futashika na yokan kizuka nu furi


たとえ僕が消えても
tatoe boku ga kie te mo
美しい世界のままで
utsukushii sekai no mama de
完璧に噛み合っていく
kanpeki ni kamiatte iku
瑕一つ残らずに
kizu hitotsu nokora zu ni


狂わない拍子(リズム)で歩いて
kuruwa nai rizumu de arui te
変わらない毎日の中で
kawara nai mainichi no naka de
ただ壊れゆく時を待って
tada kowareyuku toki o matte
今日も「前に倣え」
kyou mo "mae ni narae"
胸のどこかしらが痛んで
mune no doko kashira ga itan de
そんな僕は多分異端で
sonna boku wa tabun itan de
感傷的な機械(センチメンタル・アンドロイド)
senchimentaru andoroido
狂い出す歯車を 止めて
kuruidasu haguruma o tome te


最初は人のためだった
saisho wa hito no tame datta
機械(ぼくら)は生まれ ここまで進歩した(そだった)けど
boku ra wa umare koko made sodatta kedo
いつしか分かり合えなくなり
itsushika wakariae naku nari
世界を分かつ深い国境(きれつ)
sekai o wakatsu fukai kire tsu


アイという弱さ 求めて
ai toyuu yowa sa motome te
ナミダという水を流して
namida toyuu mizu o nagashi te
何故 彼等(ひと)は愚かなままで
naze hito wa oroka na mama de
笑うのか 分からない
warau no ka wakara nai


不揃いな拍子(リズム)で歩いて
fuzoroi na rizumu de arui te
ばらばらの明日を描いて
barabara no ashita o egai te
それぞれの【error】(こころ)を抱いて
sorezore no kokoro o dai te
不可思議な人間(いきもの)
fukashigi na iki mo no
胸の奥深くが痛んで
mune no okufukaku ga itan de
そんな僕はきっと異端で
sonna boku wa kitto itan de
感傷的な機械(センチメンタル・アンドロイド)
senchimentaru andoroido
お願いだから、誰か止めて
onegai da kara, dare ka tome te


聴こえる
kikoeru
耳鳴りに似た声がしている
miminari ni ni ta koe ga shi te iru


機械(ぼくら)は夢を視ないのに
boku ra wa yume o mi nai noni
どうして僕は何度も何度もおんなじような、
doushite boku wa nan do mo nan do mo onnaji yō na,
ありえもしない未来をなぞって息苦しくなるのだろう?
arie mo shi nai mirai o nazotte ikigurushiku naru no darou?
空回るだけの歯車たちが廃品(ガラクタ)へ果てゆく道の途中
sora mawaru dake no haguruma tachi garakuta e hateyuku michi no tochuu
答を見つけ
kotae o mitsuke


狂わない拍子(リズム)で歩いて
kuruwa nai rizumu de arui te
変わらない毎日の中で
kawara nai mainichi no naka de
ただ壊れゆく時を待って
tada kowareyuku toki o matte
今日も「前に倣え」・・・?
kyō mo "mae ni narae"...?


誰のために歩いてるのか
dare no tame ni aruiteru no ka
僅かな疑念が芽生えたら
wazuka na ginen ga mebae tara
感傷的な機械(センチメンタル・アンドロイド)
senchimentaru andoroido
「さあ、こんな世界など壊せ」
"saa, konna sekai nado kowase"


突然の眩暈が襲って
totsuzen no memai ga osotte
一瞬 止まった僕の全て
isshun tomatta boku no subete
完璧な日々はひび割れて
kanpeki na hibi wa hibiware te
心拍(リズム)を刻み出す
rizumu o kizamidasu
誰のために歩き出そうか
dare no tame ni arukidaso u ka
僕のために歩き出そうか
boku no tame ni arukidaso u ka
感傷的な機械(センチメンタル・アンドロイド)
senchimentaru andoroido
「さあ、【error】(こころ)受け入れて進め」
"saa, kokoro ukeire te susume"


陰で嘲笑う道化
kage de azawarau dōke
External links
Edit
| | |
| --- | --- |
| | Official |
| | |
| --- | --- |
| | Articles |
| | |
| --- | --- |
| | Downloads |