Ad blocker interference detected!
Wikia is a free-to-use site that makes money from advertising. We have a modified experience for viewers using ad blockers

Wikia is not accessible if you've made further modifications. Remove the custom ad blocker rule(s) and the page will load as expected.
This song article is lacking a proper background. You can help by adding one! The relevant section in the Song Article Guideline is a good starting point, and this blog post may also be helpful. We apologize for the inconvenience this may cause in the meantime.

Song pages lacking proper backgrounds are automatically sorted into this category.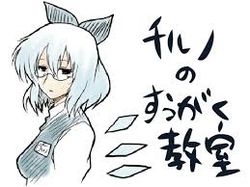 Song title
"チルノのすうがく教室"
Romaji: Chiruno no Suugaku Kyoushitsu
English: Cirno's Advanced Math Class
Uploaded May 20, 2009, with 1,000,000+ views
Singer(s)
Hatsune Miku
Producer(s)
eiki (lyrics, arrangement)
ZUN (music)
Links
Niconico Broadcast
Background
Edit
"Cirno no Suugaku Kyoushitsu" is an original song by eiki and ZUN featuring Hatsune Miku. It is an arranged cover of "Beloved Tomboyish Girl", Cirno's theme, with lyrics.
This song has entered the Hall of Legend.
Japanese (日本語歌詞)
Romaji (ローマ字)
キラキラ ダイヤモンド
kirakira daiyamondo
かがやく 夜の闇に
kagayaku yoru no yami ni
憧れた ちいさな
akogareta chiisana
わたしを おもいだす
watashi wo omoidasu


栄光 志望校
eikou shiboukou
夢見た あの時間に
yumemita ano jikan ni
帰りたいと願う日々は
kaeritai to negau hibi wa
儚く過ぎ去ってゆく
hakanaku sugi satte yuku


あの場所を バスが出て
ano basho wo basu ga dete
はじめに三人 乗りました
hajime ni sannin norimashita
夢半ば 一人降りて
yume nakaba hitori orite
親の仕事を 継ぎました
oya no shigoto wo tsugi mashita


時は経ち 一人降りて
toki wa tachi hitori orite
お嫁となって いきました
oyome to natte ikimashita
降り損ねた わたしを乗せて
orisokoneta watashi wo nosete
バスはただ進んでゆく
basu wa tada susunde yuku


仕事に 意味などないわ
shigoto ni imi nado nai wa
焦りが 身を蝕む
aseri ga miwo mushibamu
元気は いずこに
genki wa izukoni
落とした
otoshita


くるくる 時計の針
kurukuru tokei no hari
無情に 時は回る
mujou ni toki wa mawaru
2つの目は 3つの
futatsu no me wa mitsu no
針を 追えやしない
hari wo oeyashinai


次々 壁に当たる
tsugitsugi kabe ni ataru
まだまだ 道はつづく
madamada michi wa tsuzuku
ひんやりとした オフィスの中
hinyari to shita ofisu no naka
わたしの時間だけ 止まる
watashi no jikan dake tomaru


常識 作法 セオリー
joushiki sahou seorii
この世の 仕組みは何?
kono yo no shikumi wa nani?
ヒミツの 呪文も
himitsu no jumon mo
覚めたわ
sameta wa


ヘラヘラ ニヤけながら
herahera niyake nagara
ゲラゲラ 笑いながら
geragera warai nagara
豚 おだて ゴマすり
buta odate gomasuri
卑しい 上下社会
iyashii jouge shakai


キラキラ ダイヤモンド
kirakira daiyamondo
きらめく 夜の闇は
kirameku yoru no yami wa
幾多の希望が
ikuta no kibou ga
散った 夢の跡地
chitta yume no atochi


幸せ 富に名誉
shiawase to ni meiyo
願った あの時間に
negatta ano jikan ni
もし できるなら 一度だけ
moshi dekiru nara ichido dake
また もどりたい
mata modoritai
External links
Edit
| | |
| --- | --- |
| | Articles |
| | |
| --- | --- |
| | Lyrics |