Ad blocker interference detected!
Wikia is a free-to-use site that makes money from advertising. We have a modified experience for viewers using ad blockers

Wikia is not accessible if you've made further modifications. Remove the custom ad blocker rule(s) and the page will load as expected.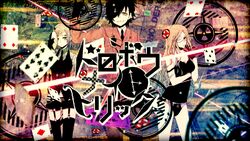 Song title
"ドロボウナイトトリック"
Romaji: Dorobou Night Trick
English: Thieves Night Trick
Uploaded February 5, 2013, with 400,560+ (NND) & 22,000 (YT) views
Singer(s)
GUMI
Baru (narration)
Matsushita, Glutamine, Shamuon (cameo appearance)
Producer(s)
YuchaP (music, lyrics)
HND (illustration, video)
yasu (mix, mastering)
Links
Niconico Broadcast • YouTube Broadcast (uploaded by the author)
YouTube Broadcast (with subtitles)

Background
Edit
"
What shall we go steal next?
"
 

This song first appeared as part of the tracklist for Ryo-kun's utaite album Re:you.
GUMI's version of the song can be found on compilation album GUMitia by EXIT TUNES.
This song has entered the Hall of Fame.
The song has gotten an original manga adaption on Comic Gene.[1]
Other Verions
Edit
Ryo-kun's version

| | |
| --- | --- |
| Featuring | Ryo-kun |
| Author(s) | Ryo-kun |
| Category | Human cover |
Japanese (日本語歌詞)
Romaji (ローマ字)
ここはネオンの眠らない夜
Koko wa neon no nemuranai yoru
無神論者も神へと祈る
Mushinronsha mo kami e to inoru
大金夢見て 集う
Taikin yumemite tsudou
大人達の遊園地
Otona-tachi no yūenchi


今夜ご覧に入れます
Konya goran ni iremasu
史上最大級のイカサマ
Shijō saidai kyū no ikasama
赤か黒か悩むなんて
Aka ka kuro ka nayamu nante
そんなチャチなモンじゃない
Sonna chachi na mon janai


準備完了 全員集合 役者揃い
Junbi kanryō zenin shūgō yakusha soroi
poker face 得意気な
poker face tokuige na
ディーラーも味方にして
Dīrā mo mikata ni shite
作戦は5分後に 狙い定め
Sakusen wa gofun go ni nerai sadame
さあ始めましょう このマジックショー
Sā hajimemashou kono majikkushō
奪いつくすまで
Ubai tsukusu made


Ah 盗み出そうか Party Night
Ah nusumidasou ka Party Night
がんじがらめのセキュリティなんて
Ganjigarame no sekyuriti nante
すぐに外してしまおう
Sugu ni hazushite shimaou
Ah 狙われたら 逃げられない
Ah nerawaretara nigerarenai
正直は泥棒の始まり
Shōjiki wa dorobō no hajimari
ただ夢を見たいだけさ
Tada yume o mitai dake sa


華やか 遊技場の裏側
Hanayaka yūgijou no uragawa
前後左右に仕組まれた罠
Zengo sayū ni shikumareta wana
メインディッシュは この中
Meindisshu wa kono naka
パスワードなんて無駄
Pasuwādo nante muda


今夜ご覧に入れます
Konya goran ni iremasu
史上最悪級のトリック
Shijō saiaku kyū no torikku
カードの裏側なんて
Kādo no uragawa nante
誰も予測出来ない
Dare mo yosoku dekinai


任務実行 用意周到 時間通り
Ninmu jikkō yōi shūtō jikan dōri
check mate 気取るキング
check mate kidoru kingu
目に物を見せてやるぜ
Me ni mono o misete yaru ze
逃走ルートは とっくに手配済み
Tōsō rūto wa tokkuni tehai zumi
さあ開かれた 秘密の扉
Sā hirakareta himitsu no tobira
今 盗りに行きます
Ima tori ni ikimasu


Ah 手に入れようか Hungry Night
Ah te ni ireyou ka Hungry Night
暗示だらけの世の中なんて
Anji darake no yononaka nante
誰も望んじゃないから
Dare mo nozon janai kara
Ah 空っぽだって 諦めない?
Ah karappo datte akiramenai?
嘘つきも泥棒の始まり
Usotsuki mo dorobō no hajimari
それでも まだ夢を見たいだけ
Soredemo mada yume o mitai dake


「もぬけの殻だ しくじった」
「Monukenokara da shikujitta」
どうやらこいつはダミーだ
Dōyara koitsu wa damī da
脳裏に浮かぶ 敗北
Nōri ni ukabu haiboku
二十二の現実のよう
Nijūni no genjitsu no yō
絶体絶命 ノーチャンス
Zettaizetsumei nōchansu
どうやら次はないみたい
Dōyara tsugi wa nai mitai
見透かした アイツが笑う
Misukashita aitsu ga warau


Ah 盗み出せない Party Night
Ah nusumidasenai Party Night
宴もたけなわ 終わりが迫る
En mo takenawa owari ga semaru
だけどまだ夜は明けない
Dakedo mada yoru wa akenai
Ah 転んだままじゃ 終わらせない
Ah koronda mama ja owarasenai
欲張りは泥棒の始まり
Yokubari wa dorobō no hajimari
キラリ バッグには詰め込んだダイヤ
Kirari baggu ni wa tsumekonda daiya


Party Night 嵌められたなんて
Party Night hamerareta nante
Dirty Night 騙された顔で
Dirty Night damasareta kao de
Hungry Night 最後に笑うのは
Hungry Night saigo ni warau no wa
こっちだ 気分はどうだい?
Kocchi da kibun wa dō dai?
足りない? まだ欲しいだって?
Tarinai? Mada hoshī datte?
泥棒なんてそういうもんさ
Dorobō nante sō iu mon sa
それじゃ 次の獲物
Sore ja tsugi no emono
一緒に探しに行こうか
Issho ni sagashi ni ikou ka
External links
Edit
References
Edit