Ad blocker interference detected!
Wikia is a free-to-use site that makes money from advertising. We have a modified experience for viewers using ad blockers

Wikia is not accessible if you've made further modifications. Remove the custom ad blocker rule(s) and the page will load as expected.
This song article is lacking a proper background. You can help by adding one! The relevant section in the Song Article Guideline is a good starting point, and this blog post may also be helpful. We apologize for the inconvenience this may cause in the meantime.

Song pages lacking proper backgrounds are automatically sorted into this category.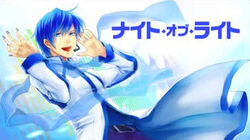 Song title
"ナイト・オブ・ライト"
Romaji: Naito Obu Raito
English: Knight of Light
Uploaded February 14, 2013 (NND) and February 16, 2013 (YT), with 29,000+ (NND) and 7,000+ (YT) views
Singer(s)
KAITO V3
Hatsune Miku (chorus)
Producer(s)
Iieru-P (music, lyrics)
Momopan (illust)
Links
Niconico Broadcast • YouTube Broadcast

Background
Edit
This song is featured in the game Project DIVA Arcade Future Tone and on the album V Love 25 -Fortune-.
Succeeding versions
Edit
Project DIVA AC Edit
| Singer | Color |
| --- | --- |
| KAITO | Blue |
| Miku | Teal |
Japanese (日本語歌詞)
Romaji (ローマ字)

刻まれた時間の渦の中で

kizama reta jikan no uzu no naka de

僕たちは再び出逢えたんだ

bokutachi wa futatabi deaetan da

過去を取り戻せた

kako wo tori modoseta

一億分の一の奇跡

ichioku bun no ichi no kiseki




誰もまだ見ぬこの道の先に

dare mo mada minu kono michi no saki ni

何が待っているのだとしても

nani ga matte iru noda to shite mo

僕が君を護るよ

boku ga kimi wo mamoru yo

君は僕の希望だから

kimi wa boku no kibou dakara




一人で苦しむ事なんて無いんだよ

hitori de kurushimu koto nante nainda yo

君の痛みを僕に分けて欲しい

kimi no itami o boku ni wakete hoshii




玉座の人形はもういらない

gyokuza no ningyou wa mou iranai

君の手を引き走り出す

kimi no te o hiki hashiri dasu

君はやっと微笑んだ

kimi ha yatto hohoend a

光栄でございます僕のお姫様

kouei de gozaimasu boku no ohimesama




ここにいるよ離れたりしないよ

koko ni iru yo hanare tari shinai yo

どんな時も僕は君だけの騎士だから

donna toki mo boku wa kimi dake no kishi dakara

何処にいても君の微笑みは

doko ni ite mo kimi no hohoemi wa

歪んだこの世界に咲く一輪の花

yuganda kono sekai ni saku ichirin no hana




-Knight of Light-






時は過ぎ世界は変容した

toki wa sugi sekai wa hen'you shita

それでもこの想いは変らない

soredemo kono omoi wa kawaranai

僕は君と永久に

boku ha kimi to towa ni

全てが終わるその時まで

subete ga owaru sono toki made




誰も未だ見ぬこの世界の果て

dare mo imada minu kono sekai no hate

何が待っているのだとしても

nani ga matte iru noda to shite mo

僕が君を護るよ

boku ga kimi o mamoru yo

君は僕の未来だから

kimi wa boku no mirai dakara




君の願いを僕に教えて欲しいんだ

kimi no negai o boku ni oshiete hoshiin da

確かな未来なんて無いとしても

tashikana mirai nante nai to shite mo




過去に囚われることなんて無い

kako ni torawareru koto nante nai

鎖は既に朽ち果てた

kusari ha sudeni kuchi hateta

その翼で飛び立とう

sono tsubasa de tobitatou

誰も届かなかった空の向こう側

dare mo todokanakatta sora no mukou gawa




何処にいても君を感じてるよ

doko ni ite mo kimi wo kanji teru yo

どんな時も僕は君だけのものだから

donnna toki mo boku wa kimi dake no mono dakara

何処にいても君が愛おしい

doko ni ite mo kimi ga itooshii

歪んだこの世界に咲く一輪の花

yuganda kono sekai ni saku ichirin no hana




  ありがとう… ありがとう…

  arigatou... arigatou...

  あなたに出逢えた奇跡

  anata ni deaeta kiseki
Other media appearances
Edit
External links
Edit
| | |
| --- | --- |
| | Articles |