Ad blocker interference detected!
Wikia is a free-to-use site that makes money from advertising. We have a modified experience for viewers using ad blockers

Wikia is not accessible if you've made further modifications. Remove the custom ad blocker rule(s) and the page will load as expected.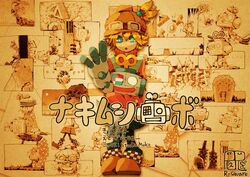 Song title
"ナキムシロボ"
Romaji: Nakimushi Robot
English: Crybaby Robot
Uploaded January 3, 2013, with 310,000+ views
Singer(s)
GUMI
Producer(s)
Ramune (music, lyric)
Ryuusee (illustration, video)
Studio Moko (mix)
Links
Niconico Broadcast • YouTube Broadcast

Background
Edit
"
Because I wanted to communicate with you.
"
 

— Author's comment.
"Nakimushi Robot" is an original Japanese VOCALOID song featuring GUMI. It is producer Ramune's 12th work. The names of MV's main characters are Sabi (the robot) and Hakase (the girl).
The song first appeared on EXIT TUNES compilation album Supernova 8. It was also featured on another EXIT TUNES compilation album, GUMitia.
This song has entered the Hall of Fame.
note: parts in italics appear as MV text only
Japanese (日本語歌詞)
Romaji (ローマ字)
早足歩きの君たちにつられ
hayaashi aruki no kimitachi ni tsurare
こっそり後ろを歩いてく
kossori ushiro o aruiteku
僕は思い違いで笑ってる
boku wa omoichigai de waratteru
寂しがりロボット
sabishi gari robotto


曖昧言葉のフィルターで
aimai kotoba no firutā de
伝えたい事何にも響かない
tsutaetai koto nannimo hibikanai
だからやっぱり僕の気持ちなんか届いてなかった
dakara yappari boku no kimochi nanka todoite nakatta


ちょっとまって 今だけはさ
chotto matte ima dake wa sa
その手 離さないで
sono te hanasanai de


ナキムシロボが 何処かで泣いた
nakimushi robo ga dokoka de naita
誰にも気づかれないで 泣いた
darenimo kizukarenai de naita
そうして君と遠くなったら
soushite kimi to tōku nattara
どうやって歩こっか
dou yatte arukokka


ナキムシロボの心の傷は
nakimushi robo no kokoro no kizu wa
誰にも分からないんだろ
dare nimo wakaranain daro
ほら僕だって
hora boku datte
分からなかった傷だ
wakara na katta kizu da


早足歩きの君を見失い
hayaashi aruki no kimi o miushinai
ぽつり一人佇んでる
potsuri hitori tatazunderu
僕は思い違いで悩んでる
boku wa omoi chigai de nayanderu
寂しがりロボット
sabishi gari robotto


パララ パララ
parara parara
パララ パラパラ
parara parapara


パララ パララ
parara parara
パララ パラパラ
parara parapara


パララ パララ
parara parara
パララ パラパラ
parara parapara


パララ パララ
parara parara
パララ パラパラ
parara parapara


ちょっとだけ雨に濡れて
chotto dake ame ni nurete
涙 隠さなきゃね
namida kakusanakya ne


ナキムシロボは迷子になった
nakimushi robo wa maigo ni natta
声が上手く出せなくなってた
koe ga umaku dasenaku natteta
そうして君を探していっても
soushite kimi o sagashite itte mo
僕だって叫べるかい
boku datte sakeberu kai


ナキムシロボの心の涙
nakimushi robo no kokoro no namida
雨に濡れてもバレちゃうな
ame ni nurete mo barechau na
ほら僕だって
hora boku datte
気付いてたんだ ずっと
kizuitetanda zutto


(僕が生まれた日の
(boku ga umareta hi no
(君の顔を今も覚えているよ。
(kimi no kao o ima mo oboete iru yo.
(目の下にクマを付けて言ったんだ。
(menoshita ni kuma o tsukete ittanda.
(おはよう、はじめまして。
(ohayou, hajimemashite.


(それからたくさん色んな事があって
(sorekara takusan ironna koto ga atte
(君は大人になったね。
(kimi wa otona ni natta ne.
(おもちゃの僕と遊ぶ時間は減ったけれども、
(omocha no boku to asobu jikan wa hetta keredomo,
(僕はまだ隣に居ても良いかなあ?
(boku wa mada tonari ni ite mo yoi kanā?


ナキムシロボの言葉のフィルター
nakimushi robo no kotoba no firutā
自分で置いた心の壁だ
jibun de oita kokoro no kabe da
意味の無い事ばかりを並べて
imi no nai koto bakari o narabete
どうやって話すんだ
dou yatte hanasun da


すれ違いの僕たちの道は
surechigai no bokutachi no michi wa
同じようで違ったんだ
onaji you de chigattan da
そりゃ君だって
sorya kimi datte
気付かなかったワケさ
kizukanakatta wake sa


でもこれだって 伝わるのかな
demo kore datte tsutawaru no kana
なんて
nante
External links
Edit