Ad blocker interference detected!
Wikia is a free-to-use site that makes money from advertising. We have a modified experience for viewers using ad blockers

Wikia is not accessible if you've made further modifications. Remove the custom ad blocker rule(s) and the page will load as expected.
This song article is lacking a proper background. You can help by adding one! The relevant section in the Song Article Guideline is a good starting point, and this blog post may also be helpful. We apologize for the inconvenience this may cause in the meantime.

Song pages lacking proper backgrounds are automatically sorted into this category.
For the Trilogic and Aishina Eri song, see Nervous.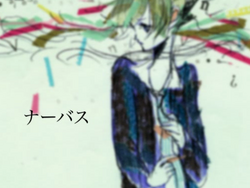 Song title
"ナーバス"
Romaji: Nabaasu
English: Nervous
Uploaded November 23, 2009, with 109,180+ views
Singer(s)
Hatsune Miku
Producer(s)
shizuru
Links
Niconico Broadcast
Background
Edit
"Nervous" is an original Japanese song featuring Hatsune Miku.
The song has entered the Hall of Fame.
Japanese (日本語歌詞)
Romaji (ローマ字)
ちょっとナーバスな気持ちになっちゃう
chotto naabasu na kimochi ni nacchau


ちょっとナーバスな気持ちになっちゃう
chotto naabasu na kimochi kimochi nacchau
このままでいられない all night
kono mama de irarenai all night
何か足りないな crush してちょうだい
nani ka tarinai na crush shite choudai
いつまでも夢を見てたいな
itsumo demo yume o mitetai na


俺 いつか消え行く生命体
ore itsuka kie yuku seimei tai
oh yeah! 明日がどんなかわかんない
oh yeah! Ashita ga donna ka wakannai
うん、そうね
un, sou ne


Love me,love me,baby 花摘もうか
Love me, love me, baby hanatsuma mou ka
甘美 甘美 皆 ヘビースモーカー
kanbi kanbi kai hebii sumookaa
あっち こっち そっち どっち 誤解だ
acchi kocchi socchi docchi gokaida
何万人の寸分違わぬ モンキーダンス
nan mannin no sunbun tagawanu monkii dansu
全部まとめて消し去った ナーバス
zenbu matomete keshi satta naabasu


ほんとサーカスみたいなエンターテイメント
honto saakusu mitai na entaateimento
作りものでいいならば ハイハイ
tsukuri monode ii naraba hai hai
やっぱガーリック デートはキャンセル
yappa gaarikku deeto wa kyanseru
愛にだって ドラマティックしたいじゃん
ai ni datte doramatikku shitai jan


俺 やっぱ愚かな生命体
ore yappa orokana seimei karada
こげついた下らない knowledge
koge tsuitakudaranai knowledge
よそうね
yosou ne


Love me,love me,baby 花摘もうか
Love me, love me, baby hanatsuma mou ka
甘美 甘美 皆 ヘビースモーカー
kanbi kanbi kai hebii sumookaa
あっち こっち そっち どっち 誤解だ
acchi kocchi socchi docchi gokaida
何万人の寸分違わぬ モンキーダンス
nan mannin no sunbun tagawanu monkii dansu
全部まとめて消し去った ナーバス
zenbu matomete keshi satta naabasu


ほんとナーバスなヤツばっか
honto naabasu na yatsu bakka
高らか あげたとこで何もないのね
takaraka ageta toko de nanimo nai no ne
シャンパン ワイン ウィスキーにソーダ
shanpan wain wisukii ni sooda
適当に乾杯 外来語に乾杯
tekitou ni kanpai gairai go ni kanpai


俺 いつか消え行く生命体
ore itsuka kie yuku seimei tai
oh yeah! 明日がどんなかわかんない
oh yeah! Ashita ga donna ka wakannai
うん、そうね
un, sou ne


Love me,love me,baby 花摘もうか
Love me, love me, baby hanatsuma mou ka
甘美 甘美 皆 ヘビースモーカー
kanbi kanbi kai hebii sumookaa
あっち こっち そっち どっち 誤解だ
acchi kocchi socchi docchi gokaida
何万人の寸分違わぬ モンキーダンス
nan mannin no sunbun tagawanu monkii dansu


Love me,love me,baby 花摘もうか
Love me, love me, baby hanatsuma mou ka
甘美 甘美 皆 ヘビースモーカー
kanbi kanbi kai hebii sumookaa
あっち こっち そっち どっち 誤解だ
acchi kocchi socchi docchi gokaida
何万人の寸分違わぬ モンキーダンス
nan mannin no sunbun tagawanu monkii dansu
全部まとめて消し去った ナーバス
zenbu matomete keshi satta naabasu


ちょっとナーバスな気持ちになっちゃう
chotto naabasu na kimochi ni nacchau
External links
Edit
| | |
| --- | --- |
| | Articles |