Ad blocker interference detected!
Wikia is a free-to-use site that makes money from advertising. We have a modified experience for viewers using ad blockers

Wikia is not accessible if you've made further modifications. Remove the custom ad blocker rule(s) and the page will load as expected.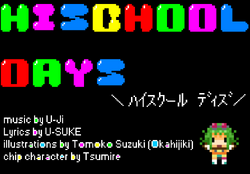 Song title
"ハイスクール Days"
Romaji: Haisukuuru Days
English: High School Days
Uploaded May 2, 2010, with 33,750+ views
Singer(s)
GUMI
Producer(s)
U-ji (music)
U-SUKE (lyrics)
Okahiji (illust)
Tsumire (chip character)
Links
Niconico Broadcast • YouTube Broadcast (reprint)

Background
Edit
"High School Days" is an original GUMI song. The song was uploaded as a re-edit featured in the Project DIVA Arcade, with Hatsune Miku singing a cover of the song in place of GUMI.
Succeeding versions
Edit
ハイスクール Days - DIVA EDIT

Romaji/English
High School Days - DIVA EDIT
Featuring
Hatsune Miku
Author(s)
U-ji
Category
Cover song

Description

The re-edited version of GUMI's song, featured in Project DIVA Arcade.
Japanese (日本語歌詞)
Romaji (ローマ字)
Hurry Up 急がなくちゃ
Hurry Up iso ga nakucha
楽しい High School Days
tanoshii High School Days
駆け抜けよう
kakenu keyou


やっぱ 1番
yappa ichiban
Precious Memory
Best My Place


昨日の宿題
kinou no shukudai
ラクショーだったし
rakushoo datta shi
今日はなんだかネ
kyou wa nanda ka ne
気分もワクワク♪
kibun mo wakuwaku♪


洗い立ての髪なびく
araitate no kami nabiku
朝1番に感じた風
asa ichiban ni kanjita kaze
ハッピーな一日の予感
happii na ichi nichi no yokan
させるわ★
saseru wa★


Hurry Up 急がなくちゃ
Hurry Up iso ga nakucha
楽しい High School Days
tanoshii High School Days
駆け抜けよう
kakenu keyou


Lets go さぁ 飛び出そうよ
Lets go saa tobidasou yo
楽しいHigh School Days
tanoshii High School Days
駆け出そう~☆
kake de sou~☆


ほら 放課後のチャイムも
hora houkago no chaimu mo
ドキドキ トキメキ
dokidoki tokimeki
リズミカル
rizumikaru


やっぱ 1番
yappa ichiban
Precious Memory
Best My Place
My Friends…


(My Place)
(My Friends...)


退屈授業も
taikutsu jugyou mo
ようやく終わったし
youyaku owatta shi
これからランチだ
korekara ranchi da
みんなでワイワイ
minna de waiwai


放課後には 部活動
houkago ni wa bu katsudou
心が弾む
kokoro ga hazumu
グランドで
gurando de
ファイト 先輩達
faito senpai tachi
応援してるわ
ooen shiteru wa


Don't Stop もう 止まらない
Don't Stop mou tomaranai
楽しい High School Days
tanoshii High School Days
駆け抜けよう
kakenu keyou


Jump up さぁ 飛び出そうよ
Jump up saa tobi dasou yo
楽しいHigh School Days
tanoshii High School Days
駆け出そう~☆
kake dasou~☆


ほら 放課後のチャイムも
hora houkago no chaimu mo
ドキドキ トキメキ
dokidoki tokimeki
リズミカル
rizumikaru


やっぱ 1番
yappa ichiban
Precious Memory
Best My Place
My Friends…
(My Place)
(My Friends...)


結んでいた髪ほどき
musunde ita kami hodoki
沈んでゆく夕陽眺め
shizunde yuku yuuhi nagame
ハッピーな一日の終わり
happii naa ichi nichi no owari
感じる★
kanjiru★
Other media appearances
Edit
External links
Edit
| | |
| --- | --- |
| | Articles |