This song article is lacking a proper background. You can help by adding one! The relevant section in the Song Article Guideline is a good starting point, and this blog post may also be helpful. We apologize for the inconvenience this may cause in the meantime.

Song pages lacking proper backgrounds are automatically sorted into this category.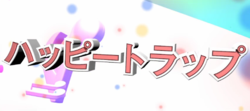 Song title
"ハッピートラップ"
Romaji: Happii Torappu
English: Happy Trap
Uploaded March 1, 2013, with 100,760+ views
Singer(s)
CUL
Producer(s)
Junky (music, lyrics)
Tama (illust)
Ke-sanβ (movie)
Links
Niconico Broadcast
Background
Edit
"Happy Trap" is an original song by Junky featuring CUL.
Japanese (日本語歌詞)
Romaji (ローマ字)
「愛とか夢とかじゃないけど 興味とかまったくゼロだし」
"ai toka yume toka ja nai kedo kyoumi toka mattaku zero dashi"
いつかの夢の続きをほら 思い出してる夢見る
itsuka no yume no tsuzuki o hora omoidashiteru yumemiru
Boys & Girls


何してもダメとか 何それドジっ子じゃん
nani shite mo dame toka nani sore dojikko jan
違うそんなキャラじゃない そんなの認めないわ
chigau sonna kyara ja nai sonna no mitome nai wa


勢いあまって躓(つまず)く なんてのは 山ほどあるわ
ikioi amatte tsumazuku nante no wa yama hodo aru wa
ここから眺める景色を 確認したいだけ
koko kara nagameru keshiki o kakunin shitai dake
少し強気なメロディー 君に届けるから
sukoshi tsuyoki na merodī kimi ni todokeru kara


色々な色がある中で 一つ選べるとしたなら
iroiro na iro ga aru naka de hitotsu eraberu to shita nara
目もくれず白に手を伸ばす あざとくて抱きつきたくなる
me mo kurezu shiro ni te o nobasu azatokute dakitsuki taku naru
Angel


ちょっとでも褒めると照れちゃう 違うわ えっとうんとあー
chotto demo homeru to terechau chigau wa etto unto aa
ちょっとだけ演技ってみただけ 常識大人でしょ
chotto dake engi tte mita dake joushiki otona desho
少し健気なメロディー 君に届けるから
sukoshi kenage na merodī kimi ni todokeru kara


まだ治らなそうね 生涯ドジっ子じゃん
mada naora na sou ne shougai dojikko jan
でもポジティブなシンキング 明日はいい日になるわ
demo pojitibu na shinkingu ashita wa ī hi ni naru wa


君からもらった ハッピーを あげるよ 歌にして
kimi kara moratta happī o ageru yo uta ni shite
ほんのちょっとドジな私にも 出来る事してあげる
honno chotto doji na watashi ni mo dekiru koto shite ageru
少し幸せなメロディー 君に届けるから
sukoshi shiawase na merodī kimi ni todokeru kara
ありがとうを込めて
arigatou o komete
External links
Edit
| | |
| --- | --- |
| | Articles |
| | |
| --- | --- |
| | Lyrics |
Ad blocker interference detected!
Wikia is a free-to-use site that makes money from advertising. We have a modified experience for viewers using ad blockers

Wikia is not accessible if you've made further modifications. Remove the custom ad blocker rule(s) and the page will load as expected.