The following song article is still a work in progress. For information on how to help, see the song article guideline. We apologize for the inconvenience this may cause in the meantime.

Work-in-progress song pages are automatically sorted into this category.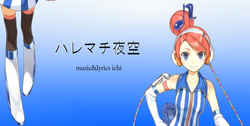 Song title
"ハレマチ夜空"
Romaji: Haremachi Yozora
English: Haremachi Night Sky
Uploaded December 16, 2011, with 2,500+ views
Singer(s)
Akikoloid-chan
Producer(s)
ichi
Links
Niconico Broadcast
Background
Edit
Japanese (日本語歌詞)
Romaji (ローマ字)
あぁ僕たちは臨戦体制の人生なんです
aa bokutachi wa rinsen taisei no jinsei nan desu
あぁ変わらない毎日だってね泣き言言わず
aa kawaranai mainichi datte ne nakigoto iwa zu
凍える夜もあれば終電なんてね結構普通だし
kogoeru yoru mo areba shuuden nante ne kekkou futsuu dashi
気づきにくいもんだね 幸せなんていうのは
kizuki nikui monda ne shiawase na n teyuu no wa


2人きりで手を繋ぐって案外恥ずかしかったりするもんだね
futarikiri de te o tsunagu tte angai hazukashikattari suru mon da ne
愛してますか?愛されてますか? そんな問いには答えはしないけど
aishite masuka? aisarete masuka? sonna toi ni wa kotae wa shinai kedo
「寒いね」って呟く ベテルギウスはまだ見えない
'samui ne' tte tsubuyaku beterugiusu wa mada mienai


あぁ改札を抜けた先にはいつもの景色です
aa kaisatsu o nuketa saki ni wa itsumo no keshiki desu
あぁ代わり映えしなくったって不満だらけでも
aa kawaribae shinakuttatte fuman darake de mo
疲れ果てて眠れば降りる駅を2つ乗り過ごし
tsukare hatete nemureba oriru eki o futatsu norisugoshi
チャージ切れて渋滞 嫌なこと続くね
chaaji kirete juutai iya na koto tsuzuku ne


また明日もその次の日も こんな生活が続く気がする
mata ashita mo sono tsugi no hi mo konna seikatsu ga tsuzuku ki ga suru
帰り道にコンビニよって カゴを持てばまた無駄使い
kaerimichi ni konbini yotte kago o mote ba mata muda zukai
「まぁいっか」って呟く 今日はおでんでも買って帰ろう
'maa ikka' tte tsubuyaku kyou wa oden demo katte kaerou


なんてことない日常に忘れがちな確かな幸せ
nante kotonai nichijou ni wasure gachi na tashika nashiawase
それが連なって それが繋がって 今の僕を支えているのかな
sore ga tsuranatte sore ga tsunagatte ima no boku o sasaete iru no ka na
当たり前の毎日 それが今の僕の幸せ
atarimae no mainichi sore ga ima no boku no shiawase


「寒いな」って呟く ベテルギウスはまだ見えない
'samui na' tte tsubuyaku beterugiusu wa mada mienai
External links
Edit
| | |
| --- | --- |
| | Articles |
| | |
| --- | --- |
| | Lyrics |
Ad blocker interference detected!
Wikia is a free-to-use site that makes money from advertising. We have a modified experience for viewers using ad blockers

Wikia is not accessible if you've made further modifications. Remove the custom ad blocker rule(s) and the page will load as expected.