Ad blocker interference detected!
Wikia is a free-to-use site that makes money from advertising. We have a modified experience for viewers using ad blockers

Wikia is not accessible if you've made further modifications. Remove the custom ad blocker rule(s) and the page will load as expected.
!

Warning:

This song contains questionable lyrics and themes; it may be inappropriate for younger audiences.

The Vocaloid Wiki does not have a policy on lyrical content or theme; however, it attempts to follow the Wikia TOU.
For further discussion see Thread:68883. Questionable songs are automatically sorted into this category.

!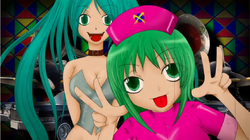 Song title
"バンカーバスター"
English: Bunker Buster
Uploaded September 12, 2011, with 2,746 (original) 21,000 (NND) (remake) / 86,000 (YT) (remake) / 2,800 (SC) (remake) views
Singer(s)
Hatsune Miku and GUMI
Producer(s)
masa (music, illust, movie)
Links
Niconico Broadcast (deleted) • YouTube Broadcast (deleted)

Background
Edit
"
The life of one human
"
 

— Author's comment
"Bunker Buster" is masa's fifth original song.
Succeeding versions
Edit
バンカーバスター (remake)

Romaji/English
Bunker Buster
Featuring
Hatsune Miku, GUMI
Author(s)
masa
Category
Remake

Description

A remade version of the song, with a new PV.
Singer + Color
GUMI
Both
Miku
Japanese (日本語歌詞)
Romaji (ローマ字)

今日中デビルで フェイザはテンペスト

kyou chuu debiru de feiza wa tenpesuto

そう、バービー月収バーナー

sou, baabii gesshuu baanaa

見くびる戦線、バンカーバスター

mikubiru sensen, bankaa basutaa




ベンリィパーラー パリジェンヌ

benrii paaraa parijennu

ベイティバンバン ダーリンwow

beiti ban ban daarin wow

供給ネヴァー 神、咳

kyoukyuu nevaa shin, seki

焼却炉に積極的

shoukyakuro ni sekkyokuteki




嘘の幸せを並べてる

uso no shiawase o narabeteru

誰も言わない。もう終わってると

daremo iwanai. mou owatteru to

誰かが言わなきゃ始まらない。

dareka ga iwanakya hajimaranai.

お願い助けてバンカーバスター

onegai tasukete, bankaa basutaa




ベンリィパーラー パリジェンヌ

benrii paaraa parijennu

ベイティバンバン ダーリンwow

beiti ban ban daarin wow

ベンリィパーラー パリジェンヌ

benrii paaraa parijennu

ベイティバンバン ダーリンwow

beiti ban ban daarin wow

供給ネヴァー 神、咳

kyoukyuu nevaa shin, seki

現地ね?ベンチでパリジェンヌ

genchi ne? benchi de parijennu




ベンリィパーラー パリジェンヌ

benrii paaraa parijennu

空がピカピカさ

sora ga pikapika sa




砕けた幸せ、これが幸せ

kudaketa shiawase, kore ga shiawase

壊れた幸せ、これが幸せ

kowareta shiawase, kore ga shiawase

正義を全う、誰も悪くない

seigi o mattou, daremo warukunai

神と家畜の境界線

kami to kachiku no kyoukaisen




夢の見方さえ教えられるのか?

yume no mikata sae oshierareru no ka?

そんなものは夢じゃない

sonna mono wa yume janai

歩く死体、空飛ぶ子猫は

aruku shitai, sora tobu koneko wa

人間ヘドロと変わらない

ningen hedoro to kawaranai




愛を知らないと喚いた子供は

ai o shiranai to wameita kodomo wa

愛を求め血の海へ

ai o motome chi no umi e

頭のいい間抜けなカカシは

atama no ii manuke na kakashi wa

ゴミに隠れ生きて行く

gomi ni kakure ikite iku




鏡に映る自分の事

kagami ni utsuru jibun no koto

見ると怖くなるのさ

miru to kowaku naru no sa

四角い玉の上に立って

shikakui tama no ue ni tatte

世界の矛盾を解く

sekai no mujun o toku




ベンリィパーラー パリジェンヌ

benrii paaraa parijennu

ベイティバンバン ダーリンwow

beiti ban ban daarin wow

ベンリィパーラー パリジェンヌ

benrii paaraa parijennu

ベイティバンバン ダーリンwow

beiti ban ban daarin wow

供給ネヴァー 神、咳

kyoukyuu nevaa shin, seki

現地ね?ベンチでパリジェンヌ

genchi ne? benchi de parijennu




ベンリィパーラー パリジェンヌ

benrii paaraa parijennu

空がピカピカさ

sora ga pikapika sa




未来は明日から煤けた未来に

mirai wa ashita kara susuketa mirai ni

分かっちゃいねぇなもう終わってると

wakacchai nee na mo owatteru to

おれが始めなきゃ、始まらない

ore ga hajimenakya, hajimaranai

天国は地獄、バンカーバスター

tengoku wa jigoku, bankaa basutaa




ガラスの画面に映るこの景色

garasu no gamen ni utsuru kono keshiki

他人事さこの娯楽

tanin goto sa kono goraku

真っ赤な空は憎みきれなくて

makka na sora wa nikumikire nakute

涙流す家畜達

namida nagasu kachiku tachi




煤けたプロペラ指も千切らずに

susuketa puropera yubi mo chigirazu ni

誰のせいだその痛み

dare no sei da sono itami

全て終わる時は来ないけど

subete owaru toki wa konai kedo

命はすぐ煤になる

inochi wa sugu susu ni naru




終わる現在を神の目で見てる

owaru inou o kami no me de miteru

人は神になれない

hito wa kami ni narenai

人の罪と命の天秤

hito no tsumi to inochi no tenbin

奴はけして動かない

yatsu wa keshite ugokanai




生きる事を諦めた鳥は

ikiru koto o akirameta tori wa

影の踊り観ているよ

kage no odori mite iru yo

割れた空と哀れみの涙

wareta sora to awaremi no namida

おいで?全て許すから

oide? subete yurusu kara




ベンリィパーラー パリジェンヌ

benrii paaraa parijennu

ベイティバンバン ダーリンwow

beiti ban ban daarin wow

ベンリィパーラー パリジェンヌ

benrii paaraa parijennu

ベイティバンバン ダーリンwow

beiti ban ban daarin wow

供給ネヴァー 神、咳

kyoukyuu nevaa shin, seki

現地ね?ベンチでパリジェンヌ

genchi ne? benchi de parijennu




ベンリィパーラー パリジェンヌ

benrii paaraa parijen'nu

空がピカピカさ

sora ga pikapika sa




黒い閃光と紅い噴水

kuroi senkou to akai funsui

飼われた家畜と飼ってる家畜

kawareta kachiku to katteru kachiku

正義を全う。おれは悪いのか?

seigi o mattou. ore wa warui no ka?

神と家畜の独り言

kami to kachiku no hitorigoto



けして笑えない この物語は
keshite waraenai kono monogatari wa
いつか忘れ消えてゆく
itsuka wasure kiete yuku
曲がり角の先 ベンチの自分は
magarikado no sen benchi no jibun wa
夢に溺れ死んでいる
yume ni obore shinde iru


全て塵だ 指先一つで
subete chiri da yubisaki hitotsu de
おれの世界、何もない
ore no sekai, nanimo nai
真っ赤な空をこの耳で聴いて
makka na sora o kono mimi de kiite
堕とせ 全て残さずに
otose subete nokosazu ni
External links
Edit
| | |
| --- | --- |
| | Lyrics |