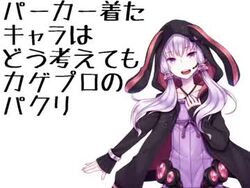 Song title
"パーカー着たキャラはどう考えてもカゲプロのパクリ"
Romaji: Paakaa Kita Kyara wa Dou Kangaete mo Kagepuro no Pakuri
English: No Matter How You Think About It, Characters Wearing Hooded Jackets Are Kagepro Ripoffs
Uploaded July 26, 2013, with 250,511+ views
Singer(s)
Yuzuki Yukari
Producer(s)
Hobonichi-P
Links
Niconico Broadcast • YouTube Broadcast (reprint)

Background
Edit
A humorous and satirical song proclaiming that all characters wearing hooded jackets stole the idea from Kagerou Project, commenting on the strangeness amongst its fans. This song has entered the Hall of Fame.
Japanese (日本語歌詞)
Romaji (ローマ字)
お前ら馬鹿じゃない?
omaera baka janai?
パーカー着たキャラは
pākā kita kyara wa
お前ら馬鹿じゃない?
omaera baka janai?
カゲプロのパクリ
kagepuro no pakuri
お前ら馬鹿じゃない?
omaera baka janai?
見分けがつかない
miwake ga tsukanai
お前ら馬鹿じゃない?
omaera baka janai?
マナー悪い信者
manā warui shinja


初めて買った洋楽のCD
hajimete katta yougaku no CD
歌詞カードの対訳を読んだだけで
kashi kādo no taiyaku o yonda dake de
急に日本語で歌っている曲が
kyuu ni nihongo de utatteiru kyoku ga
ものすごくつまらないものに思えた
monosugoku tsumaranai mono ni omoeta


教室で一人感じる優越感
kyoushitsu de hitori kanjiru yuuetsu kan
これみよがしに広げる歌詞カード
kore miyogashi ni hirogeru kashi kādo
アイドル聴いてる同級生が
aidoru kiiteru doukyuusei ga
子供じみている馬鹿に見えた
kodomo jimiteiru baka ni mieta


身に覚えがないなんて言わせないよ
mi ni oboe ga nai nante iwasenai yo
誰もが必ず一度は通ってきた黒歴史
dare mo ga kanarazu ichi do wa kayotte kita kuro rekishi


小中学生の所詮戯言
shouchuugakusei no shosen tawagoto
痛々しいのは謂わばディファクト
itaitashii no wa iwaba difakuto
ネットで見るとキチガイに見えても
netto de miru to kichigai ni miete mo
子供と思えば納得の痛さ
kodomo to omoeba nattoku no itasa
鬼の首取ったかのような顔で
oni no kubi totta ka no you na kao de
痛い発言晒すのもどうなの?
itai hatsugen sarasu no mo dou na no?
どうせ子供だましのモンキービジネス
douse kodomodamashi no monkī bijinesu
生暖かく見守ってあげましょう
namaatatakaku mimamotte agemashou
Derivatives
Edit
IA's Cover

| | |
| --- | --- |
| Featuring | IA |
| Author(s) | IXWL |
| Category | VOCALOID cover |
External links
Edit
| | |
| --- | --- |
| | Articles |
| | |
| --- | --- |
| | Downloads |
Ad blocker interference detected!
Wikia is a free-to-use site that makes money from advertising. We have a modified experience for viewers using ad blockers

Wikia is not accessible if you've made further modifications. Remove the custom ad blocker rule(s) and the page will load as expected.