ピアノソロ 中級 ピアノで弾く 初音ミク、鏡音リン・レン、巡音ルカの歌 is a piano music sheet selection focused on Hatsune Miku, Megurine Luka, Kagamine Rin and Len.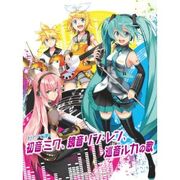 The collection is a selection of 10 popular songs with Miku, Rin, Len and Luka as the lead. It is for intermediate level piano players.
Songlist
みくみくにしてあげる♪【してやんよ】/ika feat. / 初音ミク
ハジメテノオト/malo feat. 初音ミク / 初音ミク
愛言葉/DECO*27 feat.初音ミク
ダブルラリアット/アゴアニキ feat.巡音ルカ
1925/ T-POCKET feat.初音ミク
右肩の蝶 / のりぴー feat.鏡音リン
ココロ / トラボルタ feat.鏡音リン
タイムマシン / 1640mP(164×40mP) feat.初音ミク
ARiA / とくP feat. 初音ミク
初音ミクの激唱/Storyteller(GAiA×cosMo@暴走P) feat.初音ミク
The following navigation template is currently being improved for the benefit of all visitors. Please bear with us while improvements are being made, and as soon as an editor is available to do so assume good faith until the edits are complete. We apologize for the inconvenience this may cause in the meantime.
Literature
Music material
Fandom material
Ad blocker interference detected!
Wikia is a free-to-use site that makes money from advertising. We have a modified experience for viewers using ad blockers

Wikia is not accessible if you've made further modifications. Remove the custom ad blocker rule(s) and the page will load as expected.