Ad blocker interference detected!
Wikia is a free-to-use site that makes money from advertising. We have a modified experience for viewers using ad blockers

Wikia is not accessible if you've made further modifications. Remove the custom ad blocker rule(s) and the page will load as expected.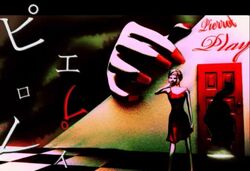 Song title
"ピエロプレイ "
Romaji: Piero Purei
English: Pierrot Play
Uploaded November 05, 2008, with 42,000+ views
Singer(s)
MEIKO
Producer(s)
Garakuta Studio:
No.D (music, composer, lyrics)
Ueno Yuujin (illustrator)
Links
Niconico Broadcast
Background
Edit
Garakuta Studio's 4th work. The song was made in celebration for a MEIKO's birthday festival. The melody is one of shuffle rock.
This song was featured on Garakuta Studio's EP of the same name.
Succeeding versions
Edit
MEIKO V3's cover

Featuring
MEIKO V3 Straight
Author(s)
Garakuta Studio (music, lyrics), iXima (illust)
Category
Demonstration

Description

This version reached 10,000 views.
Japanese (日本語歌詞)
Romaji (ローマ字)
目が合ったその瞬間(とき)には
megaatta sono shunkan (toki) ni wa
もうゲームは始まっていて
mou geemu wa hajimatte ite
なぞるべきシナリオだけ
nazorubeki shinario dake.
悟られないように読み返している
satora renai you ni yomikaeshite iru


「ワインなら大好きでしょう?」
"wain'nara daisukideshou?"
微笑むあなたの眼の色が
hohoemu anata no me no iro ga
見せつける言葉通り
misetsukeru kotoba-doori
演じていくのも楽になった
enjite iku no mo raku ni natta


笑う、触る、撫でる、喘ぐ。
warau, sawaru, naderu, aegu
迷うことも止めにしたよ
mayou koto mo tome ni shita yo
回る、舐める、跳ねる、叫ぶ。
mawaru, nameru, haneru, sakebu.
今だけは誰よりも幸福(しあわせ)?
imadake wa dare yori mo koufuku (shiawase)?


もっと もっと もっとだ、
motto motto mottoda
あたしを求めてくれ
atashi o motomete kure
この道化に意味を与えておくれよ
kono douke ni imi o ataete okureyo
あなたが望むような科白ならいくらでも
anata ga nozomu you na serifunara ikurademo
耳元で囁いてみせたげるからさぁ
mimimoto de sasayaite mise tagerukara saa


少しでもあたしを騙して
sukoshidemo atashi o damashite


いつも通りの朝五時
itsumodōri no asaitsutsudoki
閉まる扉(と)の音が切なくて
shimaru tobira (to) no oto ga setsunakute
迫り来る不安はまた
semari kuru fuan wa mata
安らぎさえもたらしていく
yasuragi sae motarashite iku


生まれ消える。
umare kieru
二度と会えぬ。
nidoto aenu
一夜(ひとよ)だけの脆い心
ichiya (hito yo) dake no moroi kokoro
虚し、悲し、愛し、恋し。
munashi, kanashi, aishi, koishi
誰にでも起こりうることでしょう?
darenidemo okori uru kotodeshou?


幻でもいいよ
maboroshi demo ii yo
ゲームで構わないよ
geemu de kamawanai yo
あなたの胸に身を任せられるなら
anata no mune ni mi o makase rarerunara
「独りでもいける」と強がってもみたけど
"hitori demo ikeru' to tsuyo gatte mo mitakedo"
そのたびに思い知らされて嘆くのさ
sono tabi ni omoishirasa rete nageku no sa


本当はただの女なんだ
hontou wa tada no on'nana nda


笑う、触る、撫でる、喘ぐ。
warau, sawaru, naderu, aegu.
偽物のあたしを真似て
nisemono no atashi o manete.
回る、舐める、跳ねる、叫ぶ。
mawaru, nameru, haneru, sakebu.
今だけは誰よりも幸福(しあわせ)
imadake wa dare yori mo koufuku (shiawase)


仕 合 わ せ?
tsukamatsu gou wa se?


踊るように生きて
odoru you ni ikite
ワルツに身を任せて
warutsu ni mi o makasete
誰かの手をいつも握れたらいいの
dareka no te o itsumo nigiretara ii no
仮面越しの接吻(キス)を交わしたあなたとなら
kamen-goshi no seppun (kisu) o kawashita anata tonara
分かりあえることもあったのかもね
wakari aeru koto mo atta no kamo ne


もっと もっと もっとだ
motto motto mottoda
あたしを求めてくれ
atashi o motomete kure
この扉を壊す勢いでいいよ
kono tobira o kowasu ikioide ii yo
あなたが望むような所ならいくらでも
anata ga nozomu you na tokoronara ikurademo
触らせて感じてみせてあげるからさぁ
sawara sete kanjite misete agerukara saa


少しでもあたしを騙して
sukoshi demo atashi o damashite
External links
Edit
| | |
| --- | --- |
| | Articles |