Ad blocker interference detected!
Wikia is a free-to-use site that makes money from advertising. We have a modified experience for viewers using ad blockers

Wikia is not accessible if you've made further modifications. Remove the custom ad blocker rule(s) and the page will load as expected.
The following song article is still a work in progress. For information on how to help, see the song article guideline. We apologize for the inconvenience this may cause in the meantime.

What is being worked on?

Romaji, background.

Work-in-progress song pages are automatically sorted into this category.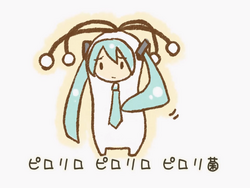 Song title
"ピロリ菌のうた"
Romaji: Pirori Kin no Uta
Official English: Song of Helicobacter Pylori
Uploaded April 16, 2008 (NND) and January 21, 2011 (YT), with 205,620+ (NND) and 4,450+ (YT) views
Singer(s)
Hatsune Miku
Producer(s)
Piroriro-P (music, lyrics)
Sangatsu Youka (illust)
Links
Niconico Broadcast • YouTube Broadcast (official)

Background
Edit
"Pylori Kin no Uta" is a original song composed by Piroriro-P with Hatsune Miku.
This song is featured on Team MOER's compilation VOCALOID Minna no Uta and Piroriro-P's album Pylorythm.
Succeeding versions
Edit
Rin and Len's cover

Featuring
Kagamine Rin/Len
Author(s)
Piroriro-P (music, lyrics), Sangatsu Youka (illust)
Category
Self-cover

Description

This version was uploaded 3 months after Miku's version. The title on Nico Nico Douga is Pylorin Kin no Uta (ピロリン菌のうた), a joke with Rin (リン) and Pylori (ピロリ). This version is featured on Piroriro-P's album Pylorythm.
Japanese (日本語歌詞)
Romaji (ローマ字)
あなたのからだのなかには
anata no karada no naka ni wa
ピロリロ ピロリロ ピロリ菌
piroriro piroriro pylori kin


からだをむしばむ細菌
karada o mushibamu saikin
ピロリロ ピロリロ ピロリ菌
piroriro piroriro pylori kin


何かかわいい名前だけれど
nani ka kawaii namae dakeredo
ファーストネームは
first name wa
ヘリコバクター、ピロリ菌
helicobacter, pylori kin


ピロリロ ピロリロ ピロリ菌
piroriro piroriro pylori kin
ピロリロ ピロリ ピロリ菌
piroriro pylori pylori kin
ピロリロ ピロリロ ピロリ菌
piroriro piroriro pylori kin
ピロリロ ピロリ ピロリ菌
piroriro pylori pylori kin


何かかわいい名前だけれど
nani ka kawaii namae dakeredo
からだをむしばむすてきな細菌
karada o mushibamu suteki na saikin
ヘリコバクター・ピロリ菌
helicobacter pylori kin


ピロリロ ピロリロ ピロリ菌
piroriro piroriro pylori kin
ピロリロ ピロリ ピロリ菌
piroriro pylori pylori kin
ピロリロ ピロリロ ピロリ菌
piroriro piroriro pylori kin
ピロリロ ピロリ
piroriro pylori


ピロリ菌
pylori kin
Derivatives
Edit
Teto's cover

| | |
| --- | --- |
| Featuring | Kasane Teto |
| Author(s) | Rose Bleue (cover), TheBonnieTung (UST) |
| Category | UTAU cover |
Good Smile Company's Pylorin Charm
External links
Edit
| | |
| --- | --- |
| | Articles |
| | |
| --- | --- |
| | Lyrics |