!

Warning:

This song contains questionable lyrics and themes; it may be inappropriate for younger audiences.

The Vocaloid Wiki does not have a policy on lyrical content or theme; however, it attempts to follow the Wikia TOU.
For further discussion see Thread:68883. Questionable songs are automatically sorted into this category.

!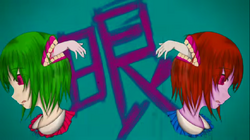 Song title
"ブラッディーメアリー"
English: Bloody Mary
Uploaded October 11, 2011 (NND) and November 24, 2011 (YT), with 1,844 (NND) / 50,000+ (YT) views
Singer(s)
GUMI
Producer(s)
masa (music, lyrics)
Links
Niconico Broadcast (deleted) • YouTube Broadcast (official)

Background
Edit
A song released by masa that has since been deleted from Nico Nico Douga.
Japanese (日本語歌詞)
Romaji (ローマ字)
眼
me


君、僕と遊ぶ 食べるその腕 君は吐く 眼眼眼眼眼眼眼眼
kimi, boku to asobu taberu sono ude kimi wa haku me me me me me me me me
君、僕と食べる誰 友達気分 終わり 眼
kimi, boku to taberu dare tomodachi kibun owari me


君、かわい 好き 眼眼眼眼眼眼眼眼
kimi, kawai suki me me me me me me me me
君、一人? 誰と? 眼
kimi, hitori? dare to? me


君、終わり 君 眼眼眼眼眼眼眼眼
kimi, owari kimi me me me me me me me me
君、終わり 君 眼眼眼眼眼眼眼眼
kimi, owari kimi me me me me me me me me


眼 眼
me me


おわ…終わり…おわ 眼眼眼眼眼眼眼眼
owa? owari? owa me me me me me me me me
おわ…終わり…おわ 眼眼眼眼眼眼眼眼
owa? owari? owa me me me me me me me me
おわ…終わり…おわ 眼眼眼眼眼眼眼眼
owa? owari? owa me me me me me me me me
おわ…終わり…おわ 眼眼眼眼眼眼眼眼
owa? owari? owa me me me me me me me me
おわ…終わり…おわ 眼眼眼眼眼眼眼眼
owa? owari? owa me me me me me me me me


おはよう姫様 血みドロメアリー
ohayou hime sama chi mi doro mearii
頭を捥ぎ取れ 頭を捥ぎ取れ
atama o mogi tore atama o mogi tore
おはよう姫様 血みドロ メアリー
ohayou hime sama chi mi doro mearii
頭を捥ぎ取れ 頭を捥ぎ取れ
atama o mogi tore atama o mogi tore


好き好き好き 眼
sukizuki suki me
好き好き好き 眼
sukizuki suki me
好き好き好き 眼
sukizuki suki me


おはようたべましょ 血みドロメアリー
ohayou tabe masho chi mi doro mearii
おはようたべましょ 頭を捥ぎ取れ
ohayou tabe masho atama o mogi tore


君、僕と遊ぶ 食べるその腕 君は吐く 眼眼眼眼眼眼眼眼
kimi, boku to asobu taberu sono ude kimi wa haku me me me me me me me me
君、僕と食べる 友達気分 終わり 眼
kimi, boku to taberu tomodachi kibun owari me


君、かわい 好き 眼眼眼眼眼眼眼眼
kimi, kawai suki me me me me me me me me
君、一人? 誰と? 眼
kimi, hitori? dare to? me


君、終わり 君 眼眼眼眼眼眼眼眼
kimi, owari kimi me me me me me me me me
君、終わり 君 眼眼眼眼眼眼眼眼
kimi, owari kimi me me me me me me me me


眼 眼
me me


おわ…終わり…おわ 眼眼眼眼眼眼眼眼
owa? owari? owa me me me me me me me me
おわ…終わり…おわ 眼眼眼眼眼眼眼眼
owa? owari? owa me me me me me me me me
おわ…終わり…おわ 眼眼眼眼眼眼眼眼
owa? owari? owa me me me me me me me me
おわ…終わり…おわ 眼眼眼眼眼眼眼眼
owa? owari? owa me me me me me me me me


おはよう姫様 血みドロメアリー
ohayou hime sama chi mi doro mearii
頭を捥ぎ取れ 頭を捥ぎ取れ
atama o mogi tore atama o mogi tore
おはよう姫様 血みドロメアリー
ohayou hime sama chi mi doro mearii
頭を捥ぎ取れ 頭を捥ぎ取れ
atama o mogi tore atama o mogi tore


好き好き好き 眼
sukizuki suki me
好き好き好き 眼
sukizuki suki me
好き好き好き 眼
sukizuki suki me


おはようたべましょ 血みドロメアリー
ohayou tabe masho chi mi doro mearii
おはようたべましょ 頭を捥ぎ取れ
ohayou tabe masho atama o mogi tore


君、終わり 君 眼眼眼眼眼眼眼眼
kimi, owari kimi me me me me me me me me
君、終わり 君 眼眼眼眼眼眼眼眼
kimi, owari kimi me me me me me me me me
君、終わり 君 眼眼眼眼眼眼眼眼
kimi, owari kimi me me me me me me me me
君、終わり 君 眼眼眼眼眼眼眼眼
kimi, owari kimi me me me me me me me me
External Links
Edit
| | |
| --- | --- |
| | Articles |
| | |
| --- | --- |
| | Lyrics |