Ad blocker interference detected!
Wikia is a free-to-use site that makes money from advertising. We have a modified experience for viewers using ad blockers

Wikia is not accessible if you've made further modifications. Remove the custom ad blocker rule(s) and the page will load as expected.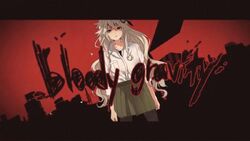 Song title
"ブラッディ グラビティ"
Official English: bloody gravity
Uploaded July 1, 2014, with 187,000+ (NND) & 100,000+ (YT) views
Singer(s)
IA ROCKS
Producer(s)
nejishiki (music, lyrics)
Anzai (illust)
Kon-iro (movie)
Links
Niconico Broadcast • YouTube Broadcast (official)

Background
Edit
Bloody Gravity is nejishiki's 37th song. It's also his first song to reach the hall of fame and his first song using IA ROCKS. It is featured on the album IA THE WORLD ~Kurenai~.
Japanese (日本語歌詞)
Romaji (ローマ字)
うっかり紙で切り裂いた指先から
ukkari kami de kirisaita yubisaki kara
にじむ血の流れが僕に
nijimu chi no nagare ga boku ni
「生きろ」「生きろ」とわめいてる
'ikiro' 'ikiro' to wameiteru
怠惰な僕を責めてる
taida na boku o semeteru


情報ばっかメガ盛りの日々に
jouhou bakka mega mori no hibi ni
充血した眼 見開いて
juuketsu shita me mihiraite
「ジブンサガシ」それも流行り?
'jibun sagashi' sore mo hayari?
過食症な人間関係
kashoku shou na ningen kankei


夕暮れの色彩に僕を映せば
yuugure no shikisai ni boku o utsuseba
アスファルト 弱虫な影が伸びる
asufaruto yowamushi na kage ga nobiru
デマカセと真実の狭間で流す
demakase to shinjitsu no hazama de nagasu
紅い血の涙
akai chi no namida


いっさいがっさい飲み込んで生きろ
issai gassai nomikonde ikiro
綺麗事に逃げても なんも変わんないや
kireigoto ni nigete mo nan mo kawannai ya
傍観者ぶった日々から怯えながら走りだせ
boukan sha butta hibi kara obienagara hashiridase
オオカミ気取ったって僕らは
oukami kidotta tte bokura wa
重い想い身にまとうヒツジさ
omoi omoi mi ni matou hitsuji sa
マンガみたいな奇跡は起きない
manga mitai na kiseki wa okinai
紅い頬で走りだせ
akai hoho de hashiridase


「等身大で構わない」と言うけれど
'toushin dai de kamawanai' to iu keredo
ちょっとショボすぎる自分だし
chotto shobo sugiru jibun dashi
背伸びも悪くないんじゃない?
senobi mo waruku nai n janai?
もっと無茶してみたい
motto mucha shite mitai


言うなれば 全てほら まがい物だし
iunareba subete hora magaimono dashi
明日さえ 自分さえ 解らないんです
ashita sae jibun sae wakara nai n desu
善人と偽善者の狭間で流す
zennin to gizen sha no hazama de nagasu
紅い血の涙
akai chi no namida


一体どうなってんだ?この世界
ittai dou natte n da? kono sekai
目まぐるしく流れる情報戦争じゃ
memagurushiku nagareru jouhou sensou ja
キミへの想いさえも 活字の海に消えそう
kimi e no omoi sae mo katsuji no umi ni kiesou
パーセンテージばっか気にしてて
paasenteeji bakka ki ni shitete
欲しくもないモノ手にしてどうすんの
hoshiku mo nai mono te ni shite dousunno
何て言われたってヒラメキ信じて前に進みたい
nanite iwareta tte hirameki shinjite mae ni susumitai


いっさいがっさい飲み込んで生きろ
issai gassai nomikon de ikiro
綺麗事に逃げても なんも変わんないや
kireigoto ni nigete mo nan mo kawannai ya
傍観者ぶった日々から怯えながら走りだせ
boukan sha butta hibi kara obienagara hashiridase
オオカミ気取ったって僕らは
ookami kidotta tte bokura wa
重い想い身にまとうヒツジさ
omoi omoi mi ni matou hitsuji sa
マンガみたいな奇跡は起きない
manga mitai na kiseki wa okinai
紅い頬で走りだせ
akai hoho de hashiridase
Derivatives
Edit
Azure's cover

| | |
| --- | --- |
| Featuring | Azure |
| Author(s) | Azure |
| Category | Covers |
External links
Edit
| | |
| --- | --- |
| | Articles |
| | |
| --- | --- |
| | Lyrics |
| | |
| --- | --- |
| | Downloads |