Ad blocker interference detected!
Wikia is a free-to-use site that makes money from advertising. We have a modified experience for viewers using ad blockers

Wikia is not accessible if you've made further modifications. Remove the custom ad blocker rule(s) and the page will load as expected.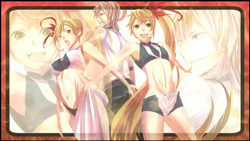 Song title
"プリマヴェーラ"
Romaji: Purimavueera
Portuguese: Primavera
Official Portuguese: Samba da Primavera
Uploaded April 16, 2014, with 3,500+ (NND), 1,200+ (YT) views
Singer(s)
KYO, anon & kanon
Producer(s)
Teta-rePi (music)
Kagome-P (mastering)
Hati Wasabi (illustrations)
Toritcho (video)
Links
Niconico Broadcast • YouTube Broadcast (official)

Background
Edit
"Primavera" refers to the season of spring in many Romance languages.
Japanese (日本語歌詞)
Romaji (ローマ字)
凍てつく床の 隙間からのぞく それは芽生えの予感
itetsuku yuka no sukima karo nozoku sore wa mebae no yokan
訪れる ぬくもりを ただ待ち焦がれ
otozureru nukumori o tada machikogare
目覚めの光 僕たちに迫る そう旅立ちの予感
mezamenu no hikari bokutachi ni semaru sou tabidachi no yokan
待ち受ける 運命に 胸ふくらませ
machiukeru unmei ni mune fukuramase


花は色づき 小鳥はうたい 獣は目を覚ます
hana wa irozuki kotori wa utai ke wa mewosamasu
静寂と闇の 時間は明けたよ
sheijaku to yami no jikan wa aketa yo
目の前に立ちはだかる 極彩色のキヤソバス
me no mae ni tachihadakaru gokusaishoku no kiyasobasu
立ち込める 実り いろどりにむせかえりながら
tachikomeru minori irodori ni musekaeri nagara
目をひろげ 背をのばし 大空を見上げよう
me o hiroge se o nobashi ouzora o miageyou
旅立ちの 機は満ちた いざ羽ばたけ
tabidachi no ki wa michita iza habatake


寂しさ胸に 別れの季節 わかってる
sabishisa mune ni wakare no kisetsu wakatteru
巣立ちのときにはつきものの痛み
sudachi no toki niwa tsukimono no itami
期待を胸に 出会いの季節 ほらごらん
kitai o mune ni deai no kisetsu hora goran
もう後ろは振り返らないでいい
mou ushiro wa furikae ranai de ii


まどろみに みをまかせ 我に返り 目を疑う
madoromi ni mi o makase ga ni kaeri me o utagau
はなびら 散り落ちて 宴は もう終れり
hanabira chiri ochite utage wa mou owareri
木々は緑(あお)をまとって 天と地をあおぐのだ
kigi wa ao o matotte ten to ji o aogu noda
また花咲くために
mata hana saku tame ni
ああ 季節は巡る 枝あおく茂るころ
aa kisetsu wa meguru eda aoku shigeru koro
地獄の暑さが待っている
jigoku no atsusa ga matte iru


凍てつく床の 隙間からのぞく それは芽生えの予感
itetsuku yuka no sukima kara nozoku sore wa mebae no yokan
訪れる ぬくもりを ただ待ち焦がれ
otozureru nukumori o tada machikogare
目覚めの光 僕たちに迫る そう旅立ちの予感
mezame no hikari bokutachi ni semaru sou tabidachi no yokan
待ち受ける 運命に 胸ふくらませ
machiukeru unmei ni mune fukuramase
External links
Edit
| | |
| --- | --- |
| | Official |
| | |
| --- | --- |
| | Downloads |
| | |
| --- | --- |
| | Articles |