This song article is lacking a proper background. You can help by adding one! The relevant section in the Song Article Guideline is a good starting point, and this blog post may also be helpful. We apologize for the inconvenience this may cause in the meantime.

Song pages lacking proper backgrounds are automatically sorted into this category.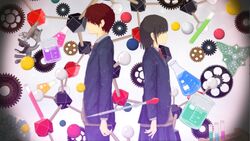 Song title
"プレパラートデイズ"
Official English: Präparat Days
Uploaded January 28, 2016, with 16,580+ (NND), 80,650+ (YT) views
Singer(s)
Fukase
Producer(s)
Kobayashi Onyx (music, lyrics, arrangement, illustration, video)
kahan kiusa (mastering)
Links
Niconico Broadcast • YouTube Broadcast (official)
YouTube Broadcast (reprint, English+Romaji subs)

Background
Edit
"Präparat Days" is an original song by Kobayashi Onyx featuring Fukase. This song is an official demo for the VOCALOID4 Library Fukase. The song features both his normal and soft voicebank.
This song is featured in the Fukase compilation album, VOCALOID Fukase ~THE GREATEST HITS~.
Japanese (日本語歌詞)
Romaji (ローマ字)
思えばあの頃の僕たちは
omoeba ano koro no bokutachi wa
もろくて割れそうな何かだった
morokute ware souna nani kadatta


どうしてこんなに
doushite konna ni
気になっているんだろう?
ki ni natte irun darou?
いつもおどけて
itsumo odokete
ふざけあう二人の
fuzakeau futari no


何気ないはずの関係は
nanigenai hazu no kankei wa
いつしか距離がズレはじめて
itsushika kyori ga zure hajimete
ぎこちなくあいまいな素振りで
gikochinaku aimaina soburi de
身動きさえも取れなく変わってた
miugoki sae mo torenaku kawatteta


遠くへ行くことも出来なくて
tooku e iku koto mo deki nakute
なのにね近付けもしない
na noni ne chikazuke mo shinai
あなたの気持ちがもう少しだけ
anata no kimochi ga mou sukoshi dake
分かればいいのになと思っていた
wakareba ii noni na to omotte ita


そう言えば昔科学の授業で
sou ieba mukashi kagaku no jugyou de
はじめて顕微鏡のぞいて
hajimete kenbikyou nozoite
その目を凝らして薄いガラス越しに
sono me o korashite usui garasugoshi ni
広大なミクロの世界を見た
koudaina mikuro no sekai o mita


不器用な僕はピントを合わせようと
bukiyouna boku wa pinto o awaseyou to
レンズを近付け過ぎて
renzu o chikazuke sugite
もろいガラスのカバーを何枚も
moroi garasu no kabaa o nan mai mo
割って駄目にしたこと覚えてる
watte dame ni shita koto oboeteru


どれだけ目を凝らし探しても
dore dake me o korashi sagashite mo
あなたの気持ちはぼやけて
anata no kimochi wa boyakete
レンズ越し覗いたみたいには
renzugoshi nozoita mitai ni wa
あなたの本心は見えずにいた
anata no honshin wa miezu ni ita


これ以上近付いたら
kore ijou chikazuitara
割れそうな気がする
ware souna ki ga suru
あの日のガラスのように砕けて
ano hi no garasu no youni kudakete
この想いも壊しそうで
kono omoi mo kowashi soude


あれから時を経た僕たちは
are kara toki o heta bokutachi wa
あるべき居場所を見つけた
arubeki ibasho o mitsuketa
その目に映せずにいたものも
sono me ni utsusezu ni ita mono mo
少しは今ならば…
sukoshi wa ima naraba…


もろくて割れそうなあの頃を
morokute ware souna ano koro o
通してこの世界を覗けば
tooshite kono sekai o nozokeba
こなごなに砕けた欠片さえ
konagona ni kudaketa kakera sae
キラキラ輝いている気がした
kirakira kagayaite iru ki ga shita


あまりにきれいな消せない遠い日
amarini kireina kesenai tooi hi
External links
Edit
| | |
| --- | --- |
| | Articles |