Ad blocker interference detected!
Wikia is a free-to-use site that makes money from advertising. We have a modified experience for viewers using ad blockers

Wikia is not accessible if you've made further modifications. Remove the custom ad blocker rule(s) and the page will load as expected.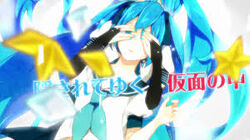 Song title
"ペルソナリティ・コンプレックス"
Romaji: Perusonariti Conpurekkusu
English: Personality Complex
Uploaded November 15, 2013, with 116,000+ views
Singer(s)
Hatsune Miku
Producer(s)
Heavenz-P (music, lyrics)
Amaoto (illust)
Not-116 (video)
Links
YouTube Broadcast (official)

Background
Edit
This song was uploaded on the official Hatsune Miku YouTube channel.
Japanese (日本語歌詞)
Romaji (ローマ字)
うざったいな うざったいな
uzattaina uzattaina
嘘も真実さえもさ
uso mo shinjitsu sae mo sa
君の言動、行動、表情
kimi no gendou, koudou, hyoujou
掴めないな
tsukamenai na
ダンス、ダンス、今はダンス
dansu, dansu, ima wa dansu
次のセリフなんだっけ
tsugi no serifu nadakke
僕の言動、行動、表情
boku no gendou, koudou, hyoujou
見ないでよ
minaide yo


夜が終わる
yoru ga owaru
また道化になる日だ
mata douke ni naru hi da
空気になって 空気感じて
kuuki ni natte kuuki kanjite
何が可笑しいんだよ
nani ka okashiin dayo
隠されてゆく 仮面の中
kakusarete yuku kamen no naka
「芝居だ」って
"shibai da" tte
諦めてく感情
akirameteku kanjou
僕の頬を伝う
boku no hoho o tsutau
冷たい想いが落ちた後
tsumetai omoi ga ochita ato
本当の僕はどこに行ったっけ?
hontou no boku wa doko ni ittakke?


うざったいな うざったいな
uzattaina uzattaina
皆同じ顔をして
minna onaji kao o shite
隔離する本心、空疎、人形劇
kakui suru honshin, kuuso, ningyougeki
ペルソナリティ・コンプレックス
perusonaritii conpurekkusu
呼吸すら下手んなった
kokyuu sura hetan natta
透明な 壁で 
toumei na kabe de
君に 触れられない
kimi ni furerarenai


舞台袖で
butaisode de
集まる悪意の渦
atsumaru akui no busu
被害者気取って
higaisha kidotte
出まかせ口まかせ
demakase kuchi makase
虚しい嘘を吐いた
munashii uso o tsuita
奪われてゆく 仮面の奥
ubawarete yuku kamen no oku
チグハグに 届いてく感情
chiguhagu ni todoiteku kanjou
君の頬を伝う
kimi no hoho o tsutau
冷たい想いが落ちた後
tsumetai omoi ga ochita ato
傷つけたって今さら知ったんだ
kizutsuketatte ima sara shittan da


脆い自尊心
moroi jisonshin
希薄な友情を
kihaku na yuujou
天秤にかけて引け目感じて
tenbin ni kakete hike me kanjite
環状線を逃げ続けては
kanjousen o nige tsuzukete
誰に責任を推した
dare ni sekinin o oshita
僕が夢見た夢はどこへいったんだ
boku ga yume mita yume wa doko e ittan da
君の泣き顔見て
kimi no nakigao mite
更に見えなくなってた
sara ni mienaku natteta


ヒビ割れてゆく
hibi warete yuku
仮面がほら
kamen ga hora
「嘘吐き」って
"usotsuki" tte
囁いてくたび
sasayaiteku tabi
僕の頬を伝う
boku no hoho o tsutau
迷いが首を絞めつけて
mayoi ga kubi o shimetsuketeku
本当の僕は
hontou no boku wa
愛されている
aisarete iru
仮面を砕け
kamen o kudake
恐くたって
kowakutatte
駆け抜けてく感情
kakenuketeku kanjou
手遅れだとしても
teokure dato shitemo
間に合うと思ってる僕は
maniau to omotteru boku wa
まだ君に
mada kimi ni
許されるのかな
yurusareru no ka na
External links
Edit
| | |
| --- | --- |
| | Lyrics |