This song article is lacking a proper background. You can help by adding one! The relevant section in the Song Article Guideline is a good starting point, and this blog post may also be helpful. We apologize for the inconvenience this may cause in the meantime.

Song pages lacking proper backgrounds are automatically sorted into this category.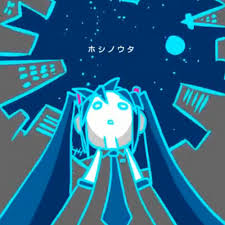 Song title
"ホシノウタ"
Romaji: Hoshi no Uta
English: Song of the Stars
Uploaded August 30, 2011, with 124,000+ (NND) and 10,800+ (YT) views
Singer(s)
Hatsune Miku Vivid
Producer(s)
Toku-P (music, lyrics)
MARiA (lyrics)
G.A.Cool (guitar)
Sekita Hiroshi (bass)
Morii Kenshirou (illustration)
Links
Niconico Broadcast • YouTube Broadcast

Background
Edit
"Hoshi no Uta" is an original song by Toku-P featuring Hatsune Miku's Vivid Append. It is featured on the albums Arrow of Love and VOCALO TEARS feat. 初音ミク.
Succeeding versions
Edit
GARNiDELiA's Version

| | |
| --- | --- |
| Featuring | MARiA |
| Author(s) | MARiA (vocals, lyrics), Toku-P (music, lyrics, mixing) |
| Category | |
Japanese (日本語歌詞)
Romaji (ローマ字)
少し暗くなった 帰り道一人
sukoshi kurakunatta kaerimichi hitori
ビルの隙間すり抜け 月が昇る
biru no sukima surinuke tsuki ga noboru
携帯写った あなたを見ては
keitai utsutta anata wo mite wa
元気でいますか? なんてつぶやいてた
genki de imasu ka? nante tsubuyaiteta


誰も居ない隣を見て 行き場を無くした言葉を
dare mo inai tonari wo mite yukiba wo nakushita kotoba wo
静かに囁きだす 星たちが想いも 紡いでいくわ
shizuka ni sasayakidasu hoshi-tachi ga omoi mo tsunaideiku wa


君へ届け星の歌 朝には消える儚さよ
kimi e todoke hoshi no uta asa ni wa kieru hakanasa yo
胸に残る切なさと 重なる想いはあなたに届くの?
mune ni nokoru setsunasa to kasanaru omoi wa anata ni todoku no?


真っ暗な砂浜 寝転ぶ2人
makkura na sunahama nekorobu futari
指差す星空 線をなぞる
yubisasu hoshizora sen wo nazoru
つないだ手と手に 温もり宿り
tsunaida te to te ni nukumori yadori
そのまま時を止め 誓いのキスをした
sono mama toki wo yame chikai no kisu wo shita


少しも曇りのない あの日のアナタの言葉は
sukoshi mo kumori no nai ano hi no ANATA no kotoba wa
夜空に浮かんでいる 星達よりずっと 輝いてたよ
yozora ni ukandeiru hoshi-tachi yori zutto kagayaiteta yo


君へ届け星の歌 浮かんで消える泡沫よ
kimi e todoke hoshi no uta ukande kieru utakata yo
耳に残るその声が 今夜も私を切なくさせるの
mimi ni nokoru sono koe ga kon'ya mo watashi wo setsunaku saseru no


この星空の下のどこか 同じ月をみてる
kono hoshizora no shita no dokoka onaji tsuki wo miteru
想いよ届けと祈るの
omoi yo todoke to inoru no


君へ届け星の歌 朝には消える儚さよ
kimi e todoke hoshi no uta asa ni wa kieru hakanasa yo
胸に残る切なさと 重なる想いはあなたに 
mune ni nokoru setsunasa to kasanaru omoi wa anata ni


届くなら
todoku nara


君へ届け星の歌 浮かんで消える泡沫よ
kimi e todoke hoshi no uta ukande kieru utakata yo
耳に残るその声で もう一度私を包んでください
mimi ni nokoru sono koe de mou ichido watashi wo tsutsundekudasai
Derivatives
Edit
Yusuke GodArrow's Cover

| | |
| --- | --- |
| Featuring | Yusuke GodArrow |
| Author(s) | Yusuke GodArrow (cover) |
| Category | |
External links
Edit
| | |
| --- | --- |
| | Articles |