ボカロ☆バンドスコア is a mook (magazine/book).
A long awaited mook featuring information on the VOCALOID music scene.
ボカロ☆バンドスコア
Edit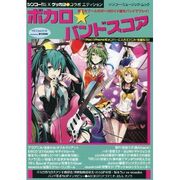 Featured songs;
ダブルラリアット (アゴアニキ)
モザイクロール (DECO*27)
ペテン師が笑う頃に (梨元うい)
文学少年の憂鬱(ナノウ (ほえほえP))
Dear (19's Sound Factory)
ローリンガール (wowaka)
骸Attack!! (鬱P)
マトリョシカ (ハチ)
初音ミクの消失 (cosMo@暴走P)
家の裏でマンボウが死んでる (家の裏でマンボウが死んでるP)
メランコリック (Junky)
ブラック★ロックシューター (supercell)
ボカロ☆バンドスコア Vol.2
Edit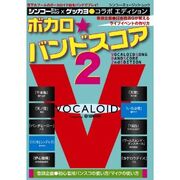 Featured Songs
千本桜/初音ミク (黒うさP)
天ノ弱/GUMI (164)
天樂/鏡音リン (ゆうゆ)
パンダヒーロー/GUMI (ハチ)
ワールズエンド・ダンスホール/初音ミク・巡音ルカ (wowaka)
カゲロウデイズ/初音ミク (じん)
いろは唄/鏡音リン (銀サク)
炉心融解/鏡音リン (iroha(sasaki))
ロミオとシンデレラ/初音ミク (doriko)
1925/初音ミク (T-POCKET)
The following navigation template is currently being improved for the benefit of all visitors. Please bear with us while improvements are being made, and as soon as an editor is available to do so assume good faith until the edits are complete. We apologize for the inconvenience this may cause in the meantime.
Literature
Music material
Fandom material
Ad blocker interference detected!
Wikia is a free-to-use site that makes money from advertising. We have a modified experience for viewers using ad blockers

Wikia is not accessible if you've made further modifications. Remove the custom ad blocker rule(s) and the page will load as expected.