This song article is lacking a proper background. You can help by adding one! The relevant section in the Song Article Guideline is a good starting point, and this blog post may also be helpful. We apologize for the inconvenience this may cause in the meantime.

Song pages lacking proper backgrounds are automatically sorted into this category.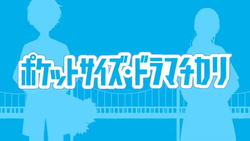 Song title
"ポケットサイズ・ドラマチカリ"
Romaji: Pokettosaizu Doramachikari
English: Pocket-Size Dramatically
Uploaded June 9, 2016, with 33,680+ (NND) & 25,500+ (YT) views
Singer(s)
Fukase
Producer(s)
TOKOTOKO (music)
Bete (illustration, movie)
Tomodachi Boshuu-P (mix, mastering)
7@ (encode)
Links
Niconico Broadcast • YouTube Broadcast

Background
Edit
"Pocket-Size Dramatically" is an original song by TOKOTOKO featuring Fukase.
Japanese (日本語歌詞)
Romaji (ローマ字)
「明日君に会いたい」
"ashita kimi ni aitai"
ドラマチックじゃなくちゃダメだって
doramachikku janakucha dame datte
言いたいことも言えず仕舞い
iitai koto mo iezu shimai
朝まで検討中
asa made kentouchuu


泣きたいのに隠し通して来た
nakitai no ni kakushi tooshite kita
埋まらないこの気持ちをどうすりゃいい?
umaranai kono kimochi o dou surya ii?
その cute で envy なコントラスト
sono cute de envy na kontorasuto
いつだってこの手で一人占めにしたいのさ
itsu datte kono te de hitorijime ni shitai no sa


今わかったんだ
ima wakattan da
Baby 君に恋をする
Baby kimi ni koi o suru
抱えきれないくらいに恋をする
kakae kirenai kurai ni koi o suru
大人ぶっても 格好つけても
otona butte mo kakkou tsukete mo
君の前では敵わない
kimi no mae dewa kanawanai


I miss you, Baby 君に会いに行く
I miss you, Baby kimi ni ai ni iku
口実はなくても君に会いに行く
koujitsu wa nakute mo kimi ni ai ni iku
虹の向こうまで? 君の家まで?
niji no mukou made? kimi no ie made?
この想いはもう隠せない
kono omoi wa mou kakusenai
oh, lovin' you


「特別な人になりたい」
"tokubetsu na hito ni naritai"
それは僕にとって?誰かにとって?
sore wa boku ni totte? dareka ni totte?
一寸先も見えない未来
issun saki mo mienai mirai
あくまで健闘中
aku made kentouchuu


はみ出した気持ちをセーブしてる
hamidashita kimochi o seebu shiteru
味気ないこの暮らしにスパイスが欲しい
ajikenai kono kurashi ni supaisu ga hoshii
こんな catchy で pop なラブソングを
konna catchy de pop na rabu songu o
君の街まで届けたいって思うんだよ
kimi no machi made todoketai tte omoun da yo


どうかしちゃったんだ
douka shichattan da
Lady 君に恋をする
Lady kimi ni koi o suru
夢に出るまで君に恋をする
yume ni deru made kimi ni koi o suru
ちょっと寒いかな? もしかして痛いかな?
chotto samui kana? moshikashite itai kana?
そのくらいじゃへこたれない
sono kurai ja hekotarenai


I miss you, Lady 君に会いに行く
I miss you, Lady kimi ni ai ni iku
呼ばれなくても君に会いに行く
yobarenakute mo kimi ni ai ni iku
油断しちゃったり 浮気しちゃったり
yudan shichattari uwaki shichattari
そんなスタンスじゃ落とせない
sonna sutansu ja otosenai
oh, lovin' you


今わかったんだ
ima wakattan da
Baby 君に恋をする
Baby kimi ni koi o suru
抱えきれないくらいに恋をする
kakae kirenai kurai ni koi o suru
大人ぶっても 格好つけても
otona butte mo kakkou tsukete mo
君の前では敵わない
kimi no mae dewa kanawanai


I miss you, Baby 君に会いに行く
I miss you, Baby kimi ni ai ni iku
口実はなくても君に会いに行く
koujitsu wa nakute mo kimi ni ai ni iku
虹の向こうまで? 君の家まで?
niji no mukou made? kimi no ie made?
この想いはもう隠せない
kono omoi wa mou kakusenai
oh, lovin' you
External links
Edit
| | |
| --- | --- |
| | Articles |
| | |
| --- | --- |
| | Lyrics |