For the producer, see Maria-P.
This song article is lacking a proper background. You can help by adding one! The relevant section in the Song Article Guideline is a good starting point, and this blog post may also be helpful. We apologize for the inconvenience this may cause in the meantime.

Song pages lacking proper backgrounds are automatically sorted into this category.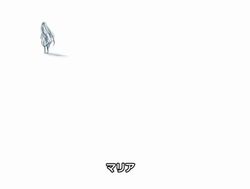 Song title
"マリア"
Romaji: Maria
Uploaded October 21, 2011, with 4,800+ views
Singer(s)
Mew
Producer(s)
Suneo ♂
Links
Niconico Broadcast
Background
Edit
"Maria" is an original song by Suneo ♂ featuring Mew.
Japanese (日本語歌詞)
Romaji (ローマ字)
無様に呼吸を繰り返す僕は
buzama ni kokyuu o kurikaesu boku wa
いつからだろうね いないのと同じで
itsu kara darou ne inai no to onaji de
動く事の無い手足を見つめて僕はいつも微笑む
ugoku koto no nai teashi o mitsume te boku wa itsumo hohoemu
遠い記憶の果てにあの影が在った様な…
toui kioku no hate ni ano kage ga atta you na?
夢か今かも分からず僕は祈った
yume ka ima ka mo wakara zu boku wa inotta


君はマリア 光をくれないか?
kimi wa maria hikari o kurenai ka?
僕を明日へ導いて
boku o ashita e michibiite
マリア 光が欲しいんだ
maria hikari ga hoshii nda
僕に光を… 光を…光を…
boku ni hikari o… hikari o… hikari o…


つたない言葉を僕は吐き出した
tsutanai kotoba o boku wa hakidashi ta
悪戯に過ぎる時間を背にして
itazura ni sugiru jikan ose ni shite
止まる事さえも許されないまま僕は今も歌うよ
tomaru koto sae mo yurusare nai mama boku wa ima mo utau yo
分かっているんだろう?その先に在るものを
wakatte irun darou? sono saki ni aru mono o
振り返らない背中に僕は叫んだ
furikaera nai senaka ni boku wa sakenda


君はマリア 誓いを立てるから
kimi wa maria chikai o tateru kara
僕に道を指し示して
boku ni michi o sashishimeshi te
マリア 未来が欲しいんだ
maria mirai ga hoshii nda
僕に未来を… 未来を…未来を…
boku ni mirai o… mirai o… mirai o…


君はマリア 光をくれないか?
kimi wa maria hikari o kurenai ka?
僕を明日へ導いて
boku o ashita e michibiite
マリア 光が欲しいんだ
maria hikari ga hoshii nda
僕に光を… 光を…光を…
boku ni hikari o… hikari o… hikari o…
External links
Edit
| | |
| --- | --- |
| | Official |
piapro - Official Illustration
| | |
| --- | --- |
| | Articles |
| | |
| --- | --- |
| | Lyrics |