Ad blocker interference detected!
Wikia is a free-to-use site that makes money from advertising. We have a modified experience for viewers using ad blockers

Wikia is not accessible if you've made further modifications. Remove the custom ad blocker rule(s) and the page will load as expected.
This song article is lacking a proper background. You can help by adding one! The relevant section in the Song Article Guideline is a good starting point, and this blog post may also be helpful. We apologize for the inconvenience this may cause in the meantime.

Song pages lacking proper backgrounds are automatically sorted into this category.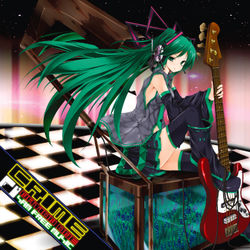 Song title
"ミクミク☆サマーナイトファンタジー"
English: Miku Miku☆Summer Night Fantasy
Uploaded August 14, 2010
Singer(s)
Hatsune Miku
Producer(s)
Samfree
Links
Background
Edit
"Miku Miku☆Summer Night Fantasy" is an original song by Samfree featuring Hatsune Miku. This song is an album only song apart of the Night Series.
This song is featured in Samfree's album, Crime and Fever.
Japanese (日本語歌詞)
Romaji (ローマ字)
ミクミク☆サマーナイトファンタジー
miku miku ☆ summer night fantasy
想い高まる熱い夜 今夜は何か起こりそうね
omoi takama ru atsui yoru konya ha nanika oko risoune
君だけのため聴きたい 全て捧げるわ
kimi dakeno tame kiki tai subete sasage ruwa
壊れるくらいこの体 強く抱きしめて
koware rukurai kono karada tsuyoku daki shimete


ミクミク☆サマーナイトファンタジー
miku miku ☆ summer night fantasy
一夜限りの幻想
hitoya kagiri no gensou
ミクミク☆サマーナイトファンタジー
miku miku ☆ summer night fantasy
たった一度の奇跡
tatta ichido no kiseki


ありったけの愛を込めて 伝説の夜にしちゃいましょうか
arittake no ai wo kome te densetsu no yoru ni shichai mashou ka
二人で踊る甘いロンド 見つめる瞳宿る光
futari de odoru amai rondo mitsu meru hitomi yadoru hikari
君さえいれば構わない 何もいらないわ
kimi sae ire ba kamawa nai nanimo ira naiwa
とろけるくらいあの言葉 そっと囁いて
toro kerukurai ano kotoba sotto sasayai te


ミクミク☆サマーナイトファンタジー
miku miku ☆ summer night fantasy
それは確かな真実
soreha tashika na shinjitsu
ミクミク☆サマーナイトファンタジー
miku miku ☆ summer night fantasy
たった一人の君に
tatta hitori no kimi ni
めいっぱいの思い込めて 最高の夜にしちゃいましょうか
meippaino omoi kome te saikou no yoru ni shichai mashouka


ミクミク☆サマーナイトファンタジー
miku miku ☆ summer night fantasy
一夜限りの幻想
hitoya kagiri no gensou
ミクミク☆サマーナイトファンタジー
miku miku ☆ summer night fantasy
たった一度の奇跡
tatta ichido no kiseki


ありったけの愛を込めて 伝説の夜にしちゃいましょうか
arittake no ai wo kome te densetsu no yoru ni shichai mashou ka
二度とない夏を君と二人で
nido to nai natsu wo kimi to futari de
ミクミク☆サマーナイトファンタジー
miku miku ☆ summer night fantasy
External links
Edit
| | |
| --- | --- |
| | Articles |
| | |
| --- | --- |
| | Lyrics |