Ad blocker interference detected!
Wikia is a free-to-use site that makes money from advertising. We have a modified experience for viewers using ad blockers

Wikia is not accessible if you've made further modifications. Remove the custom ad blocker rule(s) and the page will load as expected.
!

Warning:

This song contains explicit lyrics and themes; it may be inappropriate for younger audiences.

The Vocaloid Wiki does not have a policy on lyrical content or theme; however, it attempts to follow the Wikia TOU.
For further discussion see Thread:68883. Explicit songs are automatically sorted into this category.

!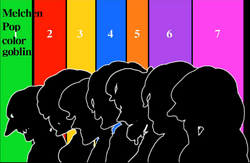 Song title
"メルヘンポップカラーゴブリン"
Official English: Melchen Pop Color Goblin
Uploaded May 5, 2009, with 65,000+ (NND) / 4,800+ (PP) views
Singer(s)
Hatsune Miku, MEIKO, Kagamine Len, KAITO, Kagamine Rin, Camui Gackpo and Megurine Luka
Producer(s)
Machigerita-P (music, lyrics, video)
Tawashi (illust)
Links
Niconico Broadcast • YouTube Broadcast (reprint)
piapro Broadcast

Background
Edit
"
Overall comment: Disgusting
"
 

— Author's comment
Seven goblins lure children into the water by using alluring colors.
Japanese (日本語歌詞)
Romaji (ローマ字)
メルヘンポップを気取った グロテスクな造形美
meruhen poppu o kidotta gurotesukuna zoukeibi
暗くて淋しくて 楽しいギラギラ極彩美
kurakute sabishikute tanoshii giragira goku saibi


緑と黒のストライプ オレンジのチェック模様
midori to kuro no sutoraipu orenji no chekku moyou
血の色何だ!と虹色 髪の毛伸びるお人形
chi no iro nanda! to nijiiro kaminoke nobiru o ningyou


いろんな色の子供達が歪な泡に反射するよ
ironna iro no kodomotachi ga ibitsuna awa ni hansha suru yo
奇形の魚が泳いでいる 微笑みながら囁くのさ
kikei no sakana ga oyoide iru hohoe minagara sasayaku no sa


メルヘンポップカラーのそこは綺麗い夢の中さ
meruhen poppu karaa no soko wa kitanai yume no naka sa
カラフルな海を飲み干してよ
karafuruna umi o nomihoshite yo


メルヘンポップカラーのそこは綺麗い夢の中さ
meruhen poppu karaa no soko wa kitanai yume no naka sa
出口のない部屋 四角く回るの
deguchi no nai heya shikakuku mawaru no


いろんな色の子供達が歪な泡に反射するよ
ironna iro no kodomotachi ga ibitsuna awa ni hansha suru yo
奇形の魚が泳いでいる 微笑みながら歌いだすよ
kikei no sakana ga oyoide iru hohoe minagara utaidasu no


ここからはでられない 
koko kara wa derarenai


お前たちの夢だ
omaetachi no yume da


メルヘンポップカラーのそこは綺麗い夢の中さ
meruhen poppu karaa no soko wa kitanai yume no naka sa
痛々しい傷を舐めあうの
itaitashii kizu o nameau no


メルヘンポップカラーのそこは綺麗い夢の中さ
meruhen poppu karaa no soko wa kitanai yume no naka sa
出口の無い妄想(ゆめ) 四角く回るの
deguchi no nai yume shikakuku mawaru no
External Links
Edit
| | |
| --- | --- |
| | Articles |