ヤキモチの答え-another story- (Yakimochi no Kotae-another story-)
Comment

1
Share
Ad blocker interference detected!
Wikia is a free-to-use site that makes money from advertising. We have a modified experience for viewers using ad blockers

Wikia is not accessible if you've made further modifications. Remove the custom ad blocker rule(s) and the page will load as expected.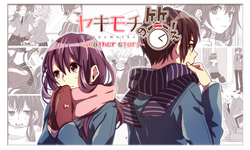 Song title
"ヤキモチの答え-another story-"
Romaji: Yakimochi no Kotae-another story-
English: A Solution for Jealousy-another story-
Uploaded April 09, 2013, with 602,000+ (NND) and 2,684,000+ (YT) views
Singer(s)
Hatsune Miku
Producer(s)
HoneyWorks:
shito (music, lyrics, bass)
Gom (lyrics)
Oji (guitar)
Yamako (illustration)
Other Artists:
Wato (piano)
Nakanishi (guitar)
Links
Niconico Broadcast • YouTube Broadcast

Background
Edit
HoneyWorks uploaded the song onto both Nico Nico Douga and YouTube on April 9, 2013, since then, it has entered the Hall of Fame on NND and reached over a million views views on YT.
It's part of Honeyworks' Confession Executive Committee Love Series and it tells the story of "Yakimochi no Kotae" from Akari's point of view. It focuses mainly on Akari, and we learn that despite loving the concept of love, Akari isn't in love with anyone. For now, she sees herself only as a clumsy person who loves having fun with her friends and thinks it's fine that way. She, however, dreams about falling in love one day, and can't help but to feel a bit jealous whenever it happens to anyone else. She hopes have someone like that someday and to hold hands with them on the way back home. One day, Mochizuki Souta, her classmate who developed a crush on her, asked her to wait for him in the classroom after school and confesses to her.
A version of song sung by Akari's voice actress, Asumi Kana, is included in HoneyWorks's 2nd major album Boku Ja Dame Desu Ka?.
Succeeding versions
Edit
Asumi Kana's cover

Featuring
Asumi Kana
Author(s)
HoneyWorks
Category
Human cover

Description

An official cover by Hayasaka Akari's voice actor, Asumi Kana, included in the CD "

Boku Ja Dame Desu Ka?

".
Japanese (日本語歌詞)
Romaji (ローマ字)
気になる人の話なんて 関係ない話
kininaru hito no hanashi nante kankeinai hanashi
でも興味はあるの 聞きたいし ドキドキだし
demo kyoumi wa aru no kikitaishi dokidokidashi
理由なんてものは単純 不器用な人見知り病です
riyuu nante mono wa tanjun bukiyouna hitomishiri-byoudesu
後ろから見てよう
ushiro kara mi teyou


恋に恋してたこともあったけど 好きな人なんて作れなくて
koi ni koishiteta koto mo attakedo suki na hito nante tsukurenakute
友達ばかりとはしゃいで 笑って誤魔化す独り身です(笑)
tomodachi bakari to hashaide waratte gomakasu hitorimidesu
いいの!これで
ii no! kore de


恋なんて 誰かがして 勝手にヤキモチ妬いて
koi nante darekaga shite katte ni yakimochi yaite
恋が始まるおまじない 教えて なんてバカみたい!
koi ga hajimaru omajinai oshiete nante bakamitai!


「おはよう!寝癖ついてるよ」って クラスの男の子
"ohayou! neguse tsuiteru yo" tte kurasu no otokonoko
初めて声をかけられたから 驚いちゃったよ
hajimete koe o kake raretakara odoroi chatta yo
毎日は少し退屈で ミルクでパンダとシロクマは 夢を見てるよ
mainichi wa sukoshi taikutsu de miruku de panda to shirokuma wa yume o mi teru yo


もしも 好きな人が できたなら 手を繋いで帰りたいな
moshimo sukinahito ga dekitanara tewotsunaide kaeritai na
少し照れくさい夢なの 「わかってますよ」 独り言です
sukoshi terekusai yumena no "waka ttemasu yo" hitorigotodesu
いつかきっと
itsuka kitto


ヤキモチをして 妬かれて 女の子はみんな持ってる
yakimochi o shite yaka rete onna no ko wa minna motteru
そんな普通の気持ち きっと 私にもあるんだよ
sonna futsuu no kimochi kitto watashi ni mo aru nda yo


「話があります!今日放課後4時10分この教室で」
"hanashi ga arimasu! kyou houkago yonji junbu kono kyōshitsu de"
二度目の会話の彼の視線(め)
mitome no kaiwa no kare no shisen (me)
心臓鳴り止まないなんでなの?
shinzou nari yamanai nandena no?
顔見れないよ
kao mirenai yo


もしももしね 告白なら 返事は・・・ なんて考えちゃうよ
moshimo moshi ne kokuhakunara henji wa nante kangae chau yo
そんな事言われたらだって・・・
son'na koto iwa retara datte
気になっちゃいますよ
ki ni natcha imasu yo
Derivatives
Edit
Sana's Cover

| | |
| --- | --- |
| Author(s) | Sana |
| Category | Human cover |
External links
Edit
| | |
| --- | --- |
| | Articles |