Ad blocker interference detected!
Wikia is a free-to-use site that makes money from advertising. We have a modified experience for viewers using ad blockers

Wikia is not accessible if you've made further modifications. Remove the custom ad blocker rule(s) and the page will load as expected.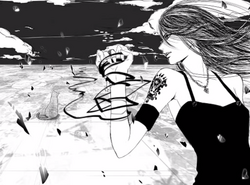 Song title
"ユメノチカラ"
Romaji: Yume no Chikara
English: The Power of Dreams
Uploaded Nov 08, 2011 (NND) and Nov 13, 2011 (YT), with 2,000+ (NND) & 6,000+ (YT) views
Singer(s)
Mew
Producer(s)
MineK (music, lyrics)
Sutare (illust)
Links
Niconico Broadcast • YouTube Broadcast (official)

Background
Edit
"ユメノチカラ" is an original Mew song. It is MineK's first work with Mew.
Japanese (日本語歌詞)
Romaji (ローマ字)
まるで他人事のように キミは振舞うけれど
marude hitogoto no you ni kimi wa furumau keredo
何も感じないのは 人を好きじゃないから
nanimo kanjinai no wa hito o sukija nai kara


時の砂をかけて これからの自分を取り戻せたら
toki no suna o kakete korekara no jibun o torimodosetara


キミが教えてくれた世界 (such a special world)
kimi ga oshiete kureta sekai (such a special world)
だけどまだボクには受け入れられないよ (reason why?)
dakedo mada boku niwa ukeirerarenai yo (reason why ?)


全て消えればいいと キミはつぶやくけれど
subete kiereba ii to kimi wa tsubuyaku keredo
何かを見失うのは 意外と傷つくものね
nanika o miushinau nowa igaito kizutsuku mono ne


夢の片隅にある 本当の記憶を導き出せたら
yume no katasumi ni aru hontou no kioku o michibiki dasetara


キミが一人で生きてる世界 (such a lonely world)
kimi ga hitori de ikiteru sekai (such a lonely world)
それはボクには見えない現実だから Hold On!
sore wa boku niwa mienai genjitsu dakara Hold On !


今と見えない明日が ユメノチカラで繋がるように
ima to mienai ashita ga yume no chikara de tsunagaru you ni


キミが教えてくれた世界 (such a special world)
kimi ga oshiete kureta sekai (such a special world)
だけどまだボクには受け入れられないよ
dakedo mada boku niwa ukeirerarenai yo
キミが一人で生きてる世界
kimi ga hitori de ikiteru sekai
きっとボクにも見える日が来るよ
kitto boku nimo mieru hi ga kuru yo
External links
Edit
| | |
| --- | --- |
| | Articles |
| | |
| --- | --- |
| | Lyrics |