This song article is lacking a proper background. You can help by adding one! The relevant section in the Song Article Guideline is a good starting point, and this blog post may also be helpful. We apologize for the inconvenience this may cause in the meantime.

Song pages lacking proper backgrounds are automatically sorted into this category.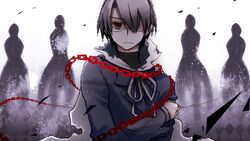 Song title
"ライムライトは地を歩く"
Romaji: Limelight wa Chi o Aruku
Uploaded April 10, 2015, with 1,500+ views
Singer(s)
Hiyama Kiyoteru
Producer(s)
Asaichi (music, lyrics, illustration, video)
Links
Niconico Broadcast
Background
Edit
Asaichi's 19th original song. It is her sixth song that features Kiyoteru.
Japanese (日本語歌詞)
Romaji (ローマ字)
咎罪知らぬ故に自らに求めた
toga tsumi shiranu yueni mizukara ni motometa
走る痛み もがく手足 耐えぬ様に陽が暮れる
hashiru itami mogaku teashi taenu sama ni hi ga kureru


かの庭もかの城も忘却の彼方
kano niwa mo kano shiro mo boukyaku no kanata
鎖の先を掴む魔導師たちが笑む
kusari no saki o tsukamu madoushitachi ga emu


朽ちるに任せて是非を問うた 委ねた羽のままに
kuchiru ni makasete zehi o touta yudaneta hane no mama ni
千切れた足枷失おうと 臥せた大地に頭から沈む
chigireta ashikase ushinaou to fuseta daichi ni atama kara shizumu


雨嵐雷雲巡り 幾つもの夜越え
ame arashi raiun meguri ikutsu mo no yoru koe
山も海も心寄せず
yama mo umi mo kokoro yosezu
変わらぬ足跡には魔導師たちも飽く
kawaranu sokuseki ni wa madoushitachi mo aku


幼気な花に是非を問うた 応えない間に散った
itaikena hana ni zehi o touta kotaenai ma ni chitta
草臥れてなお理由を求めて 痛み止まらぬ背を庇い迷う
kutabirete nao wake o motomete itami tomaranu se o kabai mayou


生き様も死に様も流れの半ばに
ikizama mo shinizama mo nagare no nakaba ni
繋がる暗闇から魔導師たちが啼く
tsunagaru kurayami kara madoushitachi ga naku


罪とは如何、と我に問うた 無知なる無知が罪と
tsumi to wa ikan, to ware ni touta muchinaru muchi ga tsumi to
無知とは如何、と皆に問うた 識りえる喜を識る者なりと
muchi to wa ikan, to mina ni touta shi rieru ki o shiru mononari to


問うのは鏡か、是か非かと 二択で返す愚か者
tou no wa kagami ka, zekahika to nitaku de kaesu orokamono
魔導師たちは背を隠さず
madoushitachi wa se o kakusazu
残る大地に歩く者 終はあらんと進む
nokoru daichi ni aruku mono tsui wa aran to susumu
External links
Edit
| | |
| --- | --- |
| | Downloads |
| | |
| --- | --- |
| | Lyrics |