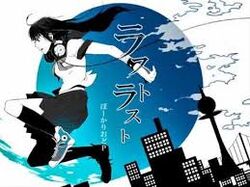 Song title
"ラストラスト"
Romaji: Rasuto Rasuto
English: Last Last
Uploaded January 18, 2011 (NND) and June 2, 2012 (YT), with 238,700+ (NND) and 3,000+ (YT) views
Singer(s)
Hatsune Miku
Producer(s)
Vocaliod-P (music, lyrics)
Kyoukai (ilust)
shindy (mix)
yue (special thanks)
Links
Niconico Broadcast • YouTube Broadcast (official)

Background
Edit
"Last Last" is an original Hatsune Miku song composed by Vocaloid-P. This song is featured in the albums Alternation No.3, and L-a-s-T. It has entered the Hall of Fame.
Japanese (日本語歌詞)
Romaji (ローマ字)
どうにもならないコトをどうにかしたくて
dou ni mo naranai koto wo dou ni ka shitakute
飛び込んだメビウスの環の中 絶対座標を崩す
tobikonda mebiusu no wa no naka zettai zahyou wo kuzusu


誰かが革命なんて言葉で大げさにしたけれど
dareka ga kakumei nante kotoba de oogesa ni shita keredo
トランプ4枚並べたら似たようなコトできるでしょ
toranpu yomai narabetara nita yo na koto dekiru desho


捩れた世界の片隅で それでも僕は夢を見る
nejireta sekai no katasumi de soredemo boku wa yume wo miru
指先でそれをなぞれ 「.」は「,」に変わる
yubisaki de sore wo nazore "." wa "," ni kawaru


これは終わりの終わり
kore wa owari no owari


世界を解決した気になって
sekai wo kaiketsu shita ki ni natte
トニックばっかり使って
tonikku bakkari tsukatte
クラインの壷の中で見たのは逃げ場の無い昨日
kurain no tsubo no naka de mita no wa nigeba no nai kinou


後ろに少し目線そらしたら
ushiro ni sukoshi mesen sorashitara
気がつくコトもあるかもね
ki ga tsuku koto mo aru kamo ne
深呼吸しなきゃいけない
shinkokyuu shinakya ikenai
まさにイキヅマリの手前で
masa ni ikizumari no temae de


崩れた世界の片隅で それでも君は夢を見る
kuzureta sekai no katasumi de soredemo kimi wa yume wo miru
エピローグもプロローグも同じ言葉で終わるでしょ
epiroogu mo puroroogu mo onaji kotoba de owaru desho


これは始まりの終わり
kore wa hajimari no owari


壊れた世界の片隅で それでも夢を見るのなら
kowareta sekai no katasumi de soredemo yume wo miru no nara
果ての果ての果てで 絶望の裏側を見に行こう
hate no hate no hate de zetsubou no uragawa wo mi ni ikou


この言葉の意味を知ってるかい
kono kotoba no imi wo shitteru kai
何かカン違いしてないかい
nanika kan chigai shitenai kai


エンドでもファイナルでも
endo demo fainaru demo
もちろんオシマイでもないよ
mochiron oshimai demo nai yo


これは終わりの「続き」
kore wa owari no "tsuzuki"
External links
Edit
| | |
| --- | --- |
| | Articles |
| | |
| --- | --- |
| | Lyrics |
| | |
| --- | --- |
| | Downloads |
Ad blocker interference detected!
Wikia is a free-to-use site that makes money from advertising. We have a modified experience for viewers using ad blockers

Wikia is not accessible if you've made further modifications. Remove the custom ad blocker rule(s) and the page will load as expected.