Ad blocker interference detected!
Wikia is a free-to-use site that makes money from advertising. We have a modified experience for viewers using ad blockers

Wikia is not accessible if you've made further modifications. Remove the custom ad blocker rule(s) and the page will load as expected.
This song article is lacking a proper background. You can help by adding one! The relevant section in the Song Article Guideline is a good starting point, and this blog post may also be helpful. We apologize for the inconvenience this may cause in the meantime.

Song pages lacking proper backgrounds are automatically sorted into this category.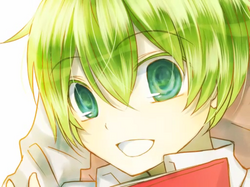 Song title
"ラッパ吹きの少年"
Romaji: Rappa Fuki no Shounen
English: The Trumpet Playing Boy
Uploaded February 25, 2012, with 25,000+ views
Singer(s)
GUMI
Producer(s)
PIROPARU (music, lyrics)
Taeko (illust)
Links
Niconico Broadcast • YouTube Broadcast (reprint)

Background
Edit
This song is featured on the album Ao Nisai Syndrome and in the game Megpoid the Music♯.
Japanese (日本語歌詞)
Romaji (ローマ字)
おかあさんが 寝る前に 教えてくれたこと
okaa-san ga neru mae ni oshiete kureta koto
不思議な 笛吹き男の話
fushigi na fue fuki otoko no hanashi
街の子どもたち みんな 引き連れて
machi no kodomo tachi minna hikitsurete
楽団は 夢の中に 沈んでいった
gakudan wa yume no naka ni shizundaitta


僕にも できるかな
boku ni mo dekiru kana
君に 聞こえるかな
kimi ni kikoeru kana
「アイボウ」を 見つけたら
"aibou" o mitsuketara
おやすみなさい
oyasuminasai


ラッパを吹き鳴らして 大行進
rappa o fukinarashite daikoushin
ひとりぼっちの僕を のみこんでいくメロディー
hitori bocchi no boku o nomikondeiku merodii
パッパカ吹き鳴らして 大行進
pappaka fukinarashite daikoushin
僕と踊ろうよ あの丘の上で さあ
boku to odorou yo ano oka no ue de saa


朝起きて 歯をみがいて ごはんを食べていても
asa okite ha o migaite gohan o tabeteite mo
頭の中で響く 三連符
atama no naka de hibiku sanrenpu
おかあさんに 寝る前に 教えてあげたこと
okaa-san ni neru mae ni oshiete ageta koto
不思議な ラッパ吹き男の話
fushigi na rappa fuki otoko no hanashi


今夜も なれるかな
konya mo nareru kana
君と 踊れるかな
kimi to odoreru kana
「アイボウ」と 手をつないで
"aibou" to te o tsunaide
おやすみなさい
oyasuminasai


ラッパを吹き鳴らして 大行進
rappa o fukinarashite daikoushin
僕が先頭に立ってやる さあみんなついてこい
boku ga sentou ni tatte yaru saa minna tsuite koi
パッパカ吹き鳴らして 大行進
pappaka fukinarashite daikoushin
僕と歌おうよ あの丘の上で
boku to utaou yo ano oka no ue de


ラララ
rarara


おかあさんが 寝る前に 教えてくれたこと
okaa-san ga neru mae ni oshiete kureta koto
不思議な 笛吹き男の話
fushigi na fue-fuki otoko no hanashi
街の子どもたち みんな 引き連れて
machi no kodomo-tachi minna hikitsurete
楽団は 夢の中に 沈んでいった
gakudan wa yume no naka ni shizundaitta


僕でも できたよね
boku demo dekita yo ne
君も 聞こえたよね
kimi mo kikoeta yo ne
「アイボウ」と 夢の中
"aibou" to yume no naka
おやすみなさい
oyasuminasai


もう帰りたくない!
mou kaeritakunai!


ラッパを吹き鳴らして 大行進
rappa o fukinarashite daikoushin
ひとりぼっちをみんな のみ込んでいくメロディー
hitori bocchi o minna nomikondeiku merodii
パッパカ吹き鳴らして 大行進
pappaka fukinarashite daikoushin
僕と踊ろうよ あの丘にのぼって
boku to odorou yo ano oka ni nobotte
歌おうよ 終わらない歌を さあ
utaou yo owaranai uta o saa


歌おう
utaou


ラッパを吹き鳴らして 大行進
rappa o fukinarashite daikoushin


僕はいつまでも (夢の中)
boku wa itsumademo (yume no naka)
Other media appearances
Edit
External links
Edit
| | |
| --- | --- |
| | Articles |
| | |
| --- | --- |
| | Lyrics |