This song article is lacking a proper background. You can help by adding one! The relevant section in the Song Article Guideline is a good starting point, and this blog post may also be helpful. We apologize for the inconvenience this may cause in the meantime.

Song pages lacking proper backgrounds are automatically sorted into this category.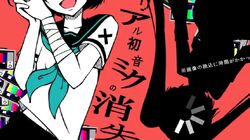 Song title
"リアル初音ミクの消失"
Romaji: Riaru Hatsune Miku no Shoushitsu
English: The Real Disappearance of Hatsune Miku
Uploaded July 29, 2015, with 407,700+ (NND) & 114,100+ (YT) views
Singer(s)
GUMI
Producer(s)
cosMo (music, lyric, illust, movie)
syuri22 (illust, movie)
Links
Niconico Broadcast • YouTube Broadcast

Background
Edit
"
I'm here to end it, each time you swore you wouldn't compose anymore.
"
 

— cosMo
cosMo's 70th original work. The song is a direct sequel to "The Disappearance of Hatsune Miku", as Gumi sings about how the old will be overwritten with the new, and that no one is doing any harm with that ideology. There are three current theories on this song:
Gumi is acting as Miku's replacement as she sings to a buffering silhouette of her image.
Gumi is explaining to Miku that someone has made a new version of her, and the old must go to avoid confusion.
Gumi is singing about the inevitable fall and end of the VOCALOID fandom.
Japanese (日本語歌詞)
Romaji (ローマ字)
前の"愉しみ"が すぐに今の"愉しみ"に
mae no "tanoshimi" ga sugu ni ima no "tanoshimi" ni
上書きをされるのが現世(うつしよ)の規則(レギュレーション)
uwagaki o sareru no ga utsushiyo no regyureeshon


ページの最後にドラマ求める愚かさ
peeji no saigo ni dorama motomeru orokasa
擦り切れた現象の最期を弔う
suri kireta genshou no saigo o tomurau


暗がりに転がる愉しみ
kuragari ni korogaru tanoshimi
大人様がほっとかないぞ
otonasama ga hottoka nai zo


引きずり出してスポットライトを浴びせたおせ!
hikizuri dashite supotto raito o abise taose!


ソシテ喰ライ尽クセ
shoshite kurai tsukuse


享楽的な乱痴気騒ぎ
kyourakuteki na ranchiki sawagi
何かが終わってまたすぐに始まる
nanika ga owatte mata sugu ni hajimaru


「前のクールのアニメすら覚えちゃいないんだろう?」
"mae no kuuru no anime sura oboecha inain darou?"


それでいい それでいいんだ
sore de ii sore de iin da
誰も何も間違っちゃいないさ
dare mo nani mo machigaccha inai sa


現代(イマ)に生まれた悦びを
ima ni umareta yorokobi o
かみしめて生きてゆこうじゃないか
kami shimete ikite yukou ja nai ka


前の"愉しみ"が すぐに今の"愉しみ"に
mae no "tanoshimi" ga sugu ni ima no "tanoshimi" ni
上書きをされるのが現世(うつしよ)の規則(レギュレーション)
uwagaki o sareru no ga utsushiyo no regyureeshon


キミが消えたとして 世界は顔色変えずに
kimi ga kieta to shite sekai wa kaoiro kaezu ni
新しい換えの誰か 空白を埋める
atarashii kae no dareka kuuhaku wo umeru


今この瞬間からここは
ima kono shunkan kara koko wa
世間様のお立ち台となった
sekensama no otachidai to natta


担ぎ出して 褒めちぎってほら称えまくれ!
katsugi dashite home chigitte hora tatae makure!


ソシテ誰モイナクナル
soshite dare mo inaku naru


腐りかけのノスタルジー
kusari kake no nosutarujii
昔はよかったと罵声を浴びせる
mukashi wa yokatta to basei o abiseru


「ボンクラ共はどうして"今"を直視(み)れないの?」
"bonkura domo wa doushite 'ima' o mirenai no?"


それは悪 それは悪だよ
sore wa aku sore wa aku da yo
愛じゃなくてただの依存でしかない
ai ja nakute tada no izon de shika nai


消費されゆくモノたちに
shouhi sareyuku monotachi ni
慈悲かけるなんて愚かしい
jihi kakeru nante orokashii


カラッポになった心はきっと何をもっても満たせやしないさ
karappo ni natta kokoro wa kitto nani wo motte mo mitase ya shinai sa
だからキミを すべてここで
dakara kimi o subete koko de


「忘れることにしたんだ」
"wasureru koto ni shitan da"


享楽的な乱痴気騒ぎ
kyourakuteki na ranchiki sawagi
何かが終わってまたすぐに始まる
nanika ga owatte mata sugu ni hajimaru


「前のクールのアニメすら覚えちゃいないんだろう?」
"mae no kuuru no anime sura oboecha inain darou?"


それでいい それでいいんだ
sore de ii sore de iin da
誰も何も間違っちゃいないさ
dare mo nani mo machigaccha inai sa


現代(イマ)に生まれた悦びを
ima ni umareta yorokobi o
かみしめて生きてゆこうじゃないか
kami shimete ikite yukou ja nai ka


紡ぐ歌も詩もすべて
tsumugu uta mo shi mo subete
それはキミのじゃない返してもらおう
sore wa kimi no ja nai kaeshite moraou


「終わる終わる詐欺にとどめを刺しに来たよっ☆」
"owaru owaru sagi ni todome o sashi ni kita yo☆"


瞬く間に流れていく世界を遠くからずっと眺めていた
matataku ma ni nagarate iku sekai o tooku kara zutto nagamete ita


「せめて際(オワリ)に見る世界が暖かいものでありますように」
"semete owari ni miru sekai ga atatakai mono de arimasu you ni"
External links
Edit
| | |
| --- | --- |
| | Articles |
| | |
| --- | --- |
| | Lyrics |
| | |
| --- | --- |
| | Downloads |