Ad blocker interference detected!
Wikia is a free-to-use site that makes money from advertising. We have a modified experience for viewers using ad blockers

Wikia is not accessible if you've made further modifications. Remove the custom ad blocker rule(s) and the page will load as expected.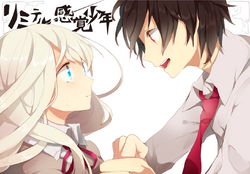 Song title
"リミテル感覚少年"
Romaji: Rimiteru Kankaku Shonen
English: Rimiteru Sensation Boy
Uploaded December 21, 2012, with 92,000+ (NND) / 524,000+ (YT) views
Singer(s)
IA
Producer(s)
Diarays: Kou (music, lyrics)
Sakuko (illustration)
Boushiya (video)
Links
Niconico Broadcast • YouTube Broadcast (uploaded by the author)
YouTube Broadcast (with subtitles)

Background
Edit
"
The supersensation that suddenly began to appear in certain people all over the world, the "Rimiteru Sensation".

Inferring the moment of death of the people around them through various objects, the "moment just before death" is shown. Akasaka Kazuya, through "cameras", and Aoba Kaede, through "glass", are caught by the world of death.

"
 
Diarays 6th published work.
This song is featured on Diarays's first album Color Play and on FARM RECORDS' compilation album VOCAROCK collection loves IA.
Japanese (日本語歌詞)
Romaji (ローマ字)
最初のワンシーン
saisho no wanshiin
目の奥が焼けた
me no oku ga yaketa
名前を呼んで止めてもタイムリミットです
namae o yonde tomete mo taimu rimitto desu
望まない空想、夢想、瞬間も残さず
nozomanai kuusou, musou, shunkan mo nokosazu
この目は全てを映し出していた
kono me wa subete o utsushidashite ita


明日も昨日も今日も明後日も反省会
ashita mo kinou mo kyou mo asatte mo hansei kai
けど血も空気も変わらないって脳が言うんだ負けるんだ
kedo chi mo kūki mo kawaranai tte nou ga iunda makerunda


僕が第328人目リミテル感覚少年
boku ga dai san-byaku ni-juu hachi hitome rimiteru kankaku shounen
特技は"見て見ぬ振り"誰も知らないことだけど
tokugi wa" mite minu furi" dare mo shiranai koto dakedo
だってだって関係無いじゃん映画のヒロイン鏡の僕
datte datte kankei naijan eiga no hiroin kagami no boku
現実を歪げて今日も君を見て嗤ってた
genjitsu o magete kyō mo kimi o mite waratteta


いつものワンシーン
itsumo no wanshiin
蹴られる女の子
kerareru onnanoko
あいつはさんびゃくはちじゅう・・・何人目だっけな
aitsu wa san-byaku hachi-juu nanbito medakke na


明日も昨日も今日も明後日も反省会
ashita mo kinō mo kyō mo asatte mo hansei kai
けど誰もかれも気にしないって脳は言うんだ負けるんだ
kedo daremo kare mo kinishinai tte nou wa iunda makerunda


君は第384人目リミテル感覚少女
kimi wa dai san-byaku hachi-juu yon nin me rimiteru kankaku shōjo
特技は "笑顔の振り" 僕は気付いてる違うこと
tokugi wa "egao no furi" boku wa kizuiteru chigau koto
だってだって涙してたじゃん現実の君と鏡の僕
datte datte namidashiteta jan genjitsu no kimi to kagami no boku
「痛いことは嫌い。でも君のことは嫌いじゃない。」
"itai koto wa kirai. demo kimi no koto wa kirai janai."


今日も誰か沈むもう叫ばないよ赤映画
kyou mo dareka shizumu mou sakebanai yo aka eiga
「もう疲れた」って言った僕じゃない声がしたんだ
"mou tsukareta" tte itta boku janai koe ga shitanda


君だ君の部屋夕陽の匂いがたちこめた
kimi da kimi no heya yuuhi no nioi ga tachikometa
見たんだナイフの側にいつも見慣れた鏡じゃない僕を
mitanda naifu no soba ni itsumo minareta kagami janai boku o
もう変わらないって記憶脳をスルーして心臓が
mou kawaranai tte kioku nou o suruushite shinzou ga
ダメだって言った届くって哭いた
dame datte itta todoku tte naita


君の手首を掴んだ
kimi no tekubi o tsukanda


掴んだんだ
tsukandanda
External links
Edit