Ad blocker interference detected!
Wikia is a free-to-use site that makes money from advertising. We have a modified experience for viewers using ad blockers

Wikia is not accessible if you've made further modifications. Remove the custom ad blocker rule(s) and the page will load as expected.
This song article is lacking a proper background. You can help by adding one! The relevant section in the Song Article Guideline is a good starting point, and this blog post may also be helpful. We apologize for the inconvenience this may cause in the meantime.

Song pages lacking proper backgrounds are automatically sorted into this category.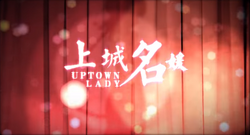 Song title
"上城名媛"
Pinyin: Shàngchéng Míngyuàn
Official English: Uptown Lady
Uploaded April 30, 2016, with 205,000+ (BB) & 4,000+ (YT) views
Singer(s)
Yuezheng Ling
Producer(s)
Xiwang Suo Ren Hezi (compose, arrange)
Xie Jiao Jiaozhu (lyrics)
yoyo Bunii (manipulator)
Gold Rum (mixing, mastering)
Yue Wishky__ (illustrator)
Zhongben Gu (video editor)
Links
YouTube Broadcast
bilibili Broadcast
Background
Edit
"Uptown Lady" is an original song featuring Yuezheng Ling.
This song has exceeded 100,000 views on bilibili.
Chinese (中文歌词)
Pinyin (拼音)
时尚月刊 搭配新季节风范
shishang yuekan dapei xin jijie fengfan
众口一致 潮流最前端
zhong kou yizhi chaoliu zui qianduan
欧式杯盘 进口咖啡喝一半
oushi bei pan jinkou kafei he yiban
仪态博得 人人的喜欢
yitai bode ren ren de xihuan
长据新闻头版 也真不简单
zhang ju xinwen tou ban ye zhen bu jiandan
也屡获称赞
ye lü huo chengzan
上城名媛 没有规矩成不了方圆
shang cheng mingyuan meiyou guiju cheng buliao fangyuan
乏味的对焦点
fawei de dui jiaodian
是时候由我席卷
shi shihou you wo xijuan


百分百上城名媛 可圈或可点
bai fen bai shang cheng mingyuan ke quan huo ke dian
步步留意不踩偏 韵脚的缀连
bu bu liuyi bu cai pian yunjiao de zhui lian
不及我无心之言 出口就成篇
buji wo wuxin zhi yan chukou jiu cheng pian
你精心补妆成大众脸
ni jingxin bu zhuang cheng dazhong lian
可怜需要酝酿一千遍
kelian xuyao yunniang yiqian bian


不怕撞衫 却嫌我趣味古板
bupa zhuangshan que xian wo quwei guban
但我也能 来一点转换
dan wo ye neng lai yidian zhuanhuan
庸常打扮 我见惯也不习惯
yong chang daban wo jian guan ye bu xiguan
受我这次风格的挑战
shou wo zhe ci fengge de tiaozhan
让我来猜猜看 是什么底牌
rang wo lai cai cai kan shi shenme dipai
是刺激感官
shi ciji ganguan
上城名媛 没有特点就挤成一个圈
shang cheng mingyuan meiyou tedian jiu ji cheng yige quan
若期待更新鲜
ruo qidai geng xinxian
请目睹我的出现
qing mudu wo de chuxian


堕落的上城名流 失足求拯救
duoluo de shang cheng mingliu shizu qiu zhengjiu
靠宿醉博人眼球 争议够不够
kao su zui bo ren yanqiu zhengyi gou bugou
素以叛逆趁风头 轮到我出手
su yi panni chen fengtou lun dao wo chushou
我自己就是最烈的酒
wo ziji jiushi zui lie de jiu
对于上城恐怕太呛口
duiyu shang cheng kongpa tai qiang kou


百分百上城名媛 可圈又可点
bai fen bai shang cheng mingyuan ke quan you ke dian
端着猫步走一遍 受宠的区间
duanzhe maobu zou yibian shou chong de qujian
情感绯闻是你的 最后杀手锏
qinggan feiwen shi ni de zuihou shashoujian
不及我不用三思而后言
buji wo buyong sansi erhou yan
出口就比你更显眼
chukou jiu bi ni geng xianyan


上城区的T台秀 赚一票眼球
shang chengqu de T tai xiu zhuan yi piao yanqiu
华丽整齐站一溜 名门的闺秀
huali zhengqi zhan yiliu mingmen de guixiu
满足硬核的胃口 先扫平低幼
manzu ying he de weikou xian saoping di you
若已经看腻只有名流
ruo yijing kan ni zhiyou mingliu
我即到场
wo ji daochang
上城就该有 皇后
shang cheng jiu gai you huanghou
External links
Edit
| | |
| --- | --- |
| | Lyrics |