Ad blocker interference detected!
Wikia is a free-to-use site that makes money from advertising. We have a modified experience for viewers using ad blockers

Wikia is not accessible if you've made further modifications. Remove the custom ad blocker rule(s) and the page will load as expected.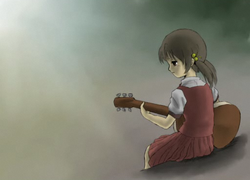 Song title
"世界なんて一瞬で変わる"
Romaji: Sekai Nante Isshun de Kawaru
English: The World Changes in a Mere Moment
Uploaded January 16, 2010, with 57,000+ views
Singer(s)
Kaai Yuki
Producer(s)
Ashitano-P
Links
Niconico Broadcast
Background
Edit
Ashitano-P wanted to create a dark song, with the result being the "VOCALO elementary student" singing about the present turning to gloom.
Japanese (日本語歌詞)
Romaji (ローマ字)
世界なんて一瞬で変わってしまう
sekai nante isshun de kawatte shimau
この世に確かなものなど何も無い
kono you ni tashikana mono nado nani mo nai


「いつも」なんて一瞬で終わってしまう
"itsumo" nante isshun de owatte shimau
ほんのささやかな揺らぎだけでも
honno sasayaka na yuragi dake demo


夢を見た 壊れる前の世界
yume o mita kowareru mae no sekai
気が付けば 遠い遠いずっと遠い
kiga tsukeba tooi tooi zutto tooi


光なんて一瞬で闇に変わる
hikari nante isshun de yami ni kawaru
表と裏との距離はゼロだから
omote to ura to no kyori wa ZERO dakara


誓いなんて一瞬で裏切られる
chikai nante isshun de uragi rareru
ほんのささやかな理由だけでも
honno sasayaka na riyuu dake demo


信じてた 穢れる前の世界
shinjiteta kegareru mae no sekai
気が付けば 遠い遠いずっと遠い
kiga tsukeba tooi tooi zutto tooi


足元に何も無い
ashimoto ni nani mo nai
手のひらは空をきり
tenohira wa kuu o kiri
どこまでも落ちていく この身体
doko made mo ochiteiku kono karada


果てしなく暗い闇
hateshinaku kurai yami
目の前さえも見えず
me no mae sae mo miezu
いつまでも立ちつくす この心
itsumade mo tachi tsukusu kono kokoro


世界なんて一瞬で変わってしまう
sekai nante isshun de kawatte shimau
この世に確かなものなど何も無い
kono you ni tashikana mono nado nani mo nai


心なんて一瞬で死んでしまう
kokoro nante isshun de shinde shimau
ほんのつまらない言葉だけでも
honno tsumaranai kotoba dake demo


思い出す 潰れる前の世界
omoi dasu tsubureru mae no sekai
気がつけば 遠い遠いずっと遠い
kiga tsukeba tooi tooi zutto tooi


空気がとても重い
kuuki ga totemo omoi
支えきれなくなって
sasae kire naku natte
押しつぶされてしまう この身体
oshi tsubusarete shimau kono karada


周りは静かなのに
mawari wa shizuka na no ni
心だけが騒いで
kokoro dake ga sawai de
うるさくて眠れない 今日もまた
urusakute nemure nai kyou mo mata


足元に何も無い
ashimoto ni nani mo nai
手のひらは空をきり
tenohira wa kuu wo kiri
どこまでも落ちていく この身体
doko made mo ochiteiku kono karada


果てしなく暗い闇
hateshinaku kurai yami
目の前さえも見えず
me no mae sae mo miezu
いつまでも立ちつくす この心
itsumade mo tachi tsukusu kono kokoro


空気がとても重い
kuuki ga totemo omoi
支えきれなくなって
sasae kire naku natte
押しつぶされてしまう この身体
oshi tsubusarete shimau kono karada


周りは静かなのに
mawari wa shizuka na no ni
心だけが騒いで
kokoro dake ga sawai de
うるさくて眠れない 今日もまた
urusakute nemure nai kyou mo mata
External links
Edit
| | |
| --- | --- |
| | Articles |
| | |
| --- | --- |
| | Lyrics |