Ad blocker interference detected!
Wikia is a free-to-use site that makes money from advertising. We have a modified experience for viewers using ad blockers

Wikia is not accessible if you've made further modifications. Remove the custom ad blocker rule(s) and the page will load as expected.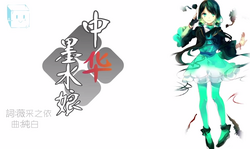 Song title
"中华墨水娘"
Traditional Chinese: 中華墨水娘
Pinyin: Zhōnghuá Mòshuǐ Niáng
English: Chinese Ink Girl
Uploaded September 8, 2013, with 402,000+ views
Singer(s)
Luo Tianyi
Producer(s)
Yukinsnow (compose)
Wei Cai Zhi Yi (lyrics)
Yan (illust)
Links
YouTube Broadcast (reprint)
bilibili Broadcast

Background
Edit
"Zhōnghuá Mòshuǐ Niáng" is an original Luo Tianyi song that tells the story of a swordsman who travels around and demands justice with his sword. It is the first song of the "Chinese Girl Project" series and represents the element of water. It is followed by 中华烛火娘 (Zhōnghuá Zhú Huǒ Niáng). The original version and the remix version are featured in Yukinsnow's doujinshi album, Chinese Girls Project.
This song has exceeded 100,000 views on bilibili.
Suceeding versions
Edit
Remix Version

| | |
| --- | --- |
| Featuring | Luo Tianyi |
| Author(s) | Yukinsnow (compose), Wecaizhiyi (lyrics), Fzango (illustrator), Yizi (video editor), Doufu-P (tuning, remix) |
| Category | Remix |
Chinese (中文歌词)
Pinyin (拼音)
霧濛濛 城頭上 玄月下
wu mengmeng cheng toushang xuan yue xia
指尖 輕試過 臉頰的 舊傷疤
zhi jian qing shiguo lianjia de jiu shangba
路隱隱 舊馬車 淺泥窪
lu yinyin jiu mache qian ni wa
嘴角 又勾起 稀疏的 短胡茬
zuijiao you gou qi xishu de duan hu cha


殺 廝殺 廝殺
sha sisha sisha
千萬年恩怨 終歸於劍下
qian wan nian enyuan zhonggui yu jian xia
殺 廝殺 廝殺
sha sisha sisha
刀光的酬酢 我蘸血為畫
dao guang de choucu wo zhan xie wei hua


莫笑 舊衣衫 舊長劍 走過天涯
mo xiao jiu yishan jiu zhang jian zouguo tianya
且看 風為屏 草為席 天地為家
qie kan feng wei ping cao wei xi tiandi wei jia
意氣 刀之尖 血之涯 劃過春夏
yiqi dao zhi jian xue zhi ya huaguo chun xia
把酒 一生笑 一生醉 一世為俠
bajiu yisheng xiao yisheng zui yishi wei xia
一劍 一瞬間 一眨眼 事了不見
yi jian yi shunjian yi zhayan shi liao bujian
只見 琉璃片 房瓦間 留下墨點
zhijian liuli pian fang wa jian liu xia mo dian
聞聽 說書人 也曾將 故事杜撰
wen ting shuoshu ren ye ceng jiang gushi duzhuan
聽罷 取壺酒 踏歌去 醉意闌珊
ting ba qu hu jiu tage qu zuiyi lanshan


霧濛濛 城頭上 玄月下
wu mengmeng cheng toushang xuan yue xia
指尖 輕試過 臉頰的 舊傷疤
zhi jian qing shiguo lianjia de jiu shangba
路隱隱 舊馬車 淺泥窪
lu yinyin jiu mache qian ni wa
嘴角 又勾起 稀疏的 短胡茬
zuijiao you gou qi xishu de duan hu cha


殺 廝殺 廝殺
sha sisha sisha
千萬年恩怨 終歸於劍下
qian wan nian enyuan zhonggui yu jian xia
殺 廝殺 廝殺
sha sisha sisha
刀光的酬酢 我蘸血為畫
dao guang de choucu wo zhan xie wei hua


莫笑 舊衣衫 舊長劍 走過天涯
mo xiao jiu yishan jiu zhang jian zouguo tianya
且看 風為屏 草為席 天地為家
qie kan feng wei ping cao wei xi tiandi wei jia
意氣 刀之尖 血之涯 劃過春夏
yiqi dao zhi jian xue zhi ya huaguo chun xia
把酒 一生笑 一生醉 一世為俠
bajiu yisheng xiao yisheng zui yishi wei xia
一劍 一瞬間 一眨眼 事了不見
yi jian yi shunjian yi zhayan shi liao bujian
只見 琉璃片 房瓦間 留下墨點
zhijian liuli pian fang wa jian liu xia mo dian
聞聽 說書人 也曾將 故事杜撰
wen ting shuoshu ren ye ceng jiang gushi duzhuan
聽罷 取壺酒 踏歌去 醉意闌珊
ting ba qu hu jiu tage qu zuiyi lanshan


莫笑 舊衣衫 舊長劍 走過天涯
mo xiao jiu yishan jiu zhang jian zouguo tianya
且看 風為屏 草為席 天地為家
qie kan feng wei ping cao wei xi tiandi wei jia
意氣 刀之尖 血之涯 劃過春夏
yiqi dao zhi jian xue zhi ya huaguo chun xia
把酒 一生笑 一生醉 一世為俠
bajiu yisheng xiao yisheng zui yishi wei xia
一劍 一瞬間 一眨眼 事了不見
yi jian yi shunjian yi zhayan shi liao bujian
只見 琉璃片 房瓦間 留下墨點
zhijian liuli pian fang wa jian liu xia mo dian
聞聽 說書人 也曾將 故事杜撰
wen ting shuoshu ren ye ceng jiang gushi duzhuan
聽罷 取壺酒 踏歌去 醉意闌珊
ting ba qu hu jiu tage qu zuiyi lanshan