Ad blocker interference detected!
Wikia is a free-to-use site that makes money from advertising. We have a modified experience for viewers using ad blockers

Wikia is not accessible if you've made further modifications. Remove the custom ad blocker rule(s) and the page will load as expected.
This song article is lacking a proper background. You can help by adding one! The relevant section in the Song Article Guideline is a good starting point, and this blog post may also be helpful. We apologize for the inconvenience this may cause in the meantime.

Song pages lacking proper backgrounds are automatically sorted into this category.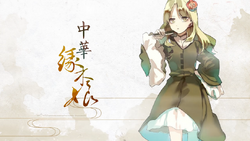 Song title
"中华缘木娘"
Traditional Chinese: 中華緣木娘
Pinyin: Zhōnghuá Yuánmù Niáng
English: Chinese Yuanmu Girl
Uploaded November 27, 2015, with 370,000+ views
Singer(s)
Luo Tianyi
Producer(s)
Yukinsnow (compose, arrange)
Wei Cai Zhi Yi (lyrics)
Yan (illustrator)
Huar Bu Ku (tuning)
irecorder (voice processor)
shizuku (design)
Links
YouTube Broadcast (reprint)
bilibili Broadcast

Background
Edit
"Zhōnghuá Yuánmù Niáng" is an original song featuring Luo Tianyi. It is the fourth song in the "Chinese Girl Project" series and represents the element of wood. This song is featured in Yukinsnow's doujinshi album, Chinese Girls Project.
This song has exceeded 100,000 views on bilibili.
Chinese (中文歌词)
Pinyin (拼音)
看着你的背影渐行渐远
kanzhe ni de beiying jian xing jian yuan
不知何时何地能再相见
buzhi he shi he de neng zai xiang jian
无论沧海桑田碧落黄泉
wulun canghaisangtian biluo huangquan
无悔的誓言
wu hui de shiyan


小桥下积雪消融了水
xiao qiao xia ji xue xiaorongle shui
河岸边柳絮随风纷飞
he'an bian liuxu sui feng fenfei
画舫外丝竹声惹人醉
huafang wai sizhu sheng re ren zui
是我再也看不透的美
shi wo zai ye kan bu tou di mei
看不透檐下燕儿徘徊
kan bu tou yan xia yan'r paihuai
徘徊者成双成对
paihuai zhe cheng shuang cheng dui
我望君兮君未归
wo wang jun xi jun wei gui
繁华落兮空余泪
fanhua luo xi kongyu lei


抬起头仰望着振翅的归雁
tai qitou yangwangzhe zhen chi de gui yan
能否帮我寄去这份思念
neng fou bang wo ji qu zhe fen sinian
只有你的归期你的冷暖
zhiyou ni de guiqi ni de lengnuan
无尽的挂牵
wujin de guaqian


花开花落花开了又一遍
hua kaihua luohua kaile you yibian
年年岁岁盼过了又一年
nian nian sui sui panguole you yi nian
哪怕沧海桑田碧落黄泉
napa canghaisangtian biluo huangquan
只愿君平安
zhi yuan jun ping'an


长亭外雪花肆意而飞
changting wai xuehua siyi er fei
掩住了深秋最后的悲
yan zhule shenqiu zuihou de bei
习惯了草木枯黄葳蕤
xiguanle caomu kuhuang wei rui
习惯了月圆盈亏
xiguanle yue yuan yingkui
我望君兮君未归
wo wang jun xi jun wei gui
韶华落兮谁不悔
shaohua luo xi shui bu hui


回望你我许下的旧誓言
hui wang ni wo xu xia de jiu shiyan
何必功名之后再续前缘
hebi gongming zhihou zai xu qian yuan
随你天高地远繁华踏遍
sui ni tian gaodi yuan fanhua ta bian
也不似今天
ye bu shi jinnian


摩挲翻阅千年的旧书柬
mosa fanyue qiannian de jiushu jian
抚摸有你存在的字句间
fumo you ni cunzai de ziju jian
唯有你的归期你的冷暖
wei you ni de guiqi ni de lengnuan
唯一的挂牵
weiyi de guaqian


远离尘世带来的悲和欢
yuanli chenshi dai lai de bei he huan
守住与你随身的旧衣冠
shouzhu ni suishen de jiu yiguan
看着藤蔓屋檐水滴石穿
kanzhe tengwan wuyan shuidishichuan
忘却了时间
wangquele shijian


花开花落花开了又一遍
hua kaihua luohua kaile you yibian
年年岁岁盼过了又一年
nian nian sui sui panguole you yi nian
就算沧海桑田碧落黄泉
jiusuan canghaisangtian biluo huangquan
守望着永远
shouwangzhe yongyuan
External links
Edit
| | |
| --- | --- |
| | Articles |