This song article is lacking a proper background. You can help by adding one! The relevant section in the Song Article Guideline is a good starting point, and this blog post may also be helpful. We apologize for the inconvenience this may cause in the meantime.

Song pages lacking proper backgrounds are automatically sorted into this category.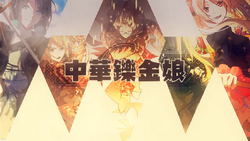 Song title
"中华铄金娘"
Traditional Chinese: 中華鑠金孃
Pinyin: Zhōnghuá Shuòjīn Niáng
English: Chinese Molten Metal Girl
Uploaded July 8, 2016, with 441,000+ views
Singer(s)
Luo Tianyi
Producer(s)
Chunbai-P (compose, arrange)
Wei Cai zhi Yi (lyrics)
DIGGER (tuning)
Gold Rum (mixing)
Irecorder (mastering)
Litterzy (guitar)
Si Gu Jun (percussion)
Ningmeng CC Lu (erhu)
Tao Te (guzheng)
Yuanban Mai Ya (pipa)
Links
YouTube Broadcast (reprint, subbed)
bilibili Broadcast

Background
Edit
"Zhōnghuá Shuòjīn Niáng" is an original song featuring Luo Tianyi. It is the fifth and final song of the Chinese Girl Project. The element this song represents is metal.
This song has exceeded 100,000 views on bilibili.
Chinese (中文歌词)
Pinyin (拼音)
踟蹰而过路边街头
chichu er guolu bian jietou
学着别人一样饮酒
xuezhe bieren yiyang yinjiu
谁的掌心中
shei de zhangxin zhong
半寸箭刃渴望咽喉
ban cun jian ren kewang yanhou


隐入不知名的层楼
yin ru buzhi ming de ceng lou
恍然如老练的猎手
huangran ru laolian de lieshou
阴影中
yinying zhong
在等候
zai denghou


午时燕子划过杨柳
wushi yanzi huaguo yangliu
金鸾引车光华左右
jin luan yin che guanghua zuoyou
升平歌舞中
shengping gewu zhong
究竟深埋多少阴谋
jiujing shen mai duoshao yinmou


尾羽抹去一丝颤抖
weiyu mo qu yisi chandou
黑暗之中獠牙通透
hei'an zhi zhong liao ya tong tou
无情
wuqing
也无仇
ye wu chou


机会转瞬之间弦惊出手
jihui zhuanshun zhi jian xian jing chushou
箭过后万事已休
jian guohou wanshi yi xiu
孰是孰非就让他人评说
shu shi shu fei jiu rang taren pingshuo
终不过成王败寇
zhong buguo cheng wang bai kou


只身一人行漂过海角天涯
zhishen yiren xing piaoguo hai jiao tianya
携剑百步走点过房檐砾瓦
xie jian bai bu zou dianguo fangyan li wa
谁在抚琵琶只为一场肃杀
shei zai fu pipa zhi wei yi chang susha
转过身流矢飒踏
zhuanguo shen liushi sa ta
对错真与假霓裳掩盖狡黠
dui cuo zhen yu jia nishang yangai jiaoxia
离别生与死不过只在一霎
libie sheng yu si buguo zhi zai yisha
半寸鱼肠剑抵过千军万马
ban cun yu chang jian diguo qian jun wan ma
倾覆了谁的天下
qingfule shei de tianxia


靡音萦绕舞榭歌楼
mi yin yingrao wu xie ge lou
薄丝轻纱漫过衣袖
bao si qing sha manguo yi xiu
谁的发髻中
shei de fa ji zhong
半寸短剑不停颤抖
ban cun duan jian bu ting chandou


笙歌曼舞摆动轻裘
shengge man wu baidong qing qiu
一颦一笑如怨如忧
yi pin yixiao ru yuan ru you
试问君
shiwen jun
入瓮否
ru weng fou


抬手弄弦待君垂眸
tai shou nong xian dai jun chui mou
几多娇嗔无心而就
ji duo jiaochen wuxin er jiu
纸醉金迷中
zhizuijinmi zhong
纷乱翻腾多少阴谋
fenluan fanteng duoshao yinmou


款款相偎斟满烈酒
kuan kuan xiang wei zhen man lie jiu
氤氲之间酒色通透
yinyun zhi jian jiuse tong tou
愿者
yuan zhe
便上钩
bian shanggou


是时提起匕首灌透咽喉
shi shi tiqi bishou guan tou yanhou
来不及半声呼救
laibuji ban sheng hujiu
孰是孰非就让他人评说
shu shi shu fei jiu rang taren pingshuo
终不过成王败寇
zhong buguo cheng wang bai kou


只身一人行漂过海角天涯
zhishen yiren xing piaoguo hai jiao tianya
携剑百步走点过房檐砾瓦
xie jian bai bu zou dianguo fangyan li wa
谁在抚琵琶只为一场肃杀
shei zai fu pipa zhi wei yi chang susha
转过身流矢飒踏
zhuanguo shen liushi sa ta
对错真与假霓裳掩盖狡黠
dui cuo zhen yu jia nishang yangai jiaoxia
离别生与死不过只在一霎
libie sheng yu si buguo zhi zai yisha
半寸鱼肠剑抵过千军万马
ban cun yu chang jian diguo qian jun wan ma
倾覆了谁的天下
qingfule shei de tianxia


只身一人行漂过海角天涯
zhishen yiren xing piaoguo hai jiao tianya
五更钟声起晨曦掂量枝桠
wu geng zhong sheng qi chenxi dianliang zhiya
多少不眠夜躲在星辰月下
duo shao bumian ye duo zai xingchen yue xia
杀人者亦会被杀
sharen zhe yi hui bei sha
对错真与假霓裳掩盖狡黠
dui cuo zhen yu jia nishang yangai jiaoxia
离别生与死不过只在一霎
libie sheng yu si buguo zhi zai yisha
尔虞我诈中该相信谁的话
eryuwozha zhong gai xiangxin shei dehua
江湖中何处是家
jianghu zhong he chu shi jia
External links
Edit
| | |
| --- | --- |
| | Articles |