Ad blocker interference detected!
Wikia is a free-to-use site that makes money from advertising. We have a modified experience for viewers using ad blockers

Wikia is not accessible if you've made further modifications. Remove the custom ad blocker rule(s) and the page will load as expected.
This song article is lacking a proper background. You can help by adding one! The relevant section in the Song Article Guideline is a good starting point, and this blog post may also be helpful. We apologize for the inconvenience this may cause in the meantime.

Song pages lacking proper backgrounds are automatically sorted into this category.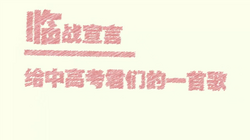 Song title
"临战宣言"
Traditional Chinese: 臨戰宣言
Pinyin: Línzhàn Xuānyán
Uploaded May 7, 2015, with 310,000+ views
Singer(s)
Luo Tianyi, YANHE
Producer(s)
Heibai-P (compose, lyrics, tuning)
A Ze (planning)
XDacjyo and Arl Jun (illustrators)
Probe (video editor)
Links
bilibili Broadcast
Background
Edit
"Línzhàn Xuānyán" is an original Luo Tianyi and YANHE duet.
This song has exceeded 100,000+ views on bilibili.
Singer + Color
Tianyi
YANHE
Chinese (中文歌词)
Pinyin (拼音)

咔哒开门声响起的那一刹那

kada kaimen sheng xiangqi di na yichana

一秒钟之内完成应答

yi miao zhong zhi nei wancheng yingda

支起身体扔掉耳塞

zhi qi shenti reng diao ersai

抓起笔指着大题认真地想着做法

zhua qibi zhizhe da ti renzhen di xiangzhe zuofa




阿嘞这不是一个小时前那张

a lei zhe bushi yige xiaoshi qian na zhang

这道题好像很眼熟嘛

zhe dao ti haoxiang hen yanshu ma

没有父上母上绝对没有睡觉

meiyou fushang mushang juedui meiyou shuijiao

我一直在做题鬼才信啊

wo yizhi zai zuo ti guicai xin a




总是驱不走纠缠不休

zong shi qu bu zou jiuchan buxiu

不离不弃的睡魔君

bu li bu qi de shuimo jun

若是咖啡君冷水君

ruoshi kafei jun lengshui jun

能推倒他的话然而并不能

neng tuidao ta dehua ran'er bing buneng




在草稿纸的函数式旁

zai caogao zhi de hanshu shi pang

涂画着未来的轮廓

tu huazhe weilai de lunkuo

相伴着临近结束的期盼

xiangbanzhe linjin jieshu de qi pan

总是数不清的迷惑

zong shi shu bu qing de mihuo




如果那时选择的路

ruguo na shi xuanze de lu

不想以后再思考对错

buxiang yihou zai sikao dui cuo

文氏图圈起的梦想

wen shi tu quan qi de mengxiang

与未来会交集在心中许下承诺

yu weilai hui jiaoji zai xinzhong xu xia chengnuo




将最重要的错题君带在身边

jiang zui zhongyao de cuo ti jun dai zai shenbian

却并不想对视第二遍

que bing buxiang dui shi di er bian

每次的作文君总是不明觉厉

mei ci de zuowen jun zong shi buming jue li

阅读君也总是不给脸面

yuedu jun ye zong shi bu gei lianmian




想着若是能决定自己的出生

xiangzhe ruoshi neng jueding ziji de chusheng

绝不会是如此的寒碜

jue bu hui shi ruci de hanchen

一次次堕落进幻想魔的怀抱

yici ci duoluo jin huanxiang mo de huaibao

仿佛听到现实君的嘲笑

fangfu ting dao xianshi jun de chaoxiao




平凡君有着不甘平凡的梦想

pingfan jun youzhe bugan pingfan de mengxiang

和远大目标

he yuanda mubiao

然而从那些七彩泡沫中

ran'er cong naxie qicai paomo zhong

并不能找到实现君的

bing buneng zhaodao shixian jun de




挥起长剑下定决心

hui qi zhang jian xiading juexin

用力斩向过去的自我

yongli zhan xiang guoqu de ziwo

在血泊中倒下闭上眼

zai xiebo zhong dao xia bi shang yan

等待重生涅盘的时刻

dengdai chongsheng nie pan de shike




前进的方向迷茫动摇

qianjin de fangxiang mimang dongyao

然而再也不会逃跑

ran'er zai ye bu hui taopao

一次又一次被泪水模糊的视线

yici you yici bei leishui mohu de shixian

前方终将晴空万丈

qianfang zhong jiang qingkong wanzhang
External links
Edit
| | |
| --- | --- |
| | Lyrics |