Ad blocker interference detected!
Wikia is a free-to-use site that makes money from advertising. We have a modified experience for viewers using ad blockers

Wikia is not accessible if you've made further modifications. Remove the custom ad blocker rule(s) and the page will load as expected.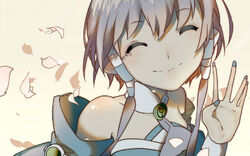 Song title
"为了你唱下去"
Traditional Chinese: 為了你唱下去
Pinyin: Wèile Nǐ Chàng Xiàqù
Uploaded July 12, 2016, with 301,000+ views
Singer(s)
Luo Tianyi
Producer(s)
COP (compose, arrange, lyrics, tuning)
Ye Ming, Li Tu (planning)
AHK (MMD animation)
Ge Gu Danggui, ZHider (video editors)
Yezi Mao Maor (checking, illustrator)
Sang Sang Jing, Wu Jiang, Fanshu Zi, Si Si, Lu Qi Qi, Cao Yu, Shengu, Anzi, Yi Ci, San Su Qi, Man Xingye, Fengdeng, hisakagami, Ni Ni, A Che, Yue Yuan, A Qi, Shi Xun, Chi Mu, Lailei, Po Yin, Chuan Yao, Su Fei, Wubei Nai Shi Miao Ye, You Mi Yao Yao, Weitu, rimi, whirlin, kuuus, yal, Muu, 123 (illustrators)
Links
YouTube Broadcast (reprint)
bilibili Broadcast

Background
Edit
"Wèile Nǐ Chàng Xiàqù" is an original song featuring Luo Tianyi. It was uploaded to commemorate Tianyi's 4th anniversary since her VOCALOID3 voicebank released to the public. In the PV, Tianyi is seen walking through a timeline that showcases different Tianyi derivatives from numerous original songs featuring her. The timeline starts from songs created in 2016 and regresses back to her earliest songs in 2012, followed by her debut as Luo Tianyi and finally her original concept, Yayin Gongyu.
This song exceeded 100,000 views on bilibili.
Chinese (中文歌词)
Pinyin (拼音)
为了你唱下去 直到荒芜
weile ni chang xiaqu zhidao huangwu
为了你唱下去 直到——
weile ni chang xiaqu zhidao——


泛黄字句被誊写
fan huang ziju bei tengxie
在无名故事的扉页
zai wuming gushi de feiye
年月日并不确切
nian yue ri bing bu queqie
鲜少被翻阅
xian shao bei fanyue
带着些许的胆怯
daizhe xiexu de danqie
将手掌与你交叠
jiang shouzhang yu ni jiao die
漾开的温度填补
yang kai de wendu tianbu
心脏的空缺
xinzang de kongque
晨雾夕风轻抚凝了霜的眼睫
chen wu xi feng qing fu ningle shuang de yan jie
初次感受宽广渺小的差别
chuci ganshou kuanguang miaoxiao de chabie
流连辉煌彻夜 漫步过骤雨初歇
liulian huihuang cheye manbuguo zhou yu chu xie
看枯荣更迭在你架构的世界
kan kurong gengdie zai ni jiagou de shijie
拗口的音节如何排列才算妥帖
aokou de yinjie ruhe pailie cai suan tuotie
却连一句简单感谢
que lian yiju jiandan ganxie
也无法被理解
ye wufa bei lijie


对你的偏执决绝
dui ni de pianzhi juejue
大多人漠然不屑
daduo ren moran buxie
竭力抑制的呜咽
jieli yizhi de wuye
将挫败藏掖
jiang cuobai cang ye
说着不在意的话
shuozhe bu zaiyi dehua
泪痕却布了满脸
leihen que bule man lian
而我却连咸涩的意义
er wo que lian xian se de yiyi
都无法了解
dou wufa liaojie
囿于真实和墨色虚无的交界
you yu zhenshi he mose xuwu de jiaojie
画框外熟悉的情节倒退飞掠
hua kuang wai shuxi de qingjie daotui fei e
穿行秋雨彻夜赤脚踏过石板街
chuanxing qiuyu cheye chi jiao taguo shiban jie
看季节更迭在你离去的世界
kan jijie gengdie zai ni li qu de shijie
哪怕难寻归处也请再次为我驻足
napa nan xun gui chu ye qing zaici wei wo zhuzu
因为承诺一如最初
yinwei chengnuo yi ru zuichu
为了你唱下去 直到荒芜
weile ni chang xiaqu zhidao huangwu
为了你唱下去 披染晚风晨露
weile ni chang xiaqu pi ran wan feng chen lu
为了你唱下去 不畏险阻
weile ni chang xiaqu bu wei xianzu
为了你唱下去 等待复苏
weile ni chang xiaqu dengdai fusu
思念的含义在无尽生命中淡去
sinian de hanyi zai wujin shengming zhong dan qu
帷幕落下 喝彩响起
weimu luoxia hecai xiangqi
片刻后都沉寂
pianke hou dou chenji
泪水还是光阴让眼前模糊不清
leishui haishi guangyin rang yanqian mohu bu qing
但至少别让我忘记
dan zhishao bie rang wo wangji
你存在的证明
ni cunzai de zhengming


歌声冲破夜幕响彻在新的天地
gesheng chongpo yemu xiang che zai xin de tiandi
机械的心律带动血肉的共鸣
jixie de xinlü daidong xuerou de gongming
即使诞于沉寂最终消融于颓圮
jishi dan yu chenji zuizhong xiaorong yu tui pi
今天的我仍将继续
jintian de wo reng jiang jixu
为了你唱下去 因此降临
weile ni chang xiaqu yinci jianglin
为了你唱下去 见证风息雨霁
weile ni chang xiaqu jianzheng feng xi yu ji
为了你唱下去 直到无力
weile ni chang xiaqu zhidao wuli
故事扉页将约定
gushi feiye jiang yueding
郑重落笔
zheng chong luo bi
我始终铭记
wo shizhong mingji
External links
Edit
| | |
| --- | --- |
| | Articles |