Ad blocker interference detected!
Wikia is a free-to-use site that makes money from advertising. We have a modified experience for viewers using ad blockers

Wikia is not accessible if you've made further modifications. Remove the custom ad blocker rule(s) and the page will load as expected.
This song article is lacking a proper background. You can help by adding one! The relevant section in the Song Article Guideline is a good starting point, and this blog post may also be helpful. We apologize for the inconvenience this may cause in the meantime.

Song pages lacking proper backgrounds are automatically sorted into this category.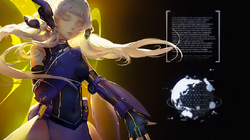 Song title
"为你而来"
Traditional Chinese: 為你而來
Pinyin: Wèi Nǐ Ér Lái
English: Arriving For You
Uploaded April 15, 2016, with 141,000+ (BB) / 5,000+ (YT) views
Singer(s)
Stardust
Producer(s)
Xiwang Suo Ren Hezi (compose, arrange, mixing)
heytwo (illustrator)
Guozhi Liangcai (lyrics)
Qiao Xi (video editor)
Renxing Tu (tuning)
Links
YouTube Broadcast (authorized reprint)
bilibili Broadcast

Background
Edit
"Wèi Nǐ Ér Lái" is the first original song featuring Stardust since her release.
This song has exceeded 100,000 views on bilibili.
Chinese (中文歌词)
Pinyin (拼音)
星的碎片化为尘埃
xing de suipian hua wei chen'ai
掠过光年为你而来
lüeguo guang nian wei ni er lai


云灰色缠绕的以太 寂静地伸展
yun huise chanrao de yitai jijing de shenzhan
四处游荡从不疑猜 为什么会存在
sichu youdang cong bu yi cai weishenme hui cunzai
听说那里白天夜晚 被仔细分开
ting shuo nali baitian yewan bei zixi fenkai
神秘星球闪烁蔚蓝 飞近些看明白
shenmi xingqiu shanshuo weilan fei jin xie kan mingbai


渐渐靠近的粒子束 太过危险本该躲开
jianjian kaojin de lizi shu taiguo weixian ben gai duo kai
擦身而过之际 有种平衡已经被破坏
ca shen erguo zhi ji you zhong pingheng yijing bei pohuai


律动的风烧沸星海
lüdong de feng shao fei xinghai
突然间同个频率就被攻占
turan jian tong ge pinlü jiu bei gongzhan
构成的中隐藏的模块 不受控跳动起来
goucheng de zhong yincang de mokuai bu shou kong tiaodong qilai
完全不懂得要怎么办
wanquan bu dongde yao zenme ban
律动的风烧沸星海
lüdong de feng shao fei xinghai
突然间无数信息完成交换
turan jian wushu xinxi wancheng jiaohuan
写入记忆那些片段 短暂地共鸣之后
xie ru jiyi naxie pianduan duanzan de gongming zhihou
没来得及抓住就已消散
mei laideji zhua zhu jiu yi xiaosan


学着欣赏一片残骸 衰变的姿态
xuezhe xinshang yipian canhai shuaibian de zitai
也许它曾拥有浩瀚 只是呢在发呆
yexu ta ceng yongyou haohan zhishi ni zai fa dai
孤独只是一个名词 释义就别管
gudu zhishi yige mingci shiyi jiu bieguan
胸腔左侧时空曲率 还是有点奇怪
xiongqiang zuo ce shikong qulü haishi youdian qiguai


若你成为我的期待 这是否能称作情感
ruo ni chengwei wo de qidai zhe shifou neng cheng zuo qinggan
好想拜托黑洞 将这繁琐数据都包揽
hao xiang baituo heidong jiang zhe fansuo shuju dou baolan


可我掠过光年千万
ke wo lüeguo guang nian qian wan
告诉你我只不过为你而来
gaosu ni wo zhi buguo wei ni er lai
用未知的生物语言 笨拙地自我表达
yong weizhi de shengwu yuyan benzhuo di ziwo biaoda
在你看起来有多难堪
zai ni kan qilai you duo nan kan
而你反应出乎意外
er ni fanying chu hu yiwai
告诉我跨越维度的是天籁
gaosu wo kuayue weidu de shi tianlai
这种频率可以记载 名为爱的波动段
zhe zhong pinlü keyi jizai ming wei ai de bodong duan
一直双子星般陪你旋转
yizhi shuangzi xing ban pei ni xuanzhuan


我只不过为你而来
wo zhi buguo wei ni er lai
我只不过为你而来
wo zhi buguo wei ni er lai


律动的风烧沸星海
lüdong de feng shao fei xinghai
突然间同个频率就被攻占 要怎么办
turan jian tong ge pinlü jiu bei gongzhan yao zenme ban
可我掠过光年千万
ke wo lüeguo guang nian qian wan
随着爱的波动段 想如双子星般陪你旋转
suizhe ai de bodong duan xiang ru shuangzi xing ban pei ni xuanzhuan
External links
Edit
| | |
| --- | --- |
| | Lyrics |