Ad blocker interference detected!
Wikia is a free-to-use site that makes money from advertising. We have a modified experience for viewers using ad blockers

Wikia is not accessible if you've made further modifications. Remove the custom ad blocker rule(s) and the page will load as expected.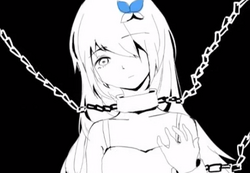 Song title
"乌合之众"
Traditional Chinese: 烏合之衆
Pinyin: Wūhézhīzhòng
English: The Crowd
Uploaded June 14th, 2013, with 230,000+ views
Singer(s)
Luo Tianyi
Producer(s)
JUSF (compose, arrange, mastering, PV)
Moriz (illust)
Links
YouTube Broadcast (reprint, subbed)
bilibili Broadcast

Background
Edit
"Wūhézhīzhòng" is an original Luo Tianyi song produced by JUSF. The song was inspired by Gustave Le Bon's "The Crowd: A Study of the Popular Mind", a novel that refers to psychology. It is also the sequel to 向内生长 (Xiàng Nèi Shēngzhǎng) and is followed by 罂粟花冠 (Yīngsù Huāguān).
One interpretation of the song could be that the "crowd" could swallow up a person's personality.
The song has over 100,000 views on bilibili.
Chinese (中文歌词)
Pinyin (拼音)
谁在痛苦挣扎
shei zai tongku zhengzha
妄想挣脱铁枷
wangxiang zhengtuo tie jia
殊不知这条命
shubuzhi zhe tiao ming
死期早已定下
siqi zaoyi ding xia


还微笑的人哪
hai weixiao de ren na
乐观到让人怕
leguan dao rang ren pa
乌合之众的梦
wuhezhizhong de meng
描绘残破童话
miaohui canpo tonghua


沉没在这螺旋里
chenmo zai zhe luoxuan li
一步一步地沦陷
yibu yibu de lunxian
放弃了思考的权限
fangqi le sikao de quanxian


顺着他们的指向
shunzhe tamen de zhixiang
或愤怒抑或悲伤
huo fennu yihuo beishang
不过是选择性目盲
buguo shi xuanze xing mu mang


暗淡灯火明灭中
andan denghuo mingmie zhong
她捧着对面的爱
ta pengzhe duimian de ai
理想恍惚如沙中海
lixiang huanghu ru sha zhonghai


不要被他们发现
buyao bei tamen faxian
也不要以为舞台
ye buyao yiwei wutai
真能分清你的黑白
zhenneng fenqing ni de heibai


无论多么肮脏的人
wulun duome ang zang de ren
也值得亲吻
ye zhide qinwen


谁在痛苦挣扎
shei zai tongku zhengzha
妄想挣脱铁枷
wangxiang zhengtuo tie jia
殊不知这条命
shubuzhi zhe tiao ming
死期早已定下
siqi zaoyi ding xia


还微笑的人哪
hai weixiao de ren na
乐观到让人怕
leguan dao rang ren pa
乌合之众的梦
wuhezhizhong de meng
描绘残破童话
miaohui canpo tonghua


众目睽睽之下
zhongmukuikui zhi xia
我们学会了交谈
women xuehuile jiaotan
用眼睛示意不存在
yong yanjing shiyi bu cunzai


不要被他们发现
buyao bei tamen faxian
也不要以为舞台
ye buyao yiwei wutai
真能分清你的黑白
zhenneng fenqing ni de heibai


无论多么璀璨的人
wulun duome cuican de ren
也值得摧残终身
ye zhide cuican zhongshen
无论多么肮脏的人
wulun duome ang zang de ren
也值得亲吻
ye zhide qinwen


具有独立思想
juyou duli sixiang
立在鳌头观望
li zai aotou guanwang
纵身一跃而下
zongshen yi yue er xia
没入浩浩荡荡
meiru hao haodang dang


森林边缘的人
senlin bianyuan de ren
终将吞噬自身
zhong jiang tunshi zishen
漫无目的瞄准
man wu mudi miaozhun
今天谁被倾盆
jintian shei bei qingpen


谁在痛苦挣扎
shei zai tongku zhengzha
妄想挣脱铁枷
wangxiang zhengtuo tie jia
殊不知这条命
shubuzhi zhe tiao ming
死期早已定下
siqi zaoyi ding xia


还微笑的人哪
hai weixiao de ren na
乐观到让人怕
leguan dao rang ren pa
乌合之众的梦
wuhezhizhong de meng
描绘残破童话
miaohui canpo tonghua


具有独立思想
juyou duli sixiang
立在鳌头观望
li zai aotou guanwang
纵身一跃而下
zongshen yi yue er xia
没入浩浩荡荡
meiru hao haodang dang


森林边缘的人
senlin bianyuan de ren
终将吞噬自身
zhong jiang tunshi zishen
漫无目的瞄准
man wu mudi miaozhun
今天谁被倾盆
jintian shei bei qingpen
Derivatives
Edit
Signal-E & Eleph's Remix

| | |
| --- | --- |
| Featuring | Fēi xuě |
| Author(s) | Signal-E & Eleph |
| Category | Remix, Human Cover |