Ad blocker interference detected!
Wikia is a free-to-use site that makes money from advertising. We have a modified experience for viewers using ad blockers

Wikia is not accessible if you've made further modifications. Remove the custom ad blocker rule(s) and the page will load as expected.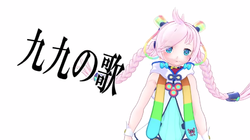 Song title
"九九の歌"
Romaji: Kuku no Uta
English: The Multiplication Table Song
Uploaded September 9, 2014, with 3,000+ (NND) & 7,000+ (YT) views
Singer(s)
Rana
Producer(s)
Yaduki
Links
Niconico Broadcast • YouTube Broadcast (official)

Background
Edit
"Kuku no Uta" is an original Rana song. This song is based on the Japanese times table taught in primary schools in Japan.
Japanese (日本語歌詞)
Romaji (ローマ字)
1 2 3 4 5 6 7 8
ichi ni san shi go roku shichi hachi
1 2 3 4 5 6 7 9
ichi ni san shi go roku shichi kyuu
2 3 4 5 6 7 8 9
ni san shi go roku shichi hachi kyuu
3 4 5 6 1 2 8 9
san shi go roku ichi ni hachi kyuu


1×1=1 1×2=2 1×3=3
in-ichi wa ichi, inni wa ni, insan wa san
1×4=4 1×5=5 1×6=6
inshi wa shi ingo wa go inroku wa roku
1×7=7 1×8=8 1×9=9
inshichi wa shichi inhachi wa hachi inku wa kyuu


2×1=2 2×2=4 2×3=6
ni-ichi wa ni ninin wa shi nisan wa roku
2×4=8 2×5=10 2×6=12
nishi wa hachi nigo juu niroku juuni
2×7=14 2×8=16 2×9=18
nishichi juushi niha juuroku niku juuhachi


3×1=3 3×2=6 3×3=9
san-ichi wa san sanni wa roku sazan wa kyuu
3×4=12 3×5=15 3×6=18
sanshi juuni sango juugo saburoku juuhachi
3×7=21 3×8=24 3×9=27
sanshichi nijuuichi sanpa nijuushi sanku nijuushichi


さあ 九九覚えよう
saa kuku oboeyou
初めての掛け算だけれど
hajimete no kakezan dakeredo
君なら覚えられる筈
kimi nara oboerareru hazu
さあ 九九の歌だよ
saa kuku no uta da yo
大人の僕も今歌うよ
otona no boku mo ima utau yo
僕らの九九の歌響く
bokura no kuku no uta hibiku


4×1=4 4×2=8 4×3=12
shi-ichi wa shi shini wa hachi shisan juuni
4×4=16 4×5=20 4×6=24
shishi juuroku shigo nijuu shiroku nijuushi
4×7=28 4×8=32 4×9=36
shishichi nijuuhachi shiha sanjuuni shiku sanjuuroku


5×1=5 5×2=10 5×3=15
goichi wa go goni juu gosan juugo
5×4=20 5×5=25 5×6=30
goshi nijuu gogo nijuugo goroku sanjuu
5×7=35 5×8=40 5×9=45
goshichi sanjuugo goha shijuu goku shijuugo


6×1=6 6×2=12 6×3=18
rokuichi wa rokuni juuni rokusan juuhachi
6×4=24 6×5=30 6×6=36
rokushi nijuushi rokugo sanjuu rokuroku sanjuuroku
6×7=42 6×8=48 6×9=54
roku shichi shijuuni rokuha shijuuhachi rokku gojuushi


7×1=7 7×2=14 7×3=21
shichiichi wa shichi shichini juushi shichisan nijuuichi
7×4=28 7×5=35 7×6=42
shichishi nijuuhachi shichigo sanjuugo shichiroku shijuuni
7×7=49 7×8=56 7×9=63
shichishichi chijuukyu shichiha gojuuroku shichiku rokujuusan


8×1=8 8×2=16 8×3=24
hachiichi wa hachi hachini juuroku hachisan nijuushi
8×4=32 8×5=40 8×6=48
hachishi sanjuuni hachigo shijuu hachiroku shijuuhachi
8×7=56 8×8=64 8×9=72
hachishichi gojuuroku happa rokujuushi hakku shichijuuni


さあ 九九覚えよう
saa kuku oboeyou
初めての掛け算だけれど
hajimete no kakezan dakeredo
君なら覚えられる筈
kimi nara oboerareru hazu
さあ 九九の歌だよ
saa kuku no uta da yo
大人の僕も今歌うよ
otona no boku mo ima utau yo
僕らの九九の歌響く
bokura no kuku no uta hibiku


9×1=9 9×2=18 9×3=27
kuichi wa ku kuni juuhachi kusan nijuushichi
9×4=36 9×5=45 9×6=54
kushi sanjuuroku kugo shijuugo kuroku gojuushi
9×7=63 9×8=72 9×9=81
kushichi rokujuusan kuha shichijuuni kuku hachijuuichi


覚える事が出来ました
oboeru koto ga dekimashita


1 2 3 4 5 6 7 8
ichi ni san shi go roku shichi hachi
1 2 3 4 5 6 7 9
ichi ni san shi go roku shichi kyuu
2 3 4 5 6 7 8 9
ni san shi go roku shichi hachi kyuu
3 4 5 6 1 2 8 9
san shi go roku ichi ni hachi kyuu