This song article is lacking a proper background. You can help by adding one! The relevant section in the Song Article Guideline is a good starting point, and this blog post may also be helpful. We apologize for the inconvenience this may cause in the meantime.

Song pages lacking proper backgrounds are automatically sorted into this category.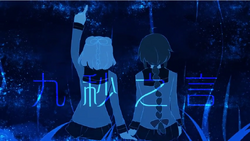 Song title
"九秒之言"
Pinyin: Jiǔ Miǎo Zhī Yán
Uploaded February 14, 2015, with 31,000+ views
Singer(s)
Luo Tianyi
Producer(s)
PoKeR (compose, arrange, tuning, mixing, lyrics)
Sya (illustrator, video editor)
Links
YouTube Broadcast (reprint)
bilibili Broadcast

Background
Edit
"Jiǔ Miǎo Zhī Yán" is an original Chinese song featuring Luo Tianyi.
Chinese (中文歌词)
Pinyin (拼音)
夜深人静的时候有些不安
yeshenrenjing de shihou youxie bu'an
总觉得心底多了一些遗憾
zong juede xindi duole yixie yihan
反正明天还能像以前一样见面
fanzheng mingtian hai neng xiang yiqian yiyang jianmian
所以所以所以
suoyi suoyi suoyi


不知道那么异样
bu zhidao name yiyang
所以不知道那并不一样
suoyi bu zhidao na bing bu yiyang
所以不知道我还是希望
suoyi bu zhidao wo haishi xiwang
所以我希望你听一听好吗
suoyi wo xiwang ni ting yi ting hao ma


想起我送给你的手制糖果
xiangqi wo song gei ni de shou zhi tangguo
虽然做的不是那么的像样
suiran zuo de bushi name de xiangyang
想起你脸上苦涩的笑容
xiangqi ni lian shang kuse de xiaorong
下一次一定能做的更好吧
xia yici yiding neng zuo de geng hao ba


所以求你啊快好起来吧
suoyi qiu ni a kuai hao qilai ba
所以求你啊再一起玩吧
suoyi qiu ni a zai yiqi wan ba
所以求你啊睁开眼好吗
suoyi qiu ni a zheng kai yan hao ma
就算只有几秒听一听好吗
jiusuan zhiyou ji miao ting yi ting hao ma
我的话言
wo dehua yan


再也看不清 再也分不明
zai ye kan bu qing zai ye fen buming
床边双手紧紧地
chuang bian shuangshou jin jin di
感受着彼此的联系
ganshouzhe bici de lianxi


永远要在一起
yongyuan yao zai yiqi
不许你独自分离
buxu ni duzi fen li
原谅我这么任性
yuanliang wo zheme renxing
因为我真的好喜欢你
yinwei wo zhen de hao xihuan ni
External links
Edit
| | |
| --- | --- |
| | Articles |