Ad blocker interference detected!
Wikia is a free-to-use site that makes money from advertising. We have a modified experience for viewers using ad blockers

Wikia is not accessible if you've made further modifications. Remove the custom ad blocker rule(s) and the page will load as expected.
!

Warning:

This song contains questionable lyrics and themes (

Violence

); it may be inappropriate for younger audiences.

The Vocaloid Wiki does not have a policy on lyrical content or theme; however, it attempts to follow the Wikia TOU.
For further discussion see Thread:68883. Questionable songs are automatically sorted into this category.

!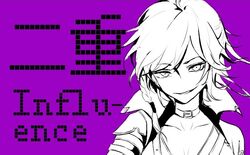 Song title
"二重变革"
Traditional Chinese: 二重變革
Pinyin: Èr Chóng Biàngé
English: Double Influence
Uploaded December 12, 2015, with 443,000+ views
Singer(s)
Luo Tianyi, YANHE
Producer(s)
DELA (compose, arranger)
Yu Li (lyrics)
Digger, Huār Bù Kū (tuning)
POiSON (mixing)
Lune (illustrator)
Yī Zhé Qǐ Shòu (video editor)
Links
YouTube Broadcast (reprint)
bilibili Broadcast

Background
Edit
"Èr Chóng Biàngé" is an original duet song featuring Luo Tianyi and YANHE. It is the second song of the Paranoia Series.
The song is about Ling Yu (YANHE derivative), an imaginary girl who attempts to kill Ling Luo (Luo Tianyi).
This song has exceeded 100,000 views on bilibili.
Singer + Color
YANHE
Tianyi
Chinese (中文歌词)
Pinyin (拼音)

是想要血液逆流 或剁下双手

shi xiang yao xieye niliu huo duo xia shuangshou

还是从高空坠落 双眼唯余空洞

haishi cong gaokong zhuiluo shuangyan wei yu kongdong

逃避现实的女孩 做着放弃的梦

taobi xianshi de nuhai zuozhe fangqi de meng

和背叛的人不同 我会实现你所有的愿望

he beipan de ren butong wo hui shixian ni suoyou de yuanwang

包括 也只包括意外死亡

baokuo ye zhi baokuo yiwai siwang

请你微笑 不要将命运躲藏

qing ni weixiao buyao jiang mingyun duocang




这就是她最安全的祭奠 织起一个蚕茧 疑问与哭号都听不见

zhe jiushi ta zui anquan de jidian zhi qi yige canjian yiwen yu ku hao dou ting bujian

这一重任扭曲泛滥的世界 它可悲的明天就由我来终结

zhe yi zhongren niuqu fanlan de shijie ta kebei de mingtian jiu you wo lai zhongjie




收起你虚伪的骄傲 跪着迎接我来到

shou qi ni xuwei de jiao'ao guizhe yingjie wo lai dao

虽然世界由你主导 唯独不能把我抹消

suiran shijie you ni zhudao wei du buneng ba wo moxiao

戏剧主角怎能逃跑 轮不到你说不要

xiju zhujiao zen neng taopao lun bu dao ni shuo bu yao

低下乱想的头去吧 我保证会将它砍掉

dixia luan xiang de tou qu ba wo baozheng hui jiang ta kan diao




阴晴不定的天象 是内心模样

yin qing buding de tianxiang shi neixin muyang

并不存在的创伤 歪曲坚硬楼房

bing bu cunzai de chuangshang waiqu jianying loufang

光看画面的肮脏 大脑就会缺氧

guang kan huamian de ang zang danao jiu hui que yang

肆意增长的疯狂 这就是我能做到的反抗

siyi zengzhang de fengkuang zhe jiushi wo neng zuo dao de fankang

通往 也只通往你的坟场

tong wang ye zhi tong wang ni de fen chang

不要炫耀 我只想一个人疗伤

buyao xuanyao wo zhi xiang yige ren liaoshang




这就是她最强大的梦想 曾憧憬的殿堂 将过往与你光辉埋葬

zhe jiushi ta zui qiang da de mengxiang ceng chongjing de diantang jiang guowang yu ni guanghui maizang

这一首赞颂象牙塔的歌谣 我将随变革的浪潮为你传唱

zhe yi shou zansong xiangya ta de geyao wo jiang sui biange de langchao wei ni chuanchang




这不是她最真实的心愿 时间轴的准线 将我的躯体块块分解

zhe bushi ta zui zhenshi de xinyuan shijian zhou de zhun xian jiang wo de quti kuai kuai fenjie

这一纸否定我存在的判决 呜呼哀哉不容得加害者分辩

zhe yi zhi fouding wo cunzai de panjue wuhu'aizai burong de jiahai zhe fenbian




我并非所有混乱的起点 红石蒜的双眼 害怕吧如此必会再相见

wo bingfei suoyou hunluan de qidian hong shi suan de shuangyan haipa ba ruci bi hui zai xiang jian
External links
Edit
| | |
| --- | --- |
| | Lyrics |