Ad blocker interference detected!
Wikia is a free-to-use site that makes money from advertising. We have a modified experience for viewers using ad blockers

Wikia is not accessible if you've made further modifications. Remove the custom ad blocker rule(s) and the page will load as expected.
This song article is lacking a proper background. You can help by adding one! The relevant section in the Song Article Guideline is a good starting point, and this blog post may also be helpful. We apologize for the inconvenience this may cause in the meantime.

Song pages lacking proper backgrounds are automatically sorted into this category.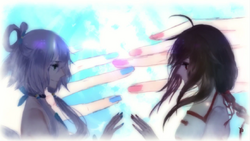 Song title
"云端"
Traditional Chinese: 雲端
Pinyin: Yúnduān
English: Beyond the Clouds
Uploaded June 18, 2016, with 71,000+ (BB) & 100+ (YT) views
Singer(s)
Yuezheng Ling
Producer(s)
Weixing (compose)
Meng Tu (lyrics)
Feng Shi, Jing Chongtian (illustrators)
bz86nick (arrange)
Maomao Chong-P (arrange, tuning)
NekoLoco (video editor)
Links
YouTube Broadcast
bilibili Broadcast
Background
Edit
"Yúnduān" is an original song featuring Yuezheng Ling. It was originally written in 2014 and the video was uploaded as an instrumental. The producers wanted the song to feature her voice should it ever release and it was completed in 2016.
Preceding versions
Edit
2014 Instrumental Version

Author(s)
Weixing (compose)
Meng Tu (lyrics)
Feng Shi, Jing Chongtian (illustrators)
bz86nick (arrange)
Maomao Chong-P (arrange)
NekoLoco (video editor)
Category
Preceding version
Chinese (中文歌词)
Pinyin (拼音)
柔软在上空缠绵
rouruan zai shangkong chanmian
宁静的白色彼岸
ningjing de baise bi'an
云端飘有融雪点点
yunduan piao you rong xue diandian
漫天飞舞白花瓣
mantian feiwu bai huaban
天涯海角早已寻遍
tianyahaijiao zaoyi xun bian
在云端模糊的容颜
zai yunduan mohu de rongyan
映照着身前这恬静的笑脸
yingzhaozhe shen qian zhe tianjing de xiaolian
印刻在远处夕阳静静怀念
yinke zai yuan chu xiyang jing jing huainian
喃喃自语谁人晓天涯云端
nan nan zi yu shei ren xiao tianya yunduan
三年孤寂愿与你相伴
san nian guji yuan yu ni xiangban


心绪不定如云雾剪不断
xinxu buding ru yunwu jian buduan
蔓延了整片天蓝的思念
man yan liao zheng pian tian lan de sinian
似变化莫测的云捉摸不定意难了
si bianhua mo ce de yun zhuomo buding yi nan liao
始终如一的思念却不变
shizhong ruyi de sinian que bu bian
在云端描绘出动人诗篇
zai yunduan miaohui chudong ren shipian


思念在上空盘旋
sinian zai shangkong panxuan
身影镶嵌于蓝天
shenying xiangqian yu lantian
思绪轻轻拨动琴键
sixu qing qing bo dong qinjian
轻唱绵延的歌阙
qing chang mianyan de ge que
回声荡漾碧波湖畔
huisheng dangyang bibo hupan
流水倒映出云漫漫
liushui daoying chu yun manman
若在云端也能闻到花香甜
ruo zai yunduan ye neng wen dao hua xiangtian
在云的起点终点描画个半圆
zai yun de qidian zhongdian miaohua ge banyuan
面朝着彩虹默默许下心底的愿
mian chao zhe caihong momo xu xia xindi de yuan
闭上眼在云中相见
bi shang yan zai yun zhong xiang jian


穿透云层的阳光多明艳
chuan tou yunceng de yangguang duo mingyan
泼洒在草地上星星点点
posa zai caodi shang xingxing diandian
青蓝色蔓延直至天际在云端相连
qing lan se manyan zhizhi tianji zai yunduan xianglian
引来相思鸟两地相恋
yin lai xiangsi niao liang de xiang lian
引来相思鸟两地相恋
yin lai xiangsi niao liang de xiang lian


穿透云层的阳光多明艳
chuan tou yunceng de yangguang duo mingyan
泼洒在草地上闪耀星星点点
posa zai caodi shang shanyao xingxing diandian
青蓝色蔓延直至天际在云端相连
qing lan se manyan zhizhi tianji zai yunduan xianglian
引来相思鸟两地相恋
yin lai xiangsi niao liang de xiang lian
引来相思鸟两地相恋
yin lai xiangsi niao liang de xiang lian