This song article is lacking a proper background. You can help by adding one! The relevant section in the Song Article Guideline is a good starting point, and this blog post may also be helpful. We apologize for the inconvenience this may cause in the meantime.

Song pages lacking proper backgrounds are automatically sorted into this category.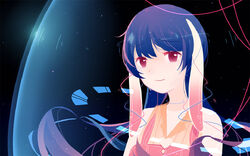 Song title
"人造情感"
Pinyin: Rénzào Qínggǎn
Official English: Artificial Emotions
Uploaded May 23, 2016, with 1,000+ (YT), 72,000+ (BB), 1,000+ (NN), & 70+ (SC) views
Singer(s)
Xin Hua
Producer(s)
Chunbai-P (compose, arrange, lyrics, tuning)
Irecorder (mixing)
Lü Qi (illustrator)
Xi Dousha (video editor)
Links
Niconico Broadcast • YouTube Broadcast
bilibili Broadcast
SoundCloud Broadcast

Background
Edit
"Artificial Emotions" is an original song featuring Xin Hua.
Chinese (中文歌词)
Pinyin (拼音)
如果还能找到你
ruguo hai neng zhaodao ni
如果还能找到你
ruguo hai neng zhaodao ni


浩瀚无垠的天际 细数璀璨深邃的繁星
haohan wuyin de tianji xi shu cuican shensui de fanxing
可是它 沉睡了几个世纪
keshi ta chenshuile ji ge shiji
早已模糊你的名和姓
zaoyi mohu ni de minghe xing
曾经许下的约定 寻找蔚蓝神秘的行星
cengjing xu xia de yueding xunzhao weilan shenmi de xingxing
不知道 何时才能苏醒
bu zhidao he shi caineng suxing
你却留下另一个自己
ni que liu xia ling yige ziji


抓不着摸不到你的投影
zhua buzhao mo bu dao ni de touying
它知道 这并不是你
ta zhidao zhe bing bushi ni
只是藏在哪里
zhishi cang zai nali
望远镜望不出你的距离
wangyuanjing wang bu chu ni de juli
到最后 才发现 其实它
dao zuihou cai faxian qishi ta
早已失去你
zaoyi shiqu ni


如果还能找到你 就让风儿告诉你
ruguo hai neng zhaodao ni jiu rang fengr gaosu ni
在那遥远的某地 有个人在想念着你
zai na yaoyuan de mou di you geren zai xiangnianzhe ni
也许不善言辞 只有铁的身躯
yexu bushan yanci zhiyou tie de shenqu
这强烈的频率 永远都只会属于你
zhe qianglie de pinlü yongyuan dou zhi hui shuyu ni


浩瀚无垠的天际 细数璀璨深邃的繁星
haohan wuyin de tianji xi shu cuican shensui de fanxing
可是它 沉睡了几个世纪
keshi ta chenshuile ji ge shiji
早已模糊你的名和姓
zaoyi mohu ni de minghe xing
曾经许下的约定 寻找蔚蓝神秘的行星
cengjing xu xia de yueding xunzhao weilan shenmi de xingxing
不知道 何时才能苏醒
bu zhidao he shi caineng suxing
你却留下另一个自己
ni que liu xia ling yige ziji


抓不着摸不到你的投影
zhua buzhao mo bu dao ni de touying
它知道 这并不是你
ta zhidao zhe bing bushi ni
只是藏在哪里
zhishi cang zai nali
望远镜望不出你的距离
wangyuanjing wang bu chu ni de juli
到最后 才发现 其实它
dao zuihou cai faxian qishi ta
早已失去你
zaoyi shiqu ni


如果还能找到你 就让风儿告诉你
ruguo hai neng zhaodao ni jiu rang fengr gaosu ni
在那遥远的某地 有个人在想念着你
zai na yaoyuan de mou di you geren zai xiangnianzhe ni
也只是命运 没有足够电力
ye zhishi mingyun meiyou zugou dianli
这美好的回忆 说不定只是个梦境
zhe meihao de huiyi shuo bu ding zhishi ge mengjing


如果时光可以逆流回去
ruguo shiguang keyi niliu huiqu
哪怕漆黑它也毫不犹豫
napa qihei ta ye hao bu youyu
陪伴那最温柔的气息
peiban na zui wenrou de qixi


如果还能找到你 它要亲口告诉你
ruguo hai neng zhaodao ni ta yao qinkou gaosu ni
以你为名的恒星 多么温暖多么美丽
yi ni wei ming de hengxing duome wennuan duome meili
如果还能找到你 就让风儿带回你
ruguo hai neng zhaodao ni jiu rang fengr dai hui ni
到最后 才发现 其实它
dao zuihou cai faxian qishi ta
早已失去你
zaoyi shiqu ni


如果还能找到你 就让风儿告诉你
ruguo hai neng zhaodao ni jiu rang fengr gaosu ni
在那遥远的某地 有个人在想念着你
zai na yaoyuan de mou di you geren zai xiangnianzhe ni
找不到的记忆 没有你的讯息
zhao bu dao de jiyi meiyou ni de xunxi
也许违背定律 它已不是机器
yexu weibei dinglü ta yi bushi jiqi
也许不善言辞 只有铁的身躯
yexu bushan yanci zhiyou tie de shenqu
这强烈的频率 永远都只会属于你
zhe qianglie de pinlü yongyuan dou zhi hui shuyu ni
External links
Edit
| | |
| --- | --- |
| | Articles |