Ad blocker interference detected!
Wikia is a free-to-use site that makes money from advertising. We have a modified experience for viewers using ad blockers

Wikia is not accessible if you've made further modifications. Remove the custom ad blocker rule(s) and the page will load as expected.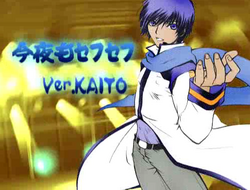 Song title
"今夜もセフセフ"
Romaji: Konya mo Sefusefu
English: Sefusefu Tonight
Uploaded February 19, 2008, with 144,000+ views
Singer(s)
KAITO
Producer(s)
TosaP
Links
Niconico Broadcast
Background
Edit
"Konya mo Sefusefu" is an original KAITO song.
Japanese (日本語歌詞)
Romaji (ローマ字)
これはセフセフ? それともアウアウ?
kore wa sefusefu? soretomo auau?
僕はちっともわからない
boku wa chitto mo wakaranai
これじゃアウアウ? たぶんセフセフ!
kore ja auau? tabun sefusefu!
今夜もセフセフ
konya mo sefusefu
アレはセフセフ? やっぱりアウアウ?
are wa sefusefu? yappari auau?
あなたの心がわからない
anata no kokoro ga wakaranai
まさにアウアウ? きっとセフセフ!
masa ni auau? kitto sefusefu!
今夜もセフセフ
konya mo sefusefu


あなたのことを 喜ばせたいのに
anata no koto o yorokoba setai no ni
はしゃぎすぎると いつもあなたをコ・マ・ラ・セ・ル
hashagi sugiru to itsu mo anata o ko・ma・ra・se・ru


これはセフセフ? どうにもアウアウ?
kore wa sefusefu? dou ni mo auau?
僕もほんとはわかってる
boku mo honto wa wakatteru
何がアウアウ? 絶対セフセフ!
nani ga auau? zettai sefusefu!
今夜もセフセフ 今夜もセフセフ
konya mo sefusefu konya mo sefusefu
今夜もセフセフ
konya mo sefu sefu
Derivatives
Edit
ARSLOID's cover

| | |
| --- | --- |
| Featuring | ARSLOID |
| Author(s) | Karuma Derikattaa |
| Category | VOCALOID cover |
ARSMAGNA's Dance Cover

| | |
| --- | --- |
| Author(s) | kuma |
| Category | Dance cover |
すもーる☆もんすたー's Dance Cover

| | |
| --- | --- |
| Author(s) | NFsch |
| Category | Dance cover |
踊ってみた's Dance Cover

| | |
| --- | --- |
| Author(s) | FPIfree |
| Category | Dance cover |
External links
Edit