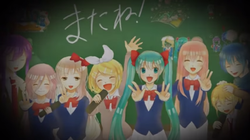 Song title
"今日、卒業します。"
Romaji: Kyou, Sotsugyou Shimasu.
Official English: My Graduation
Uploaded May 4, 2015, with 43,000+ (NND), 4,900+ (YT) views
Singer(s)
Hatsune Miku, IA, Megurine Luka, MAYU, Camui Gackpo, GUMI
VY2, kokone, Merli, KYO, anon, kanon (chorus)
Producer(s)
Asin Kuroda (music, lyrics, mixing)
Masato Fukuda (guitar)
Yuna (illust)
Links
Niconico Broadcast • YouTube Broadcast

Background
Edit
"My Graduation" is an original song by Asin Kuroda featuring Hatsune Miku, IA, Megurine Luka, MAYU, Camui Gackpo, and GUMI along with VY2, kokone, Merli, KYO, anon, and kanon in the chorus.
This song is Asin Kuroda's third graduation song.
This song is featured in the EXIT TUNES compilation album, Vocalofantasy.
Japanese (日本語歌詞)
Romaji (ローマ字)
春風が告げる旅立ちの日
haru kaze ga tsugeru tabidachi no hi
深呼吸して
shinkokyuu shite
見慣れた景色を目に焼き付け
minare ta keshiki o me ni yakitsuke
振り返るよ
furikaeru yo


君の名前を知り
kimi no namae o shiri
笑いあって
warai atte
過ごした日々
sugoshi ta hibi


落書きだらけのノートはいつだって
rakugaki darake no nooto wa itsu datte
夢があふれだしそうで
yume ga afure dashi sou de
今にも
ima nimo
桜の季節が僕らを送り出してゆく
sakura no kisetsu ga bokura o okuridashi te yuku
思い出と一緒に
omoide to issho ni
次のステージへ
tsugi no suteeji e


立ち直れないと思うほどに
tachinaore nai to omou hodo ni
落ち込んだり
ochikon dari
泣いた日もあった
naita hi mo atta
でもその分
demo sono bun
強くなった
tsuyoku natta


始まれなかった恋や
hajimare nakatta koi ya
取り留めのない
toritome no nai
会話を想う
kaiwa o omou


これから僕らはそれぞれ別々の道を
korekara bokura wa sorezore betsubetsu no michi o
歩き出してゆく
arukidashi te yuku
それでも
soredemo
別れの言葉は少し寂しいから
wakare no kotoba wa sukoshi sabishii kara
今は「またね」って笑おう
ima wa "mata ne" tte waraou
また会えるように
mata aeru youni


10年経ったらどんな自分になるだろう
juunen tattara donna jibun ni naru darou
どんな君になる?
donna kimi ni naru?
これから
korekara
嬉しいことも悲しいこともあるけれど
ureshii koto mo kanashii koto mo aru keredo
生きてゆくんだ
ikite yukun da
新しい場所で
atarashii basho de
External links
Edit
| | |
| --- | --- |
| | Lyrics |